Sorry, I forgot to include this material in my weekly links post: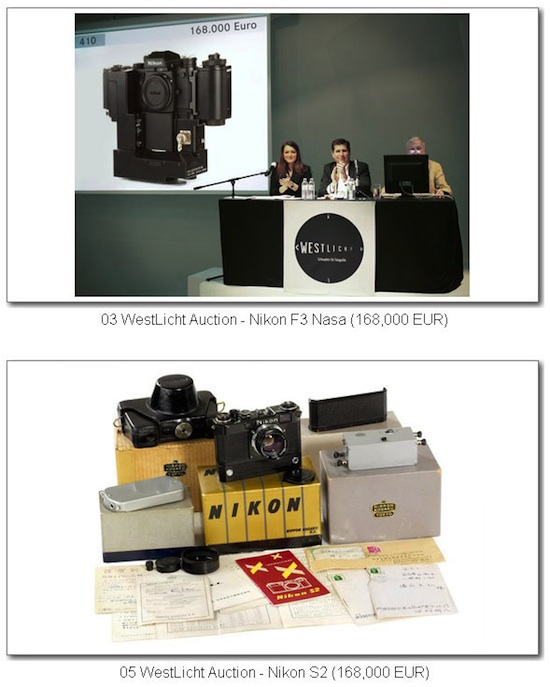 During the exclusive Westilicht auction that took place on December 4th, two Nikon cameras made it to the top 3 most expensive cameras sold – a Nikon F3 NASA from 1986 and a Nikon S2-E both sold for 168,000EUR (around 225,000 USD). The first and second place were of course held by Leica cameras – somebody actually paid 402,000 EUR (around 537,000USD) for a Leica MP camera and this is a lot, even for Leica's standards (the most expensive Leica camera ever sold).
If you are adventurous, there is currently a Nikon F3 NASA for sale on eBay for 22,500 USD.
FYI: Nikon S2 rangefinders can be found for few hundred dollars on eBay. More info on Nikon S rangefinders can be found here and here.
Detailed description of both Nikon cameras after the break:
"One of the most important Nikon RF cameras ever offered for sale. The S2-E was the first Nikon with electric motor drive and also the most early 35mm post-war camera with electric motor drive (already before Leica MP-2). Only 4-5 cameras (out of 10-15 produced) are known to exist. This is the most complete outfit in wonderful condition. The black paint camera comes with the matching black paint aluminium Nikkor-S.C 1.4/5cm no.365419, the original motor drive no.94063 (all with boxes with matching numbers), extremely rare sardine battery back, papers and guarantee cards, caps, black everready case, grey relay box, soft release and other accessories – this outfit is published in 'The Complete Nikon Rangefinder System' by Robert R. Rotoloni on page 110-115. ex collection Tad Sato."
"Space Shuttle' version of F3 with magazine back for 250 exposures (no.1015) combined with motor drive (no.1004), different details modified for use in outer space, only approx. 19 of these very special cameras were made for NASA around 1986, some were lost in space, in near mint original condition"
Did you notice the "some were lost in space" part?
The next Westlicht auction will take place on May 28th, 2011.