This is my hands-on of the Nikon AF-S DX 55-300mm f/4.5-5.6G ED VR lens.
Dimensions
The Nikon 55-300mm f/4.5-5.6 lens is sold with a hood and a soft lens case. At 18.7oz / 580g this lens weights as much as the 18-200 VRII lens – pretty light considering the zoom range. Size comparison: the 55-300 lens is thinner and a little bit longer than the full frame 28-300mm lens:
Except the product shots above, all photos were taken with a Nikon D300s (without a tripod) and without any post-processing. I wanted to show the images the way they came out of the camera. I used Lightroom 3 to convert and resize the original NEF to JPG files (no cropping). Most of the pictures were taken at 300mm – I can imagine that people will buy this lens because of its tele focal length, which currently provides the longest DX zoom available today. Expect better picture quality in the shorter focal lengths. For the record, this is a consumer lens, so set your expectations right.
Sports
The Nikon 55-300mm f/4.5-5.6 lens is not fast – at 300mm, the maximum aperture is only f/5.6. Even when shooting on the beach, with the sun behind me, I still had to push the ISO to 400 in order to freeze the action with shutter speed above 1/1000:
Wild life
Similar to sports, do not expect to shoot wild life at base ISO with the Nikon 55-300mm f/4.5-5.6 lens, unless you are using tripod. The reach of this lens on a DX camera is 450mm (1.5 crop factor) which is very powerful. Unless you have very steady hands, you must raise the ISO/shutter speed in order to avoid blurry images. Almost all of those pictures were taken at ISO 400:
Low light
What low light? Not with this lens. Even at 55mm, the maximum aperture is f/4.5. Nikon describes this lens as "ideal for capturing distant subjects, at athletic events, family pictures, dramatic sunsets, travel", but the two image samples on their website are from stage performances. And since they mentioned sunsets, here are some photos – this is the closest I could get to low light shooting with this lens:
Ergonomics
The zoom ring is not as smooth as the 18-200mm DX lens for example. For that reason the lens doesn't have a zoom lock button – it doesn't need one. I carried the lens attached to a camera facing down for hours and the zoom did not extend at all. The tightened zoom ring in this case is a feature and not a disadvantage. The focus ring is located closer to the hood, similar to the 70-200 VRII lens.
The Nikon 55-300mm f/4.5-5.6 lens has only Manual (M) and AF (A) selections. You cannot manually adjust the focus when in AF mode (the focus ring is locked while in AF). Sometimes you have to switch to manual focus in order to completely retract the lens.
The hood has a new "snap-on" design and I actually like it – you just have to get used to the fact that the hood is freely rotating at all times (which on other lenses with the previous design means that the hood is loose).
The 55-300mm lens has a metal mount:
Sharpness
This is a 100% crop of a test chart comparison I did between the new FX 28-300mm lens @ 300mm f/5.6 and the DX 55-300mm @ 300mm f/5.6 (both taken with Nikon D300s, ISO 400). Please note that I am comparing a $1000 full frame lens with a $400 DX lens:
Just FYI: if you want a proof why prime lenses are better, here is the new AF-S 85mm f/1.4 lens @ f/5.6 (taken with Nikon D700, ISO 200):
There is definitely a margin of error in my test charts comparison. In this case, I was using different cameras at different ISO settings. The test chart was always filling up the frame and the 100% crop is from the portion above the center.
Light fall off (vignetting)
With minimum aperture of f/4.5 at 55mm and 5.6 at 300mm, I did not notice any visible light fall or vignetting.
Focusing
Focusing is very quiet. On few occasions I had difficulties focusing at 300mm, but this would also be the case with any other high-power zoom lens. It is inconvenient that you have to turn the A/M switch in order to manually focus the lens.
Close up
The minimum focusing distance of the Nikon 55-300mm lens is 4.6 feet/1.4 m at all focal lengths – it is not close enough for real macro work, but at 300mm you can get some "close-up" shots:
Bokeh
Some examples on the bokeh of the Nikon 55-300mm f/4.5-5.6 lens:
Who is it for?
I am guessing that the two main areas where the Nikon 55-300mm f/4.5-5.6 will be used are wild life and sports. This lens is for people on a budget, who like to travel light and do not have any plans to upgrade to a full frame camera in the future. If you do have such plans, I suggest you buy the full frame 70-300mm lens which is $200 more, or the new full frame 28-300mm lens which is almost $700 more. The 55-300mm Nikkor will be a good addition for a two lens kit setup if you already have the 18-55 lens. In most circumstances, you will have to raise the ISO when shooting with the Nikkor 55-300mm. The Nikon 55-300mm f/4.5-5.6 is a replacement for the old 55-200 f/4-5.6 VR lens that costs nearly half the price – this makes me think that the 55-300mm lens is on the expensive site. Expect prices to drop significantly few months after the release date (already dropped $30 from the MSRP a month after it was released).
Nikkor 55-300mm f/4.5-5.6 specs
High Refractive Index (HRI) lens element (keeps the lens compact while offering high contrast even at maximum aperture)
Two Extra-low Dispersion (ED) elements (minimizes chromatic aberration)
Nikon Super Integrated Coating (SIC) – enhances light transmission efficiency and offers superior color consistency and reduces flare
Nikon Silent Wave Motor (SWM)
VR II image stabilization (up to 4 shutter speeds improvements over regular lens)
5.5x zoom lens
FX equivalent: 82.5 to 450mm
Minimum focus distance: 4.6 feet/1.4 m (all focal lengths)
Rounded 9-Blade Diaphragm
Lens design: 17 elements in 11 groups
Minimum aperture: f/22 (at 55mm), f/29 (at 300mm)
Maximum aperture: f/4.5 (at 55mm), f/5.6 (at 300mm)
Picture angle: 28°50'-5°20'
Maximum reproduction ratio: 0.28x
Filter size: 58mm
Dimensions: 3.0 x 4.8 in. / 76.5×123 mm
Weight: 18.7 oz / 580g
Supplied accessories:

LF-1 rear lens cap
front cap
HB-57 snap-on lens hood
CL-1020 soft lens case

Nikon Product Number: 2197
MTF charts (wide|tele):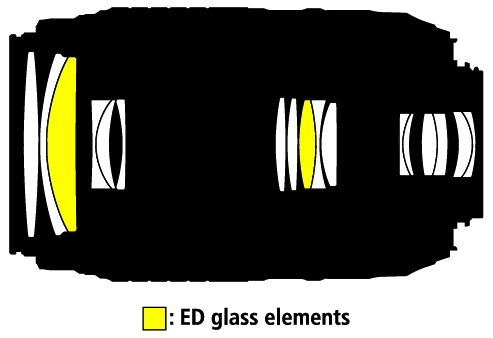 Nikkor 55-300mm f/4.5-5.6 related links from around the web:
Next [NR] hands-on will be a comparison between the new Nikon 28-300mm and 24-120mm lenses.
Disclosure: I got this lens from B&H who is an affiliate sponsor of NikonRumors.com.