Japanese patent application 2010-128374 is for a new Speedlight with video illumination and specifically a way to cool off the flash efficiently by adding a "heat radiating member":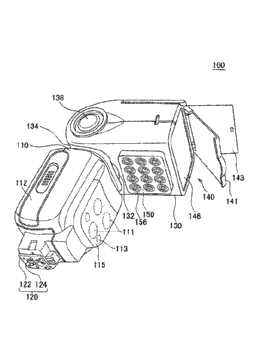 "Problem to be solved: To efficiently cool an illumination device including a flash light source and a continuous light source.

Solution: The illumination device includes: a housing; a flash light source which is supported by the housing and generates flash light; the continuous light source which is supported by the housing and generates continuous light; and a heat radiating member which is supported by the housing, thermally coupled to both light sources in common and radiates heat generated due to the generation of the flash light from the flash light source and the generation of the continuous light from the continuous light source to the outside of the housing. The continuous light source can be supported by the housing, so as to be disposed in a direction where the continuous light illuminates the lower part of the housing, when the flash light source faces an object to be illuminated."
Nikon filed patent applications in Japan for two new macro lenses for their mirrorless camera - 40mm f/2.8 and 60mm f/3.8:
The patent application for the two lenses is 2010-204621 and it was filled on 02/03/2009. Note that the image circle is again 17mm, but as previously reported, Nikon could be obfuscating their lens design in some of the patents. The details:
40mm f/2.8 macro lens:
image circle: 17mm
focus distance: 40mm
back focus: 4.4mm
f: 2.86
angle of view: 24°
macro 1:0
60mm f/3.8 macro lens:
image circle 17mm
focus distance: 60mm
back focus: 0.5mm
f: 3.77
angle of view: 15.8°
macro 1:0
US patent applications 20100232776 and 20100215354 appears to be for a Plenoptic camera where the DOF can be changed in post processing:
"An imaging apparatus comprising: a light receiving element having a micro lens array provided with a plurality of micro lenses arranged two-dimensionally, and a plurality of photoelectric conversion elements provided for the plurality of micro lenses, and outputting a light receiving signal obtained by receiving a light beam from an optical system via the micro lens array; a detector that detects shift amounts of image plane by the optical system respectively for a plurality of focus detecting positions set at a plurality of positions in the image plane by the optical system; and a controller that determines a focus adjusting position for the optical system based on a plurality of the shift amounts detected respectively for the plurality of focus detecting positions and a range of the image plane where an image based on the light receiving signal is enabled to be produced, and obtains the light receiving signal at the focus adjusting position with the light receiving element.

The object of the present invention is to provide an imaging apparatus which enables to appropriately obtain an image in focuses on a plurality of subjects with different shooting distances even if the difference between shooting distances to subjects present in a certain imaging area is relatively large.

According to the present invention, it is enabled to designate as many subjects as possible to be image-synthesized in focuses based on a signal obtained through one time shooting when a plurality of subjects with different distances are present within a shooting range."
US patent application 20100201853 is referring to an improved low-pass filter. It seems that Nikon is going after a higher pixel density (reduced pixel pitch) but not at the expense of image quality (see last sentence):
"According to the present invention achieved by examining and analyzing the specific change in the effect of demosaicing processing executed on data obtained via a color filter array on spurious resolution•color artifacts, with respect to specific characteristics related to the pixel pitch dependency of lens groups used in the existing art, the utilization range of optical low pass filters is expanded over the related art and a specific operating range is clarified in correspondence to the optimal settings so as to provide a desirable demosaicing effect, assuring high image quality with a minimum of spurious resolution•color artifacts in conjunction with existing lens systems and to allow a further reduction in the pixel pitch at an image sensor that is still capable of providing a sharply focused, powerful photographic image."