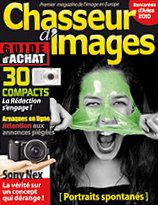 In the latest issues of Chasseur d'Images there is a small article that Nikon is preparing a replacement of the Coolpix S1000pj (this is the one with the built-in projector). The new version will provide the option to be connected to a computer and serve as an external conventional projector.
There were already some rumors that the Coolpix S1000pj is discontinued in at least one major retailer. Nikon also filed numerous patent application for various projector technologies over the past 12 months.
The next batch of Nikon Coolpix cameras is expected to be released in the first half of August. A new, high end Nikon Coolpix p&s camera is also rumored (to compete directly with Canon G11).
Chasseur d'Images are not afraid to publish rumors and they had some good leaks in the past. It is interesting to note that all they got this time is a p&s leak and nothing DSLR related.