Nikon D3s & AF-S DX Micro NIKKOR 85mm f/3.5G ED VR announced!
Links: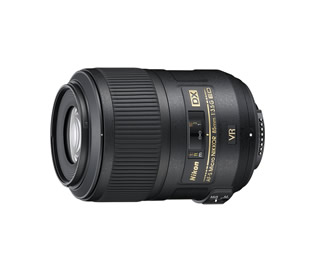 Medium-telephoto 85mm Micro lens (picture angle is equivalent to a focal length of 127.5mm in FX/35mm format)
Closest focusing distance of 0.286 m/0.9 ft. (1:1 life size)
The optical system featuring an ED (Extra-low Dispersion) glass element is optimized for DX-format digital SLRs
Vibration Reduction (VR II) enables sharper pictures while shooting at shutter speeds up to four stops slower than would otherwise be possible
Silent Wave Motor (SWM) ensures fast, quiet AF operation
Two focus modes available — M/A and M
IF (Internal Focusing) enables focusing without changing the length of lens barrel
The nine-blade rounded diaphragm opening gives out-of-focus elements a more natural appearance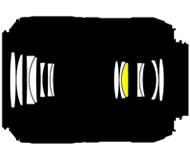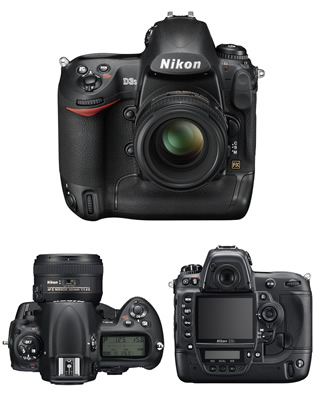 Nikon D3s Main Features:
ISO performance: ISO 12800 as standard, expandable to ISO equivalent of 102400 (Hi 3)
Nikon FX-format CMOS image sensor with 12.1 effective megapixels
Improved D-Movie function including High-Sensitivity Movie mode and flicker reduction function
Nikon's Integrated Dust Reduction System including Image Sensor Cleaning function
Incorporates Nikon's original EXPEED digital image processing
Active D-Lighting with bracketing for up to 5 frames
Picture Control: Standard, Vivid, Neutral and Monochrome (Landscape and Portrait can be downloaded from Nikon website)
Quick response with approx. 0.12 seconds start-up time and approx. 0.04 seconds shutter-release time lag
9-frames-per-second shooting rate in FX format, 11 fps in DX crop (CIPA Guidelines)
Nikon's original Scene Recognition System, utilizing 1,005-pixel RGB sensor, for more accurate autofocus, auto exposure, i-TTL flash control and auto white balance
Multi-CAM 3500FX AF sensor module featuring 51 AF points
Viewfinder with approx. 100% frame coverage and approx. 0.7x magnification in FX format
Durable shutter unit proven by 300,000 cycles of testing on fully assembled camera
Intelligent power management that lets you shoot up to approx. 4,200 frames per charge (based on CIPA Standards)
Easy-to-access Live View modes with dedicated button
Quiet Shutter-release mode for nonintrusive shooting
High-definition (approx. 921k-dot), 170˚ viewing angle, 3-in. VGA LCD monitor with tempered glass
Official press release after the break:
THE IMAGING EVOLUTION CONTINUES: THE NIKON D3S ILLUMINATES NEW LEVELS OF POWER AND PERFORMANCE FOR PROFESSIONAL PHOTOGRAPHERS
Nikon Once Again Redefines Possibilities with D-SLR Photography with Six-Figure ISO Sensitivity for Stills and Video While Enhancing Overall Performance
MELVILLE, N.Y. (Oct. 14, 2009) – Today, Nikon Inc. announced the FX-format D3S D-SLR, providing professional photographers with a powerful tool that redefines the boundaries of digital SLR versatility, while maintaining the strength of superior image quality and high speed performance inherited from the groundbreaking D3. The D3S enables not only new opportunities in low-light photography, but also provides photographers with added shutter speed and aperture freedom with a base ISO sensitivity range from ISO 200 to a remarkable 12,800. Additionally, expanded ISO equivalent settings up to a staggering 102,400 are available, enabling photographers to create images previously thought impossible.
The Nikon D3S builds upon the success of the Nikon D3—the professional digital SLR that set new standards for D-SLR performance and utilizes a newly designed, Nikon original 12.1-megapixel FX-format CMOS sensor that also integrates its amazing low-light ability to High Definition (HD) video, creating a uniquely capable multi-media tool to meet the needs of a changing imaging landscape.
"When the Nikon D3 was released, it ushered in a new era of professional digital imaging. Today, the D3S will further reinforce Nikon's leadership role in the photographic industry as a pioneer in performance-driven technologies that will again break once-rigid picture-taking barriers," said Edward Fasano, general manager for Marketing, SLR Systems Products at Nikon Inc. "The ruggedly constructed D3S was engineered to address the real-world needs of professional photographers and provides them with a tool that, when combined with their skills, delivers stunning images in a broad range of shooting conditions and assignment requirements."
Creative Vision Beyond the Human Eye
The Nikon D3s, with a base ISO sensitivity from ISO 200 to 12,800 makes it possible to capture previously impossible images—image opportunities which were often ignored because of low light levels. Now, in even more demanding lighting conditions, photographers can select expanded sensitivity settings of ISO equivalent 25,600, ISO equivalent 51,200 and an incredible ISO equivalent sensitivity of 102,400 which reveals detail in extreme low-light environments that challenge even the human eye's ability to discern subject content. In addition, a setting of ISO equivalent 100 is provided.
This industry-first, groundbreaking ISO sensitivity range will make the D3S the camera of choice for photographers who typically face extreme lighting challenges, such as indoor or nighttime sports, spot news, wedding receptions and ambitious nature photography. This broad ISO sensitivity also affords the ability to shoot at faster, action-stopping shutter speeds. D3S shooters will enjoy a major advantage in any situation where light is limited and the use of supplemental lighting is not an option. For the photojournalist, even the highest ISO setting delivers image quality to satisfy the needs of offset printing.
Big Pixels Equal Greater ISO Capabilities
The amazing low-light ability of the D3S, as well as its astounding image quality can be attributed in large part to the engineering behind the newly designed, Nikon original 12.1-megapixel FX-format CMOS sensor, which measures 36×23.9mm. While the pixel size and count that served the D3 were maintained to deliver the pinnacle of image quality, dynamic range, phenomenal tonal gradation and outstanding color, other aspects were engineered to add versatility through broader low-noise ISO sensitivity. Individual pixels measure a large 8.45 microns, which support enhanced sensitivity to light and other qualities leading to superior image fidelity. The D3S captures light and renders images in a way that no other Nikon camera has yet to achieve, with a higher signal-to-noise ratio and an unmatched dynamic range for both stills and HD video throughout its broadened ISO range.
The Nikon D3S adds the extra benefit of an Image Sensor Cleaning function to reduce instances of image degradation resulting from dust accumulation on the optical low pass filter (OLPF) in front of the image sensor. The OLPF oscillates at four specific frequencies to release particles that would disrupt image quality. Sensor Cleaning can be set by the user to cycle automatically when the camera is powered on, turned off, or on demand.
Share the Vision with D-Movie Creativity
Whether on the frontlines or sidelines, the amazing ISO range of the D3S can also be applied while recording HD video clips to give unprecedented low-light ability for movie clips. The refined D-Movie mode for the FX-format offers smooth 1280×720 video at a cinematic 24fps, with a new algorithm that severely reduces the phenomenon of "rolling shutter" typical to D-SLRs while panning. The motion JPEG codec allows for easy extraction of single frames from a video clip and the ability to save it as a JPEG file, while the 720p HD format eases storage, provides faster wireless transfers, and offers video files that are generally easier to use in the field. Photographers can also trim movie clips on the fly by revising the start and end points, and save the edited clip as a copy while maintaining the original. Additionally, the D3S features a built-in monaural microphone, augmented by a stereo microphone input, which is perfect for hot-shoe microphone mounting or the use of wireless microphones for interviews or spot news.
Photographers and film makers alike will appreciate the full aperture control from a wide f/1.4 to f/16, as the FX-format sensor renders low-noise movie clips with outstanding clarity, aided by the large selection of renowned NIKKOR lenses to produce a dramatic depth of field. High Sensitivity Movie Mode allows the utilization of the entire ISO range to capture otherwise hidden details in challenging lighting conditions, more effectively than cameras with smaller sensors. Now, users can benefit from available natural light for applications such as telling a story in a journalistic style in the field or to create a gritty film noir masterpiece without CGI post production. While recording, users also have the ability to control exposure, and will enjoy the added benefits of improved contrast-detect type AF while in Tripod Live View mode.
Performance and Features Defining Versatility
The emergence of the D3 in 2007 provided photographers with a unique fusion of ruggedness, speed, versatility and image quality—characteristics which the D3S now takes even further. Photographers are able to capture images at 9 frames per second (fps) in the FX-format or at up to 11 fps in the DX crop mode, while data is transferred through a 16-bit pipeline for optimal processing speed. Additionally, the buffer has been increased, enabling continuous bursts approximately twice that of the D3 in the JPEG, TIFF or NEF (RAW) formats. Files can also be captured in either 12- or 14-bit compressed or uncompressed formats to maintain the images data integrity. Photographers can also select the new 1.2x crop mode for a modest telephoto effect, while minimally impacting resolution, as photos are captured at approximately 8.4 megapixels (9 fps).
The D3S also features two UDMA compatible CompactFlash™ card slots that can be used for consecutive recording (overflow), simultaneous recording (backup), separating recording of RAW and JPEG files or even copying pictures between the two cards. One or both can also be designated for data-heavy D-Movie recording. Images can be displayed directly from the camera to a High Definition monitor using the camera's HDMI port and an optional cable.
The D3S features Nikon's exclusive Multi-CAM 3500FX focus module, with 51 AF points, 15 cross type sensors and 36 horizontal sensors that easily track and lock onto moving subjects, delivering the same fast and accurate AF performance that helped make the D3 immediately successful. Users can select any of the AF points, making it easy to consistently attain accurate focus, frame after frame. Additionally, three AF-area modes – Single point, Dynamic-area AF and Auto-area AF – are available to maximize the use of the 51 focus points by selecting the most suitable one to match subject conditions. AF is also available in one of two Live View modes, including a phase detection handheld mode and a tripod mode. While in Live View, the graphic indication of a virtual horizon is also available, making it easier than ever to confirm camera orientation.
To alleviate another kind of noise, the D3S also features a Quiet Shutter Mode which substantially reduces the sound of the camera's mirror-down cycle, which is perfect for shooting in sensitive environments, such as movie sets, meetings, ceremonies, or while photographing wildlife.
Technologies Engineered for Professionals
The D3S' speed and performance is the culmination of many Nikon core technologies including the latest generation of the EXPEED™ Image Processing System. The latest iteration of this system is specially designed to keep pace with the D3S' blazing performance to provide amazing image quality, faster processing speeds and lower power consumption. This advanced system is able to achieve extremely precise color reproduction for a broad spectrum of hues, in addition to vivid saturation and smooth gradation. Nikon's advanced noise processing function is engineered to minimize noise at all sensitivities and operate seamlessly without interfering with other image color parameters.
The D3S' accelerated Scene Recognition System analyzes information from the 1,005-pixel RGB light sensor for use in auto exposure, auto white balance detection and autofocus calculations. The Scene Recognition System also assists autofocus by tracking subject position and automatically shifts the AF points used to match the subject's movement within the frame.
Nikon's exclusive 3D Color Matrix Metering II assists in ensuring accurate exposures, even in the most challenging lighting conditions. Instantly evaluating each scene before capture, input data from the system's sensor is automatically referenced against an internal database of more than 30,000 images derived from actual photographs to calculate correct exposure values. Active D-Lighting (ADL), used in combination with 3D Matrix Metering II, helps to determine proper exposure, and creates realistic contrast while compensating for lost shadows and highlights. Photographers can also use ADL bracketing for up to five frames of ADL compensation.
To further enhance each photographer's expression of personal style, Nikon's Picture Control System allows selection of Picture Control settings including Standard, Neutral, Vivid and Monochrome. Additionally, adjustment can be made to Picture Controls to image sharpening, contrast, brightness, saturation, hue and more. Photographers then have the flexibility to save up to nine personalized Picture Controls on camera and 99 additional Picture Controls externally.
Ready for Work
Engineered for real-world functionality, the D3S is ruggedly constructed with moisture, dust and shock resistance that has become a hallmark of flagship Nikon D-SLRs, while preserving the usability and ergonomics that allow the camera to remain an extension of the photographer's vision. Attention to detail goes so far as to include a self-diagnostic shutter system that is tested to 300,000 cycles for maximum accuracy and longevity. Rigid and precise magnesium alloy construction and the familiar form factor of the D3 extend consistent Nikon system synergy.
A bright and accurate viewfinder provides 100-percent coverage with 0.7x magnification. The body also houses Nikon's acclaimed 921,000-dot, 3.0-inch super density LCD monitor which is viewable up to 170 degrees, and is safeguarded by a tempered glass cover. Thanks to incredibly efficient internal circuitry, the D3S can capture up to 4200* shots per single charge of the camera's Lithium-ion battery.
System Strength Withstands the Test of Time
The D3S is fully compatible with Nikon's Creative Lighting System (CLS) affording photographers a mobile lighting solution that is easy to manage. D3S is also compatible with Nikon's GP-1 GPS receiver to gather information such as latitude, longitude, altitude and (satellite) date of shooting. Photographers can shoot tethered via USB, or use the WT-4A wireless transmitter to send images wirelessly when speed and mobility are essential. D3S users will also enjoy the system strength bolstered by a comprehensive selection of NIKKOR interchangeable lenses—long heralded for their optical superiority.
Price and Availability
The Nikon D3S digital SLR is scheduled to be available at Nikon Authorized dealers beginning in late November 2009 at an estimated selling price of $5,199.95**. For more information, please visit www.nikonusa.com. Users can see the new D3S, along with Nikon's entire line of photographic, optical and digital imaging solutions, including the recently announced new AF-S DX Micro NIKKOR 85mm f/3.5G ED VR lens, on display at the Nikon booth (#501) at the PhotoPlus Expo in New York, from Oct. 22 to Oct. 24, 2009.
About Nikon
Nikon, At the Heart of the Image™. Nikon Inc. is the world leader in digital imaging, precision optics and photo imaging technology and is globally recognized for setting new standards in product design and performance for its award-winning consumer and professional photographic equipment. Nikon Inc. distributes consumer and professional digital SLR cameras, NIKKOR optics, Speedlights and system accessories; Nikon COOLPIX® compact digital cameras; COOLSCAN® digital film scanners; 35mm film SLR cameras; Nikon software products and Nikon sports and recreational optics. For the second consecutive year, Nikon D Series digital SLR cameras are recognized as "Highest in Customer Satisfaction with digital SLR cameras, Two Years in a Row, Tied in 2008." according to the J.D. Power and Associates 2007 and 2008 Digital Camera Usage and Satisfaction StudiesSM. Nikon Corporation, the parent company of Nikon Inc., recently celebrated its 75th anniversary of NIKKOR optics and announced the production of over 45 million NIKKOR SLR interchangeable lenses. For more information, dial (800) NIKON-UX or visit http://www.nikonusa.com, which links all levels of photographers to the Web's most comprehensive photo learning and sharing communities.
* Based on CIPA Standards
**Estimated selling price listed is only an estimate. Actual prices are set by dealers and are subject to change at any time
Medium-telephoto Micro lens with VR enhances the enjoyment of macro photography
——————-
TOKYO — Nikon Corporation is pleased to announce the new AF-S DX Micro NIKKOR 85mm f/3.5G ED VR, a DX-format, medium-telephoto micro lens with built-in Vibration Reduction (VR II) and Silent Wave Motor (SWM). With a focal length of 85mm, this compact and lightweight lens is recommended for users of Nikon DX-format digital SLRs such as the D5000 and D90. The18°50'picture angle is equivalent to a focal length of 127.5mm in Nikon FX- and 35mm-format cameras).
The AF-S DX Micro NIKKOR 85mm f/3.5G ED VR can be used in a wide range of applications. While users can enjoy the natural perspective and beautiful blur that a medium-telephoto lens can offer in landscapes and portraits, this micro lens is especially expected to promote the enjoyment of macro photography for taking insects, small animals and flowers. High resolving power is realized throughout the entire shooting range from infinity to the closest focusing distance (1:1 life size) to reproduce even the fine texture of flower petals.
Built-in VR II (Vibration Reduction) enables users to take sharp pictures at shutter speeds approximately four stops slower* than would otherwise be possible, thereby minimizing image blur caused by camera shake. This remarkably expands user freedom during hand-held shooting. In addition, blur-corrected image in the viewfinder makes focusing and composition easy.
*As determined in Nikon performance tests
Built-in SWM (Silent Wave Motor) enables quiet AF operation, especially effective for the macro shooting of easily disturbed subjects such as insects and small animals. Internal Focusing (IF) system means the lens barrel length does not change during focusing, which ensures worry-free macro shooting while maintaining a constant working distance. M/A (manual-priority autofocus) mode enables instant switching from autofocus to manual focus by rotating the focus ring, even during AF servo operation. This permits fine focus adjustment without removing your eye from the viewfinder.