Update: I just need to clarify this post, because some readers are confused: yes the web server will redirect any link, important here is the product number 25442 and the landing page for that product number (now already removed). As you can see from the screenshot this was not a normal redirect, because the page title and the breadcrumbs indicated D3x. If someone can get a redirect with those two labels on the page for a random, not existing model I would like to know.
Just go http://www.nikonusa.com/Find-Your-Nikon/Product/Digital-SLR/25442/D3x.html
Do you see what I see? D3x on Nikon's official site! Now they just have to add the pictures and specs and change the URL. Note also the top label reads D3x from Nikon. The product# for the D3x is 25442 (25446 is for the D90).
My guess is that because of the Holidays in the US, Nikon USA updated their website in advance.
I am sure they will take it out soon, so here is the screenshot: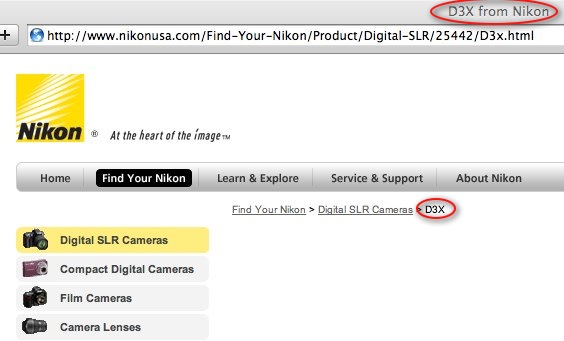 Do we still have non-believers?
Thanks E.