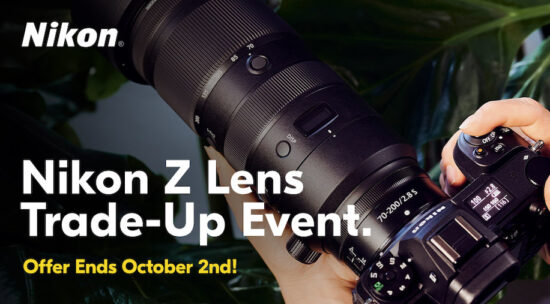 For the month of September Nikon USA started a new promotion "Nikon Z lens trade-up event" where you can trade in any working camera or lens and get up to a $200 bonus plus the trade-in value towards the purchase of select Z lenses. Contact one of our sponsors for a trade-in value:
B&H now has a new dedicated website for the new "Nikon Z lens trade-up event"
Some of the old Nikon rebates carried also to September:
Additional information on the new "Nikon Z lens trade-up event":
NIKON INC. ANNOUNCES THE FIRST "NIKON Z LENS TRADE UP EVENT" BONUS TRADE-IN PROGRAM FOR NIKKOR Z LENSES
For a Limited Time, Add an Additional $100-$200 to Your Trade-In Value Towards Select NIKKOR Z Lenses
MELVILLE, NY – September 12, 2022. Today, Nikon Inc. announced its latest installment of its popular trade-in programs, making it easier and more affordable than ever for customers to build their lens collection for the Z series mirrorless camera system.Starting today, Monday, September 12th, customers can trade in their operating camera or lens (any brand) for a select NIKKOR Z lens and get an extra bonus of up to $200, in addition to their trade-in value. NIKKOR Z lenses showcase the next generation in optical technology; minimized focus breathing, faithful color reproduction and intense sharpness across the frame. It's a great time to take advantage of this opportunity, as this limited-time trade-in program ends October 2nd 2022.
See below for a table of the eligible lenses as well as the bonus additional trade-in amount given. The Nikon Z Lens Trade Up Event promotion is available through the Nikon Store as well as through participating Nikon Authorized Dealers. Additional terms and conditions will apply.  Please check with the Nikon Store or the selling participating Authorized Nikon Dealer for such additional terms and conditions.  Nikon Authorized Dealers set their own selling prices, which may vary.
Product
Eligible NIKKOR Z lens
Trade-up & save promotion amount
(Added to the trade-in Amount)
20070
NIKKOR Z 14-30mm f/4 S
$100
20081
NIKKOR Z 35mm f/1.8 S
$100
20083
NIKKOR Z 50mm f/1.8 S
$100
20090
NIKKOR Z 85mm f/1.8 S
$100
20093
NIKKOR Z 20mm f/1.8 S
$100
20092
NIKKOR Z 24-200mm f/4-6.3 VR
$100
20095
NIKKOR Z 50mm f/1.2 S
$100
20097
NIKKOR Z 14-24mm f/2.8 S
$100
20102
NIKKOR Z 40mm f/2
$100
20107
NIKKOR Z 28-75mm f/2.8
$100
20089
NIKKOR Z 24-70mm f/2.8 S
$200
20091
NIKKOR Z 70-200mm f/2.8 VR S
$200