Fotodiox announced new macro bellows for Nikon Z-mount (used for extreme close-up photography). The new bellows can be purchased from B&H Photo (available also for Nikon F-mount). Novoflex has a similar, but much more expensive and high-end version – Novoflex Auto Bellows for Nikon Z-mount: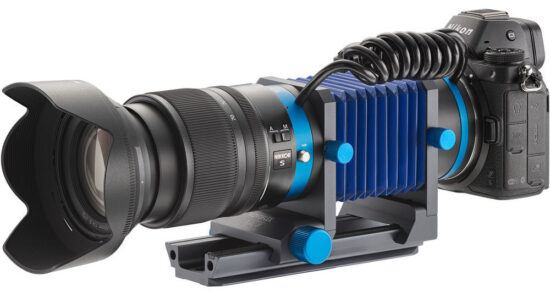 Additional information on the new Fotodiox macro bellows for Nikon Z (NKZ-MCR-BLW):
 Shorten the focus limit and increase the magnification of any lens; expandable with Fotodiox Adapters
The farther the lens is from the camera, the greater the magnification ratio up to 8:1 (3:1 with 50mm Lens)
Light tight accordion bellows expands up to 110mm for lens focusing, from 3.5cm to 14.5cm
Includes tripod mount socket, ruled & geared focusing rail, smooth focusing with locking knob
Limited 2-Year Manufacturer Warranty
Nikon Z-mount camera compatibility: Nikon Z 7, Z 7II, Z 6, Z 6II, Z 5, Z 50
| | |
| --- | --- |
| Bellows Length | 35mm – 145mm |
| Lens Mount | Nikon Z-Mount Mirrorless Lenses |
| Body Mount | Nikon Z-Mount Mirrorless Cameras |
| Materials | Industrial Black Anodized Aluminum |
| Product Dimensions | 6.4 x 4.3 x 4.3 in (16.2 x 11 x 10.8 cm) @ 0.9 lb (13.6 oz) |
| Shipping Dimensions | 7 x 7 x 7 in (17.8 x 17.8 x 17.8 cm) @ 1.1 lb (17 oz) |
| Manufacturer | Fotodiox Inc. |
| Warranty | Limited 24-Months |
"Macro bellows are great accessory for close-up, macro, micro, stereographic, slide/negative copying, and panoramic photography. The precise rack and pinion gear allows very minute fore and aft movement of your camera set-up for very accurate focusing. The bellows has a locking screw to ensure it does not slip when pointed up or down. It can accommodate heavy cameras and lenses. Any camera with the appropriate adapter can be used with the bellows. The bellows can be mounted on a copy stand, tripod, light stand or any accessory that accepts a ¼" tripod screw. It can be used outdoors for great nature close-up photography, due to its compact size and light weight."
Additional pictures: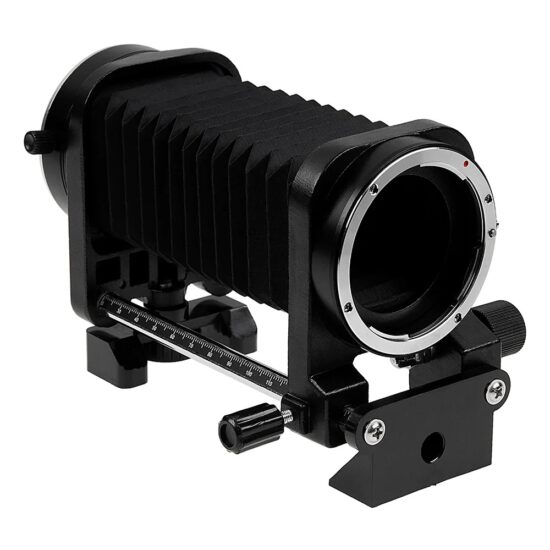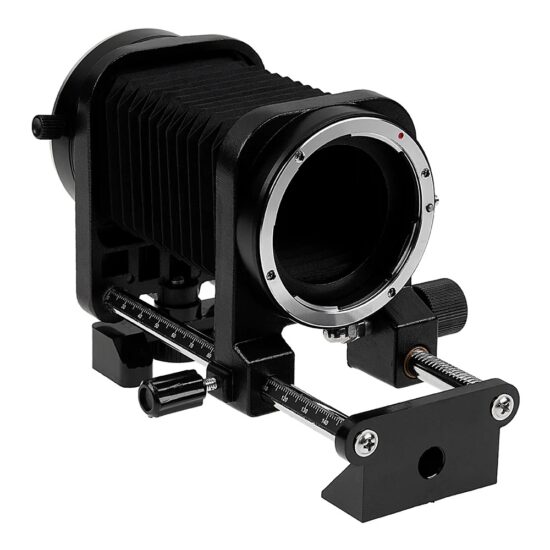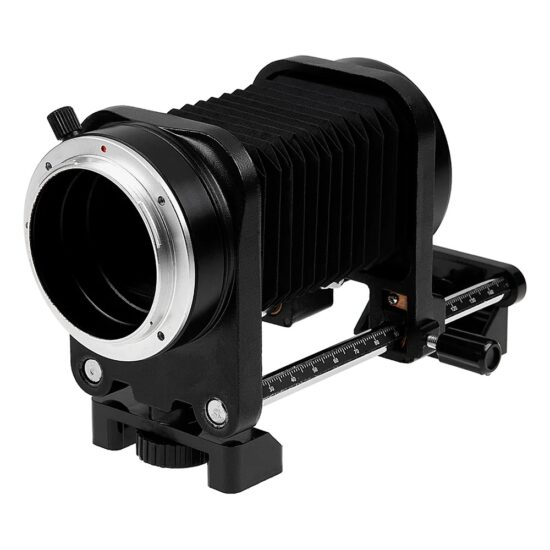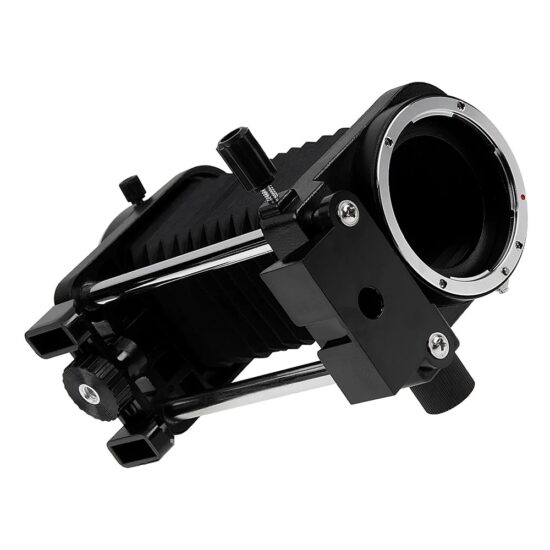 Check the Fotodiox website for more info.