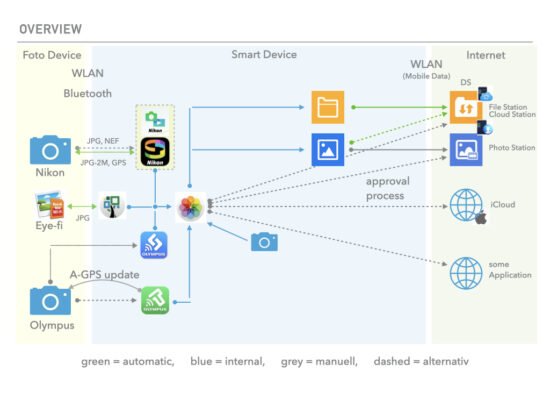 How to: on demand backup "The One-Card-Slot (No-) Issue"
Some words ahead:
I'm a snap-shooter (Knipser in german) since the 1990s. During the time, I shoot from film up to digital cameras with different brands.
Disclaimer:
I'm not a paid person by any of the companies given below. All names, brands and ikons are owned by their owners and are used for illustration only.
The story:
Some time ago a cry of horror went through the country —
— Ahhh, Ohhh, Uhhh – one Card-Slot only.
Hm – maybe that is scary to someone, but it was not frightening me. Since I am a snap-shooter, most of my camera bodies have had one storage element only. I mostly use small storage because impact by an accident is not very much. It is no problem with that one card-slot thing to me, at all. But – then Nikon managed to get Wi-Fi to be useful and SnapBridge became better and better.
I'am using a NAS and Smart-Devices – could I use this for On-Demand- or Online-Backup? I don't use some Cloud because it is expensive to me and free storage is mostly very limited, but I'm running a NAS. I have an Idea.
Mhh, lets see how to put things together …
My "Solution":
Please have a look at the overview. It easily shows how it works and what I'm talking about.
(Please have in mind – my description should be seen more as a "blueprint" than a "copy and paste" solution. Feel free to change something at your own to match your needs. I would be happy if you share your experience, especially with other applications or brands. Possibilities are so much, it's on you to figure out. I'm successfully using this solution for nearly 2 years now.) 
My gear:
A Synology NAS. File Station must be accessible via internet, alternatively you can use Photo Station. QNAP NAS seems to be very comparable, so I mean it should work too, others I don't know.
An iPhone and an iPad. Running SnapBridge APP, Synology DS file App and Olympus Oi.Share App. Testet Nikon WMU App too, but SnapBridge is so easy to use now. If you running Photo Station, you could use DS Photo, too. I don't know, but I mean, Android gear will work too, but my experience is very limited.
BTW: I have testet Eye-Fi with Keenai App, but don't use it anymore. It is limited to .jpg only.
Camera bodies are Nikon D850, Z6 and Olympus TG-4.
My setup:
Configuring NAS to be accessible through the internet as your NAS and Router guide describes. (Please use strong passwords and https: connections for security reasons.) In Synology FileStation I use a separate directory for every smart-device I use. The directories are marked as "Favourites", so I can easily store and sort my pictures.
On the smart device the Synology DS File App can be setup to "automatic transfer pictures from the Apple Fotos film-roll". Goto the DS File menu and select "Photo Backup". Setup the function to your needs. Have in mind – mobile transfer can be expensive. I disabled mobile data transfer for for DS File App. I will enable it when needed.
Also I disabled the iCloud "My Fotostream" because it automatically sync the new Fotos in the Fotos film-roll. I own only the free storage and it is filled up rapidly when using RAW-Files. I'm running a NAS and so there is no need for buying extra memory.
Now connect the smart-device and camera as guided. For Nikon I use SnapBridge. You can find the guide in the Nikon download-center section for your camera body. I connected both of my bodies to both of my smart-devices. I can easily switch between the cameras now. I use SnapBride as a GPS dongle, for time-syncing and as a remote trigger (when needed), too.
The camera setup for my Nikons is easy. Once connected with a smart-device I put some menu-items* into "My Menü".
Z6:
"PHOTO SHOOTING MENU/Image quality" is set to RAW. Z6 did transfer a small .jpg even it is set to RAW only.
Airplane mode* = OFF. For saving battery life. and prevention of all radio connections. I switch it ON when no connection wanted/needed. 
Connect to smart device*.
Pairing (Bluetooth) = ON. Here you can easily switch between
different smart devises.
Select to send (Bluetooth) = ON/off. Do it on your needs. I use 
"Auto select to send = on" most. Pictures taken will be marked for transfer.
Wi-Fi connection = on/OFF. No need, yet.
Send while off = ON/off. For saving battery life, set it to OFF.
D850:
"PHOTO SHOOTING MENU/Image quality" is set to RAW + JPEG basic. Other than Z6, D850 did not transfer a small .jpg if it is set to RAW only.
Airplane mode* = OFF. Same as Z6
Wi-Fi* = OFF. No need, yet.
Bluetooth* = ON/off.
Network connection = ENABLED/disabled
Paired devices: Here you can easily switch between
different smart devises.
Send while off = ON/off. For saving battery life, set it to OFF.
Send to smart device (auto)* = ON/off.
The SnapBridge setup. Once you have connected Cam and SnapBridge, tap on the first entry below the cam picture. Set at least the first two to "ON". I set all "ON", but PowerSaving. This settings seems to be saved for every cam you connected separately.
Setup is done. Now we have the "On-Demand-Backup" at the smart-device, automatically. Depending on need, the smart device transfers the picture to the NAS.
But that's not all. Back at Home, Hotel or Elsewhere, I can connect  SnapBride to the Cam. Using the second entry, you can review pictures, select and download them, even RAW files. Files are stored at Apple Foto Film-Roll. If connected with Wi-Fi / Mobile Data, DS File App transfers the Images to the NAS. If completed, smart-devices could be cleaned-up for saving space. That's it.
Always Good Light!
FF