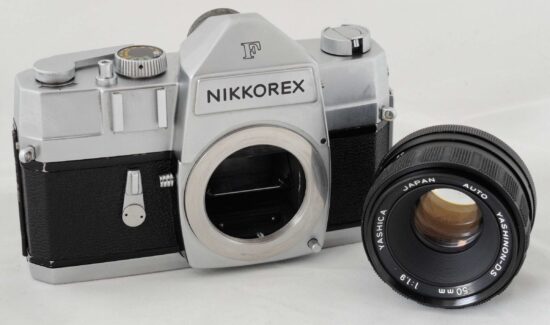 A reader sent me an email about this rare Nikkorex F camera with M42 mount:
Nippon Kogaku K.K. alias Nikon Corporation became famous for its rangefinder cameras with the S-mount (1948) and the legendary Nikon F with its F-mount (1959). That mount is still used on modern D-SLR's. In the early years Nikon experimented with rangefinder cameras with the Leica Thread Mount (= 39 mm thread). The M42 mount (42 mm. thread), invented in 1938 by Carl Zeiss, was never used by Nikon. It is therefore very strange to find a Nikkorex F camera with M42 mount. This very rare camera is not mentioned in whatever book.
The Nikkorex F M42 has a back focal distance of 45.46 mm. while all F-mount cameras have a back focal distance of 46.5 mm. The camera has no internal exposure meter and there are no electronic contacts. Since Nikon never made lenses with the M42 mount I've mounted the legendary Yashinon-DS 50mm/1.9 standard lens, made by the largest Japanese lens maker ever: Tomioka. Tomioka, founded in 1924 by a former Nikon engineer, nowadays belongs to Kyocera Optec and made lenses for fellow camera makers, like Chinon, Yashica, Cosina, Ricoh, Fuji, Vivitar and many others. The unsuccessful Nikkorex cameras were made by Mamiya, who made some SLR cameras with M42 mount as Mamiya/Sekor.
Who can give more information on this rare Nikkorex F with M42 mount?
Nico van Dijk
www.nicovandijk.net