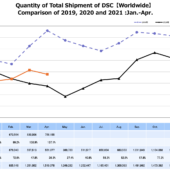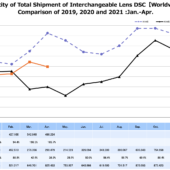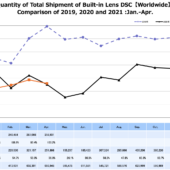 CIPA (Camera & Imaging Products Association in Japan) published their camera production data for April 2021 (orange: 2021, black: 2020, blue: 2019, click for larger view):
April 2021 CIPA numbers
As compared to March, Mirrorless shipped units for the month were down, DSLR's and Compacts were up, lenses for smaller than 35mm sensor were down and lenses for 35mm or larger sensors were up. .
Year to date, mirrorless units are up 45% and mirrorless shipped value is up an outstanding 104% over previous year. Even DSLR units are up 11% year-to-date. In spite of that tremendous mirrorless growth, mirrorless YTD share dropped slightly from March. Only Compact units are down from last year (yet compacts shipped value are up slightly, indicating that the units that are shipping are more expensive compact units). Lenses for full-frame sensor are up 45% and lenses for smaller sensors are up 7% YTD.
Taking the first four months and pro-rating it out for the year provides an estimate of 5.647 million to 6.771 million units compared to 2020's 5.308 million. In 2019, 8.462 million ILC units were shipped and in 2018, 10.76 million were shipped.
April 2021 Calendar year-to-date:
(All comparisons to Jan-Apr 2020)
DSLR Units : 840.6K +11% YTD
DSLR Shipped Value: ¥33.7 billion +4% YTD
Mirrorless Units: 1042K +45% YTD
Mirrorless Shipped Value: ¥102.7 billion +104% YTD
Compact Units: 1014K -12% YTD
Compact Shipped Value: ¥23.2 billion +1% YTD
Lenses for smaller than 35mm Units: 1.798M +7% YTD
Lenses for smaller than 35mm Shipped Value: ¥25.4 billion +6% YTD
Lenses for 35mm and larger Units: 1419K, +45% YTD
Lenses for 35mm and larger Shipped Value: ¥72.7 billion +52% YTD
Cumulative YTD Mirrorless unit share (of Mirrorless + DSLR): 55.3% (was 48.9% Jan-Apr 2020)
Cumulative YTD Mirrorless Shipped Value share: 75.3% (was 60.9% Jan-Apr 2020)
The ratio of lenses shipped to bodies shipped is 1.71 for Jan-Apr 2021. It was 1.81 for Jan-Apr 2020.
List of participating CIPA companies can be found here.
Source: CIPA (thanks ZoetMB)