FusionTLC announced a new universal lighting and camera controller for Nikon cameras called Raven. This new product is created by the founder of PocketWizard and is compatible with most Nikon cameras and lighting control compatible with Godox, Profoto, the Einstein from Paul Buff, and PocketWizard products with more brands being added soon. The price of the Nikon version is $449 and you can purchase it directly from the FusionTLC website.
Additional pictures/information and press release: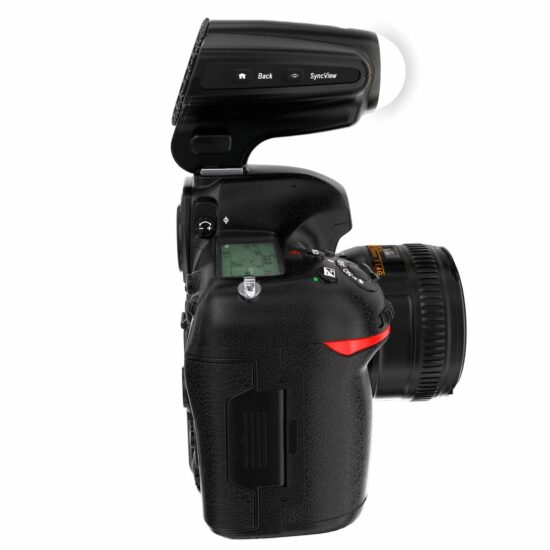 FusionTLC Raven – The universal lighting and camera controller, redefined.
After two years of intensive development, FusionTLC launches its flagship lighting control product, the Raven.
FusionTLC is poised to revolutionize the shooting experience for photographers with their preeminent product, the Raven. Created by the founder of PocketWizard, the TTL capable Raven is a quantum leap in lighting and camera control. Initially Raven is camera compatible with most Nikon cameras and lighting control compatible with Godox, Profoto, the Einstein from Paul Buff and PocketWizard products with more brands being added soon.
"User experience and ease-of-use was at the center of our development process." says Jim Clark, co-founder and inventor at FusionTLC. "We intentionally started from the ground up and challenged every preconceived lighting and camera control interface on the market." Clark continues, "The Raven user experience starts with an industry-first gorgeous 1.4-inch OLED color touchscreen that's reinforced with Gorilla Glass. It enables you to easily adjust settings in the 4 zones and enable proprietary features. We then surrounded the touchscreen with a haptic ring dial that empowers an easy adjustment of lighting intensity."
FusionTLC made sure to design the Raven for extended use. With a built-in rechargeable lithium-ion battery, the Raven is capable of over 16 hour of continuous use and can be recharged while active.
Jason Lin, co-founder and developer of the Raven says "we also wanted to help photographers who found themselves in need of some extra light. The Raven has a built-in 180 lumen LED nose cone lighting system capable of 2700K-6500K color temperature adjustment with variable intensity. We also designed a focus assist feature that utilizes IR and white light to help both mirrored and mirrorless cameras lock in razor sharp focus respectively. The Raven intelligently listens to your camera and provides the light when you need it."
FusionTLC is thrilled to bring a new feature called SyncView to the market. "SyncView allows you to easily adjust the timing and delay of flash pulses down to the tenth of a millisecond. A built-in light meter captures flash pulse profile and reveals timing in relation to the opening and closing of the shutter. To adjust flash timing, simply rotate the haptic ring dial and optimize the timing. This feature is valuable for shooting in bright sunlight at high shutter speeds with older non-HSS/TP type flashes when paired with a PocketWizard receiver" says Clark.
The Raven is also capable of remote camera triggering. It features a robust two-way radio platform that is activated when connected to another Raven (or compatible PocketWizard). With a communication protocol on uncluttered sub-GHz channels, a remote camera receiver can receive signals from as far as 4 miles away from a transmitting Raven. Even better, the main Raven can trigger up to 8 different remote Raven camera zones – enough to cover the most complex, and challenging remote camera situations such as Olympic events, motor sport racing and more.
The Raven is packed with an array of additional features such as MultiPop, timelapse mode, PowerTrack, and SpeedCycler modes. Beyond the revolutionary set of features, the Raven comes with built-in WiFi cloud updates. With the push of a button, the Raven will update itself fenabling new features, compatibility, and improvements. No more PC or MAC required for firmware updates. We've built the Raven for the photographers of today and tomorrow.
The Raven is designed and manufactured in the USA with production locations in NH and WI. The FusionTLC Raven is priced at $449 and will be available for sale starting April 19, 2021.
Learn more and buy now at FusionTLC website.
Via PhotoRumors