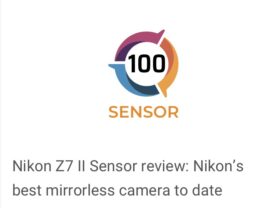 DxOMark just published their Nikon Z7II camera sensor review and they called it "Nikon's best mirrorless camera to date". Here are the details: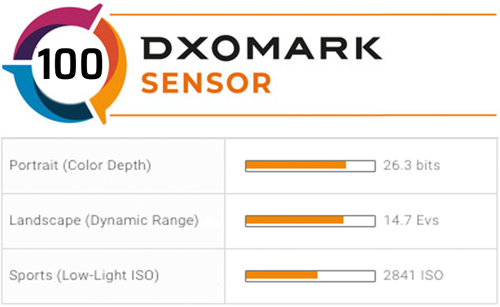 "The Nikon Z7 II achieved an overall DXOMARK sensor score of 100, which is a slight improvement over the model it replaces and puts it in joint 1st place in our sensor ranking for full-frame sensors, alongside the likes of the Nikon D850 DSLR, the Panasonic Lumix DC-S1R, and older Sony A7R III mirrorless models. This also positions the Z7 II just behind the two "cropped' (44 x 33 mm sensor) medium-format models at the top of our database, though the difference of one or two points in terms of overall "sensitivity" is obviously very small.

The Nikon Z7 II sensor has excellent —practically class-leading — maximum color depth and dynamic range, measured at 26.3 bits and 14.7 EV, respectively. Not quite so strong but still very good is its low-light ISO (Sports) measurement of ISO 2841. Although a measured value and not an actual ISO setting, it's a good way of comparing low-light sensitivity between sensors.

Noise levels, color accuracy, and dynamic range have all seen some slight improvement, making the Z7 II the best-performing mirrorless model in the Nikon lineup. While continuous improvement in output is always good to see, it doesn't change very much, as even the price remains highly competitive. And just like its predecessor, the Nikon Z7 II remains an excellent choice for just about any genre, from landscape to portraits and weddings."
Panasonic S1R vs. Sony A7RIV vs. Nikon Z7II comparison (click for larger view):


Next comparison is the Nikon D850 vs. Nikon Z7 vs. Nikon Z7II:


Here are the top-rated Dxo Mark cameras: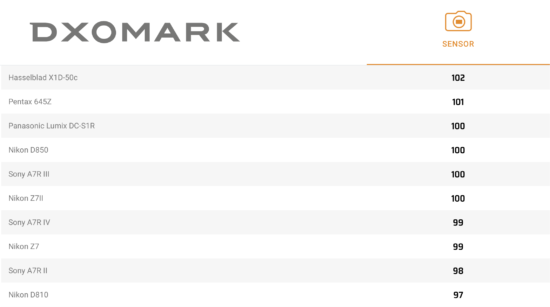 Read the full review over at DxOMark.
---
15% off Topaz Labs products with code RUMORS15
20% off ON1 products with code NIKONRUMORS
10% off Viltrox lenses with code NIKONRUMORS
5% off  Funleader lenses with code LEICARUMORS
$10 off Luminar with code NIKONRUMORS
10% bonus on gear trade-in at KEH (no coupon needed)
15% off Capture One Nordic Style Kit (no coupon needed)