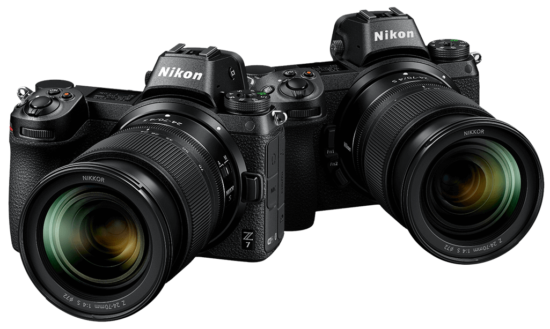 The Google translated version of the press release I posted online last night was horrible – the English version is now available from Nikon USA:
NIKON TO RELEASE Z 7II AND Z 6II MIRRORLESS CAMERA FIRMWARE VER. 1.10 ON FEBRUARY 25
MELVILLE, NY –Nikon Inc. is pleased to announce that firmware Ver. 1.10 for the Z 7II and Z 6II full-frame (Nikon FX format) mirrorless cameras, will be released on February 25.
Firmware Ver. 1.10 will add support for 4K UHD/60p*1 to Z 6II video recording options. Additionally, the performance of Eye-Detection AF on the Z 7II and Z 6II will increase with the update. The eyes of human subjects are detected even when the face of the subject is smaller in the frame than with Ver. 1.00, enabling smoother and more stable shooting.
It will also support RAW video output*2, *3 to Blackmagic Design external recorders*4 *5 for both the Z 7II and Z 6II, enabling recording*6 in Blackmagic RAW format as well as ProRes RAW format.
Firmware Ver. 1.10 supports a variety of video-recording workflows, responding to the advanced video production needs of professionals.
Furthermore, for the ProRes RAW video recorded to the Ninja V external recorder manufactured by Atomos, compatibility with the ISO settings and color temperature controls added to Apple's Final Cut Pro Version 10.4.9 and later is supported. This expands video editing options when using Final Cut Pro.
If you have already purchased the RAW video output upgrade for your camera, updating to firmware version 1.10 will add support for Blackmagic Design external video recorders automatically*5.
*1When this option is selected, image area is fixed at the DX-based movie format, and movie quality is fixed at Normal.
*2The RAW video output function can be enabled by a Nikon service facility for a fee.
*3With the Z 7II, full-HD RAW video can be recorded using the FX-based movie format, and 4K UHD RAW video can be recorded using the DX-based movie format. When the Z 6II is used, recording of either 4K UHD or full-HD RAW video is possible with both FX- and DX-based movie formats.
*4The Atomos NINJA V and now the Blackmagic Design Video Assist 5″ 12G HDR and 7″ 12G HDR can be used to record Nikon RAW video in the ProRes RAW or Blackmagic RAW format, respectively. Operation is not guaranteed with recorders other than those noted above (as of February 18, 2021).
*5In a future update, Blackmagic Design will release a software update that adds the Nikon Z 7II and Z 6II as models supported for the recording of Blackmagic RAW on Video Assist 12G models.
*6RAW video output at a frame size/frame rate setting of 4K UHD/60p is not supported.
Overview of the RAW video output upgrade service (performed for a fee)