Editing pics with Nikon's free Capture NX-D – is it worth saving money working with free software?
By Michael Eisenberg, Danish copy writer and photographer
When you buy an expensive camera, you also need a powerful computer and some post processing software. It all adds up moneywise. But actually, Nikon offers you a free picture viewing software, ViewNX-i, and a free post processing software, Capture NX-D. While, obviously, Capture NX-D may not be seen as the most sophisticated by professionals, this application enjoys the reputation of featuring one of the best RAW converters, if not the best. And with Capture NX-D you can process a picture in less than a minute. Let's see if it is good enough for your needs.
In my daily work as a semi pro I mainly shoot cars, portraits, and cityscapes. I try to finish the pic as much as possible in-camera. So, what I need is a good RAW-converter and a quick processing tool. I rely solely on Capture NX-D for my post processing work.
Our test picture is of a VW Polo R5 rally car, a very potent weapon in the category just below the WRC rally cars. You will, of course, want to use one of your own shots in the following process. Like any other picture I take, it was shot in RAW to enable the highest picture quality and the most editing options. If you shoot jpegs, you are bound to lose a number of editing options.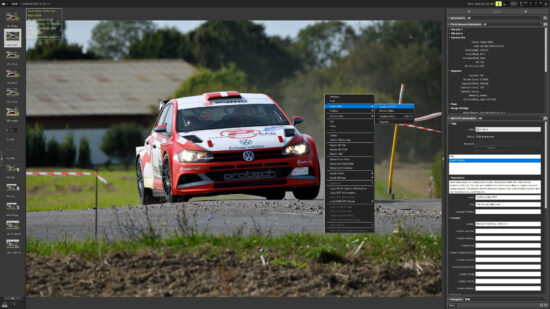 In ViewNX-i: For a start, I view all pictures in ViewNX-i. In this application I can easily I check picture data. This pic was taken with a Nikon D850 and a NIKKOR VR 200-500mm f/5.6E at 500mm, Focus Mode AF-C at f/8, 1/1600s in Manual mode with ISO Auto (ISO 360)
I now right click on the picture and open it in Capture NX-D (you can also browse and open pics in NX-D).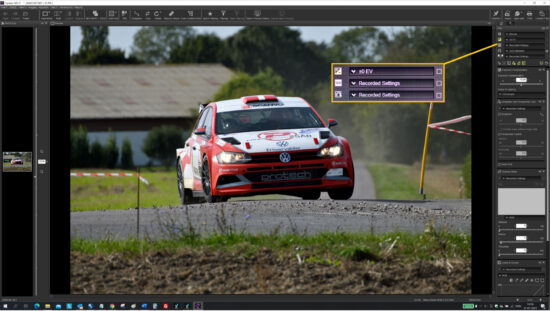 In Capture NX-D: The main thing to work with are the three symbols in the top right corner of the screen, Exposure, White Balance and Picture Control.
First, click on the Exposure symbol.
The histogram (part of which can be seen at bottom right) is okay, there is no overexposure. 
Active D-Lighting was set to Auto, but as the front of the car is a little bit dark, I chose High.
Next, click on the White Balance symbol. WB was Natural light auto, but as the car is sunlit, I chose Direct Sunlight (no big difference, the camera gets it right).
Next, click on the Picture Control symbol. The pic was taken with (SD) Standard. But we want much more color, so I chose Picture Control (VI) Vivid (in real life I adjust all this in-camera before shooting, but this is obviously a test). You may increase Sharpening and Saturation if you wish.
For cropping and straightening I use the tools in center top of the screen. I tilted the car a bit to the left to add a little bit of drama, and I cropped a bit. That's all I did.
This picture was finished in less than a minute. The original, of course, measured 8256 x 5520 pixels, the cropped version is 6285 x 4190 pixels, still more than enough to easily make a 1 x 1,5 meter print (40 x 60 in.)
The ViewNX-i/Capture NX-D combo, though free of charge, of course has a lot of facilities not tested here, such as batch processing or loading XMP/IPTC Presets which comes in handy when you upload pictures to professional picture sharing sites where media can buy and download your photos.
Conclusion: While I would never claim that Capture NX-D can fulfill the demands of every single pro or enthusiast, I would just recommend that you test it yourself in order to see if this free application can do your daily processing work thereby saving you money otherwise spent on expensive processing applications.
If you have an interesting idea for a guest post, you can contact me here. See the author's pics of cars here: