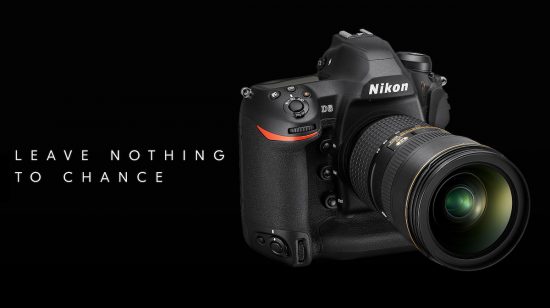 The new Nikon D6 flagship DSLR camera will start shipping in the first week of May 2020 (in Canada) – this information is coming from Brad Hill:
Earlier today I received "the call" – that is, the phone call informing me that the Nikon D6 (including mine) will be shipping out in Canada in the first week of May. And that's May 2020, not 2021! 😉

As previously reported on this blog, the D6 will be one of the four Nikon products that I will be doing a detailed field test and review of in 2020. I'm really looking forward to getting my hands on a D6 – in some ways we know very little about the actual implementation of some of the new features (e.g., compared to the D5 just how much better is the autofocus system…and how much better IS the ISO performance…and…how well are the "advanced customization" features executed and how much will they help me in the field?), but I do think – and hope – some of the many "tweaks" to the camera work well for me…
The Nikon D6 was announced in February and was supposed to start shipping in April, but was later delayed because of COVID-19.
The Nikon D6 is now available for pre-order: Adorama | B&H | Amazon | WEX | Park Camera | Calumet | Camera Canada.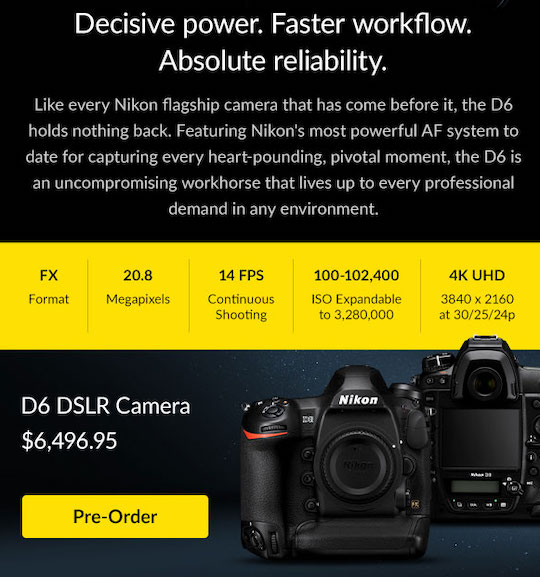 ---
Get 15% off Topaz Labs products with code RUMORS15
Get $10 off Skylum Luminar with code NIKONRUMORS
Get 10% off Exposure X5 with code NIKONRUMORS
Get 20% off ON1 software with code NIKONRUMORS
Get 40% off Rocky Nook books with code NIKONRUMORS
Get 35% off Franzis products with code NIKONRUMORS-35
Get $60 off DENOISE 3 Pro | 30% off all DxO software
Get 20% off ThinkThank bags | 30% off PeakDesign V1 bags
Get Slylum Luminar 3 for FREE