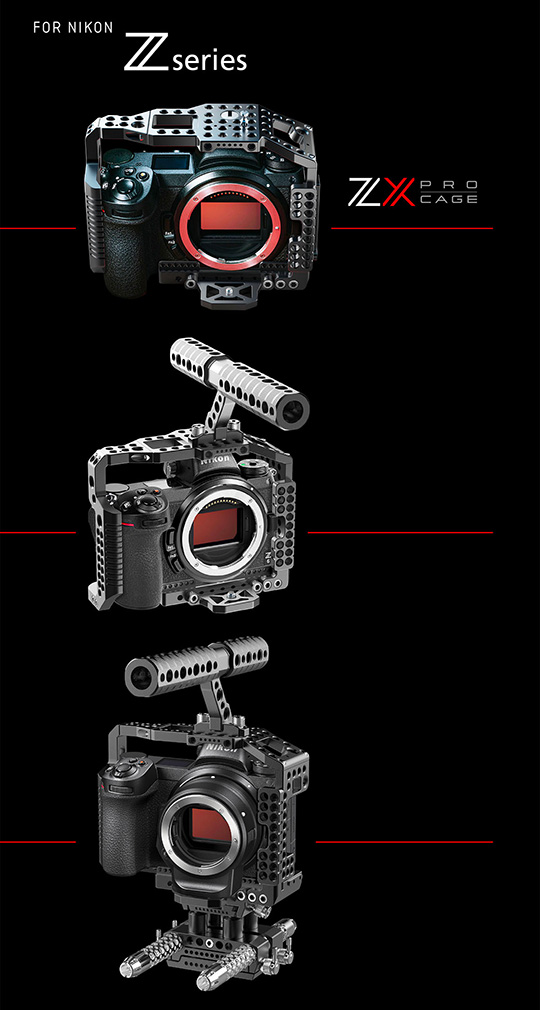 LockCircle announced a new ZX Pro cage for Nikon Z series (LockCircle products are sold at B&H):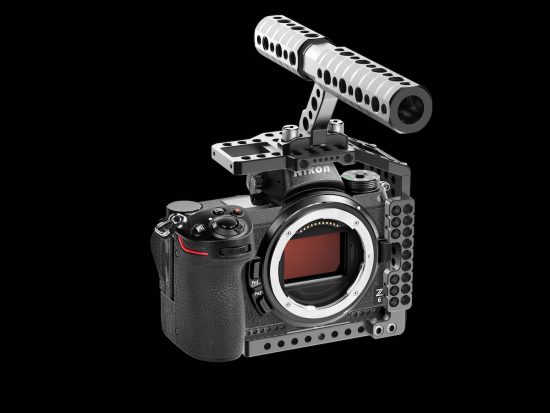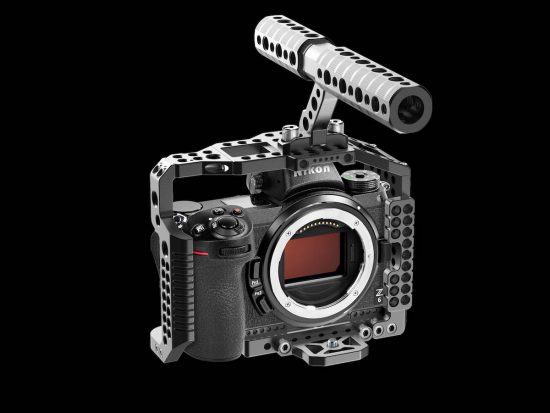 The new ZX PRO CAGE is another innovative professional LockCircle cage designed to fit like a glove around the latest Nikon Z6/Z7 mirrorles cameras, featuring the exclusive Asymmetrical Design Approach for right hand camera grabbing and controlling with the original camera ergonomic feeling.
Designed for comfortable grip and action, leaving on the left side of the camera all the production tools and accessories mounting: a still and film camera without the limitations of other cages.
If looking for a more cinematic approach, the asymmetrical concept can be upgraded to total wrap with the Side Bar to add other accessories and rigging solutions on the right side of the cage.
A special ergonomic approach offers something more than just wrapping around the Nikon mirrorless cameras with a metallic cage with some threads: a natural extension of the original camera shape!
The ZX PRO CAGE integrates the MultiPort for secure connectors locking HDMI/USB-C/Headphone and Microphone mini-jacks.
LockPort kits (port savers) are available for the Micro to Full-Size HDMI output.
A professional grade of mounting plates and Positive-Lock Mounts for universal cine-style lens mounting are available, offering precise professional follow-focus work.
The ZX PRO CAGE baseplate has a mounting receiver for the FTZ Block (adjustable), designed for the Nikon FTZ Mount state of the art mounting.
All along the Focal-Plane there are several threads for the (AC) tape measurement hook mounting; a Titanium Grade 5 Focal Plane Pin is available: a nice Hollywood touch.
The camera baseplate has two camera mounting threads (1/4 and 3/8 with 1/4 adapter) for heavy-duty safety mounting.
A heavy-duty baseplate is available for heavy cinematic primes and zooms.
A Titanium Grade 5 camera 1/4-20 screw is coming with the cage.
A new MicroMega-M ultra-compact professional modular baseplate for 15mm rods is available together with the RodRocket Titanium Grade 5 15mm rods system.
– Asymmetrical classic LockCircle cage design concept.
– Right hand camera grabbing/control with original Nikon Z6/Z7 cameras ergonomics.
– Right Side Bar (total wrap) expansion module for right hand accessories/grip handles.
– 158 (136 with the Side Bar) threads 1/4-20, 3 threads 3/8-16 (5 with the Side Bar).
– Top Grip handle and Boombooster compatible accessories.
– CNC machined from billet aircraft grade aluminum.
– Ultra-Lightweight and professional heavy-duty grade strength.
– High quality organic anodizing with professional grade velvet surface finish.
– Dura-T (Mil-Spec) heavy duty unscratchable military look finish on request.
– Custom genuine Titanium Grade 5 screws and knobs.
– LockPort/MultiPort HDMI/Audio port savers with connector locking.
– FTZ Block Mount (adjustable) for monolithic mounting.
– New MicroMega-M ultra-compact modular expandable 15mm baseplate.
– Focal Plain thread for AC measurement custom titanium hook.
– New hi-tech deep anodized colors.
– Designed by cinematographers and manufactured in Italy.
Prices starts from Euro 169,00 / USD 189,00.
Special lowered PRE-ORDER prices are available until October 31.
Delivery starts from middle of November 2019.
Additional information available at lockcircle.com.