The Venus Laowa 105mm f/2 Smooth Trans Focus (STF) lens for Nikon F-mount is now $220 off (31% off) at Adorama and Amazon and $200 off at B&H.
Additional informaiton on the Laowa 105mm f/2 STF lens can be found at venuslens.net:
The Laowa STF 105mm f/2 is a portrait lens with an apodization filter that gives a more progressive and velvety bokeh than an ordinary lens (STF stands for Smooth Trans Focus). This is the same principle as for the Minolta AF / Sony 135mm f/2.8 [T/4.5] STF and close to that of the Fujinon XF 56mm f/1.2 R APD. The Laowa has the advantage over the Sony of being one EV brighter. Hereafter its main features:
11 elements, including the apodization filter, 1 element made of glass with high refractive index and 3 elements made of low dispersion glass, in 8 groups
Manual focus (the apodization filter is hostile for phase-detection autofocus)
Minimum focusing distance: 90cm
Maximum magnification: 0.16x
Filter diameter: 67mm
Dimensions: 76 mm (maximum diameter) x 98.9 mm (length) (depending on lens mount)
Weight: 745 g (depending on lens mount)
Available mounts: Canon EF, Nikon F, Pentax K, Sony A and Sony E
Available in black and silver
Launch date: January 18, 2016
Price in China: the equivalent of €500-550 (probably more in Western countries)
Shipment should start in the summer of 2016
Laowa STF 105mm f/2 lens MTF chart: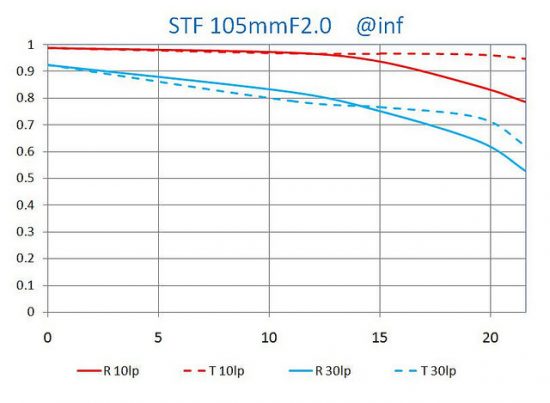 Laowa STF 105mm f/2 lens design:
A few sample photos are available on flickr (via PhotoRumors).