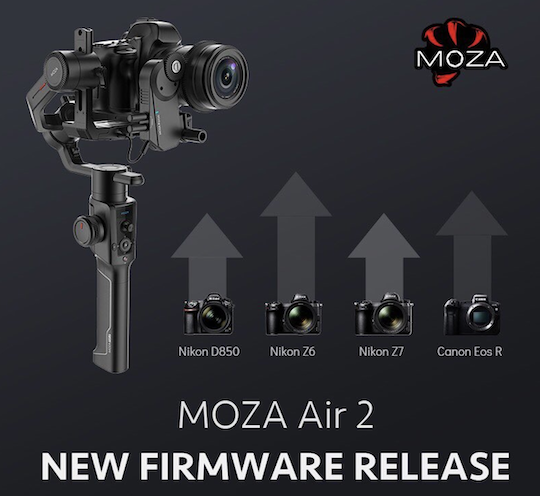 A new firmware update for the Moza Air 2 handheld gimbal stabilizer (Adorama | B&H) was released two weeks ago with added support for the Nikon Z6/Z7/D850 cameras – see compatibility list (the Moza Air 2 is included in the Z6 filmmaker's kit):
Added electronic focus support for Nikon D850, Z6, and Z7 with supported Nikkor lenses.
Added adaptive speed adjustment support for Nikon D850, Z6 and Z7.
Added aperture, shutter and ISO adjustment support for Nikon D850, Z6 and Z7.
Added live view switch support for Nikon D850.
Added increment parameter adjustment support and more comprehensive control range for Canon and Nikon cameras.
Added autofocus support in video recording for Canon, Sony and Nikon cameras.
Fixed other minor bugs.
Here is a report from a reader (thanks Kenny):
I just wanted to let you know that as of yesterday, Gudsen quietly released a new firmware for their Moza Air 2, the gimbal that is included in the Z6 Filmmaker's kit.  This upgrade, which curiously has the same version number as the one before, lets filmmakers control ISO, Aperture, Shutter Speed, and Start/Stop Recording directly from the Gimbal controls, without having to touch the camera itself – this is awesome and makes the Moza Air 2 lack nothing vs the DJI Ronin-S (a more expensive and heavier stabilizer).  The firmware update also enables electronic focus pulling, through the wheel on the gimbal (single point AF must be selected in order for this to work).  Therefore, PEOPLE SHOULD NOT BUY the Gudsen Moza's follow focus, which sucks anyway.

I have tested focus pulling with my 50mm F1.8 S and my 24-70 mm F4 S, and they both work.  Motion lapsed, timelapse, and variable speed time lapses also work in photo mode (parameters adjusted through the ios app).

I'll test the FTZ with F-mount lenses later tonight and let you know if you can control all camera parameters with the FTZ mount attached with an F-mount lens.  I'll also test my D850 and see if it pulls focus.

It's worth mentioning that when the Filmmaker's kit started shipping, these controls weren't available, which makes no sense at all.  This update was rolled out quietly for some reason (probably to hide the terrible job they did at marketing these features and the fact that they were available a while after the kit started shipping, which is unbelievable).  Even in Gudsen's website, the release notes for this version of the software state "Camera parameter adjustment is not yet supported," while in fact it is now completely supported.

On a down note, in order be able to use these features, one has to purchase a mini USB to USB-C adaptor.  Why the hell this wasn't included in the Filmmaker's kit is beyond me –  Gudsen sells the adaptors on their website, but I bought mine through Amazon because buying from Gudsen directly takes a month to get to you, as they ship from China. Here is the link for the adaptor: https://amzn.to/2HHGruJ

You can also just buy a USB-C to USB-Mini cable, just making sure it's not very long, or it'll get in the way.

For me, this makes the purchase of the filmmaker's kit justifiable.  I think the Z7 is great but 10 bit N-LOG with full pixel readout from the Z6, and less noise, coupled with probably the best one-handed gimbal in the market is just an amazing deal at 4,000 dollars.  Nikon and Gudsen's marketing on this has been just horrible.  With these features, they should be selling thousands of these kits.  I can't believe I found it out just casually.
Related videos: