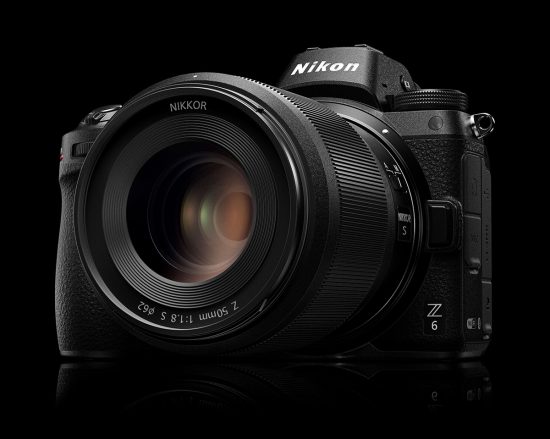 Today Nikon USA issued an official press release for what I already reported here last week – the Nikon Z6 camera will start shipping this Friday, November 16th.
As a part of the same press releases, Nikon USA also announced their holiday promotions that are a combination of the Nikkor lens-only rebates and the free Nikon battery grip offer (more info available here):


Nikon lens-only rebates at Adorama and B&H Photo (some listings offer free accessories and additional cashback, see also this page for more listings):
FX Lenses
DX Lenses


Free Nikon battery grip offer – see details at Adorama and B&H Photo (some listings offer free accessories and additional cashback):
Entry level Nikon DSLR holiday promotions: D3500 | D5600
Here is the full press release:
THE NIKON Z 6 TO HIT SHELVES RIGHT IN TIME FOR THE HOLIDAY SEASON
MELVILLE, N.Y., Nov. 14, 2018 /PRNewswire/ — With the holiday season just around the corner, Nikon Inc. is pleased to announce the retail availability of the new Nikon Z 6 camera, which was announced alongside the Nikon Z 7, Mount Adapter FTZ, and the NIKKOR Z 24-70mm f/4 S, 35mm f/1.8 S, and 50mm f/1.8 S lenses in late August of this year. In addition to announcing retail availability for this product, Nikon will be offering an array of, instant savings programs and special discounts for a variety of Nikon products.
Nikon Z 6 Availability
The Nikon Z 6 offers an incredible value for photographers and content creators, striking the perfect balance of speed, optical performance and powerfully cinematic video features while maintaining the advantages of a lightweight mirrorless design, all at an incredibly compelling price point. The versatile Nikon Z 6 includes a 24.5-megapixel-BSI CMOS sensor, wide ISO sensitivity range of 100–51,200, 12fps continuous shooting at full resolution, 5-axis in-camera vibration reduction technology, crystal clear 3.6m-Dot Quad VGA viewfinder and full-frame 4K UHD video capture with full pixel readout.
The Nikon Z 6 will be available nationwide starting this Friday, November 16 for the suggested retail price (SRP) of $2,599.95 with the NIKKOR Z 24-70mm f/4 S lens and $1,999.95 for the body only configuration.
Nikon Holiday Promotions
Nikon Inc. is also unveiling several new holiday promotions to encourage consumers to share the gift of photography with their friends and loved ones.
For consumers in the market for a new mirrorless camera, the Nikon Z system is an ideal entry-point. Now, for a limited time, Nikon Inc. will be offering $100-savings on the Mount Adapter FTZ when purchased alongside the new Nikon Z 7 or Nikon Z 6.
Additionally, Nikon will be offering numerous special promotions on the extensive lineup of Nikon DSLR cameras, camera kits and NIKKOR lenses, which are great gift options for those looking to take their photography and video capture to the next level this holiday season.
The list below outlines the instant savings available starting on November 22, 2018
Entry-Level DSLR Savings:
Nikon D3500 Double Zoom Lens Kit:

$499.95

(after

$350

instant savings)
Nikon D3500 18-55mm VR Kit:

$399.95

(after

$100

instant savings)
Nikon D5600 Double Zoom Lens Kit:

$699.95

(after

$450

instant savings)
Nikon D5600 18-55mm VR Kit:

$649.95

(after

$150

instant savings)
Enthusiast and Professional-Level DSLR Savings:
Nikon D7500 18-140mm f/3.5-5.6G ED VR Kit:

$1,449.95

(after

$300

instant savings)
Nikon D7500 16-80mm f/2.8-4E ED VR Kit:

$1,749.95

(after

$570

instant savings)
Nikon D7200 Body Only:

$799.95

(after

$300

instant savings)
Nikon D7200 Dual Zoom Lens Kit:

$999.95

(after

$550

instant savings)
Nikon D750 Body Only with MB-D16 Multi-Battery Power Pack:

$1,399.95

(after

$939.95

instant savings)
Nikon D750 24-120mm f/4G ED VR Lens Kit with MB-D16 Multi-Battery Power Pack:

$1,899.95

(after

$1,539.95

instant savings)
Nikon D500 Body Only with MB-D17 Multi-Battery Power Pack:

$1,799.95

(after

$469.95

instant savings)
Nikon D500 16-80mm f/2.8-4E ED VR Lens Kit with MB-D17 Multi-Battery Power Pack:

$2,399.95

(after

$939.95

instant savings)
Nikon D810 Body Only with MB-D12 Multi-Battery Power Pack:

$2,799.95

(after

$629.95

instant savings)
Nikon D810 24-120mm f/4G ED VR Lens Kit with MB-D12 Multi-Battery Power Pack:

$3,299.95

(after

$1,229.95

instant savings)
Select legendary NIKKOR lenses also available at up to

$200

in instant savingsHere