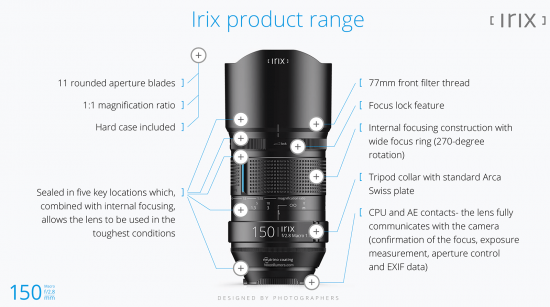 The new Irix 150mm f/2.8 Macro 1:1 lens for Nikon F-mount will start shipping in December – the current date listed at the B&H pre-order page is December 26th. Some more information on the new lens (see also this post):
Irix 150mm f/2.8 is a modern and versatile macro telephoto lens designed for full-frame high-resolution DSLR cameras. Its fast aperture of f/2.8 facilitates shorter exposure times, while its moderately long focal length of 150mm provides an excellent compromise between the narrow viewing angle desired in macro, advertising and portrait photography, and the convenience of hand-held photography. The lens is equipped with an aperture mechanism consisting of 11 aperture blades with a rounded shape which provides a pleasant blur of background or points of light and helps to maintain excellent sharpness even after stopping down the aperture.
The Irix 150mm f/2.8 Macro 1:1 is the first lens available in the new Dragonfly series, which combines the lightness and perfect ergonomics of the Firefly and the durable magnesium housing used in the Blackstone.
Lightened Aluminium internal frame
Lightweight composite housing reinforced with Al-Mg alloy
Anti-scratch finish
Anti-slip coating on the focusing ring
Engraved markings covered with UV reactive paint
Superior dust and moisture protection (5 sealings)
A practical deep lens hood that isolates the lens from sidelight sources and also protects the front element of the lens from minor damage
Includes a rigid lens case for safe transport and storage
Detachable tripod collar made to the Arca Swiss standard, allowing you to transfer the weight that is the center of mass to the front and securely place the camera on a tripod