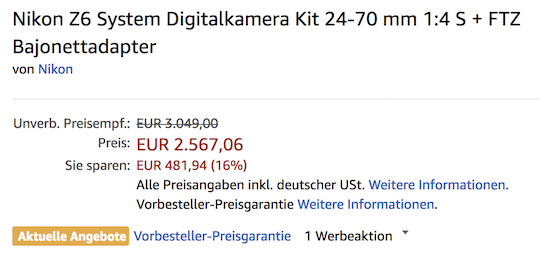 Amazon Germany has a big price drop on the Nikon Z6 camera:
Update #1: the Nikon D750 is now also down to €1,419.27 from €1,650.
Update #2: I guess today is Amazon deals day: they currently have the Sigma 135mm f/1.8 DG HSM Art lens for $250 (or 18%) off (sold by third party). Adorama and B&H list the lens at full price ($1,399).
The above listings are labeled as "specials" with "price guarantee" (Aktuelle Angebote, Vorbesteller-Preisgarantie). Amazon is known to have similar sales for a limited time (usually a day or two).