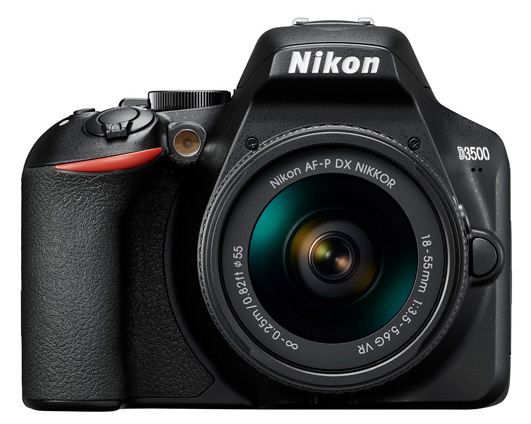 The previously rumored Nikon D3500 DSLR camera is now officially announced:
24.2MP
ISO 100-25600
1,550 shots with a single charge
5 fps
Shutter: 1/4000 to 30 sec.
Built-in effect modes
Full HD 1080/60p video
Weight: 12.9

 oz 

(

365

 

g

)

Price: 499.95 (with a kit lens) and $849.95 for a two lens kit (already $250 off)
Shipping starts in September 2018
Additional information:
Nikon D3500 primary feature:
1. Superior basic performance that supports the beautiful capture of a wide variety of scenes
Offering an effective pixel count of 24.2 megapixels and equipped with a Nikon DX-format CMOS sensor with no optical low-pass filter, the D3500 is able to capture images that make the most of the superior resolving power of NIKKOR lenses. The camera supports the broad ISO 100-25600 range of standard sensitivities that enables the beautiful capture of dimly lit indoor scenes and night landscapes at high sensitivities with hand-held shooting.
2. A functional design that even beginners will find easy to operate
The D3500 is constructed with the same slim monocoque structure as the Nikon D5600, for which a completely new design was adopted. The hold on the camera while shooting and applying settings has been improved with a deep grip and wider spacing for the thumb on the back of the camera. A new layout for operational controls, including an even larger playback button and concentration of the most frequently used buttons at right on the back of the camera, makes operation even smoother and more intuitive.
3. Automatic transfer of photos captured with the camera to a smart device for immediate sharing
A constant connection between the camera and a smart device is possible using the SnapBridge app and Bluetooth® technology. Not only can photos captured with the camera be automatically transferred to a smart device, but they can also be automatically uploaded to Nikon's photo sharing service, NIKON IMAGE SPACE. The SnapBridge app supports a number of other features as well, including the ability to attach copyright information and comments to images, and to automatically synchronize camera date/time and location information with that of the smart device.
4. Increased battery performance (life) for worry-free use
Approximately 1,550 shots are possible with a single charge. This allows users to concentrate on capturing as many photos as they wish, without worrying that their battery will be exhausted, at special events or while traveling.
Press release:
The New Nikon D3500: Capture and Share Your Treasured Moments With the Lightest, Friendliest Nikon DSLR yet
The Redesigned Nikon D3500 is the Most Portable Entry-Level Nikon DSLR Ever, and the Easiest Way to Capture the Moments that Matter Most
MELVILLE, NY – Today, Nikon unveiled the new Nikon D3500, a compact, entry-level DSLR that makes capturing the world easier and more convenient than ever. The 24.2-megapixel D3500 features an updated CMOS image sensor and Nikon EXPEED image processor to capture sharp details and vivid colors, and is packed with easy-to-use features that help first-time DSLR users start capturing better photos and video right away.With its ergonomic and lightweight body, approximately 1,550 shots on a single charge and convenient features like Nikon SnapBridge1 and helpful Guide Mode, the Nikon D3500 is a great option for parents, travelers and photo enthusiasts who are eager to take their photography to the next level.
"The Nikon D3500 is ideal for consumers who are looking to easily capture the kinds of images that their smartphone simply cannot match, and share them seamlessly with family and friends," said Jay Vannatter, Executive Vice President, Nikon Inc. "The D3500 reaffirms our commitment to releasing convenient DX-format DSLR options for those just discovering photography."
Capture Stunning Images and Video with Ease
The Nikon D3500 is bursting with high-performance features that help first-time DSLR users capture amazing images in a variety of situations. The camera's broad ISO range of 100-25,600 makes it easy to capture sharp, clear images in low-light shooting situations with very little noise, while the 11-point autofocus (AF) System locks onto subjects, even fast-moving pets or children to help ensure that fleeting moments aren't missed. The D3500 also features built-in Effect Modes to help entry-level users discover and express their personal creative vision.
Additionally, the Nikon D3500 is capable of continuous shooting up to five frames-per-second (fps), helping to capture candid moments with ease. The Nikon D3500 is also equipped with Full HD 1080/60p video capability. Users can switch from shooting photos to video at the press of a button, allowing them to capture spur-of-the-moment memories that will last a lifetime with stunning sharpness and clarity.
To further expand creativity, the in-camera Guide Mode gives new DSLR users the tools they need to learn about their new camera's capabilities and become better, more knowledgeable photographers.
All these amazing features have been incorporated into a new ergonomic and lightweight design featuring a more comfortable, deeper grip and the slim monocoque body design similar to the Nikon D5600. The new design also features a more beginner-friendly and intuitive control layout, with a larger playback button and the most frequently-used controls all relocated to the right side of the camera's LCD where they are easiest to access.
The redesigned Nikon D3500 is ideal for a fast-paced on-the-go lifestyle, making it the perfect companion for any family event or travel adventure.
Always Connected for Easy Sharing
Sharing photos with the ones you love is easier than ever with the Nikon D3500 and Nikon SnapBridge app. The D3500 uses Bluetooth2 to create an always-on3 connection between the camera and a compatible smart device, making it possible to seamlessly share 2MP images to social media as they are captured. Additionally, D3500 users will now be able to trigger their camera remotely via Bluetooth using SnapBridge. Nikon SnapBridge users can also access Nikon Image Space4, a free online image sharing and storage service that preserves memories in the cloud.
Pricing and Availability
The Nikon D3500 will be available in a two-lens kit option, including the AF-P DX NIKKOR 18-55mm f/3.5-5.6G VR and AF-P DX NIKKOR 70-300mm f/4.5-6.3G ED, for a suggested retail price (SRP) of $849.95* in September 2018. A Nikon D3500 single-lens kit with the AF-P DX NIKKOR 18-55mm f/3.5-5.6G VR will also be available for (SRP) of $499.95* in September 2018. For more information on the new Nikon D3500, please visit www.nikonusa.com.