An Arctic Beauty – Lofoten with the Nikon D750 by Adrian Ranfft (website | instagram):
Probably, a lot of you already know Lofoten Islands. It is one of THE most famous spots for landscape photographers; many are dreaming of a vacation there. Lofoten Islands are located in North Norway within the arctic circle. Due to the golf stream the climate is quite mild, thus the average temperature even in winter is at 0° to 5° C and in summer it is often more than 20° C. This makes it a very popular place for landscape photography as you do not need special clothes – especially when you live in temperate climate zones – but you can benefit from very great landscapes, changing weather, and superb light conditions.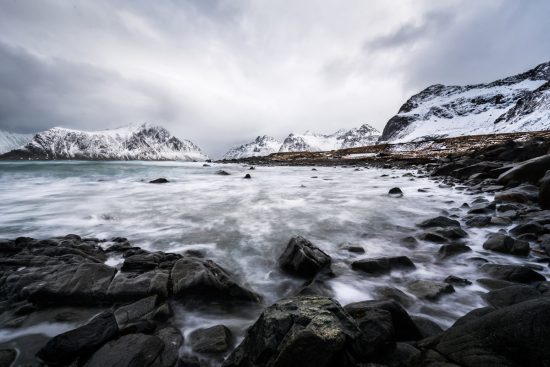 (The mountains in the background reveal this famous place: Skagsanden beach)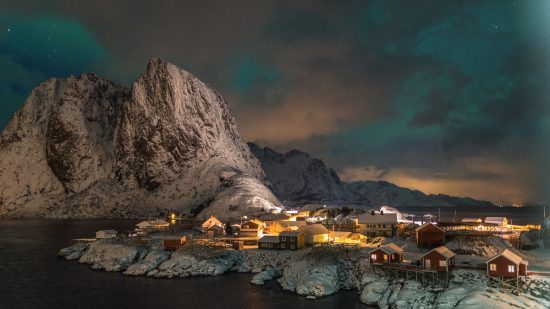 (The iconic little fishermans village of Hamnøy)
A trip to Lofoten Islands can be done through the entire year. If you want to enjoy soft and warm arctic light, travel end of January or beginning of February. The sun is coming back after dark days in December and beginning of January. You will have long dusk and few hours of daylight with low sun. Additionally, you do not have to wait until late evening for northern lights.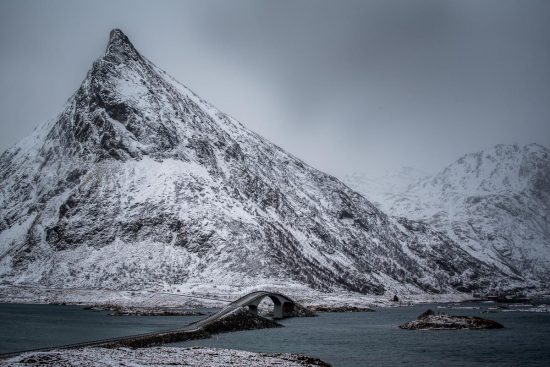 (The very pointy Volandstinden mountain is located near Flakstad)
Last year, I made a trip to Lofoten Islands at the end of March. It is still cold enough to have snow covered mountains but you have plenty hours of daylight to discover the islands, select your favorite location for the evening, and plan where to enjoy the sunset and wait for northern Lights.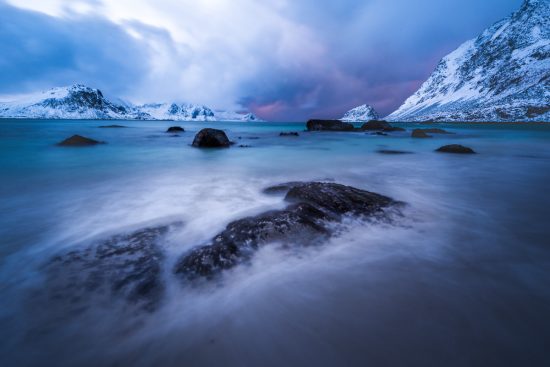 (Haukland Beach)
We took the plane from Berlin to Harstad/Narvik via Oslo and grabbed the keys of our rental cars. After driving four hours through marvellous landscapes, we arrived at our cabin in the iconic village of Hamnøy. This place gave us the possibility to discover some of the most famous places with a maximum of one hour to drive.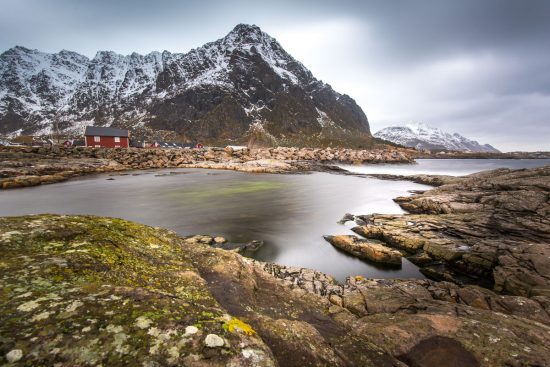 (Beautiful pools near the village with the shortest name: Å)
Photographing Lofoten Islands is not that special concerning camera equipment. In my backpack, I had my Nikon D750 workhorse. It is the most versatile camera for this place. For regular landscape photography it provides a stunning dynamic range without the necessity to combine different exposures in post processing, although I often do some AE bracketing to have the possibility afterwards. At night, when shooting northern lights, the high ISO capabilities are very good, thus I had no issues when pushing the ISO to 3200.
I took most of my photos with the Nikon AF-S 4/16-35 VR, having the AF-S 4/70-200 VR for some compressed compositions always in my backpack. I never regretted to have those "slow" zooms instead of the 2.8 versions. The 16-35 is a great lens for my kind of photography as I often use 100mm filters. Due to the 77mm filter thread you do not need extra large filters. Although a full frame camera comes with a lot of weight and size, the 100mm filters keep it in a healthy balance.
The 100mm filters have completely replaced all of my other filters as they are very versatile. To soften the water and clouds, I often use Haida ND filters with 3, 6 and 9 stops. The waves in the water are often very intense, so you sometimes just need the ND3 filter to get a great result. In other situations, you will need the ND6 or ND9. I really recommend to have all three filters. Most of the filter holders can also hold a polarizer. NISI and Haida feature a very clever system where the polarizer is attached close to the lens – right behind the first slot. This allows the use of smaller and thus cheaper polarizers. I originally used the classic Lee filter holder but now switched to the NISI one although it is a bit more fiddly to attach to the lens. Both are very nice and tough, but NISI offers a special holder for the Laowa 12mm and has the more clever concept to adapt polarizers. Nevertheless, I would recommend both of them. Graduated ND filters are an option. Modern sensor technology often allows you to do this in post processing. In case of high contrast scenes it is still sometimes useful to filter on location or do AE bracketing. I have a full set of 1, 2 and 3 stops graduated ND filter at home, but mostly only carry the 3 stop one with me to save weight and space.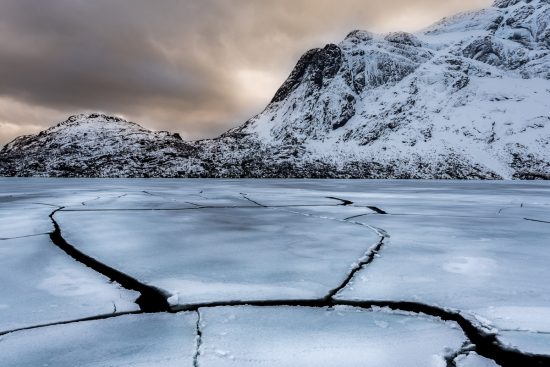 (Frozen lake next to the road to Nusfjord)
I always recommend to prepare such a photo trip beforehand. Using Google maps, Instagram etc. will give you an idea of the area and possible locations. I usually prepare a map and tag possible spots, link photos and websites I found, and add useful information concerning the light. No matter what weather or light I always have a rough idea where to go next. However, I admit, sometimes I just drive around letting the beauty of the landscape float into my mind.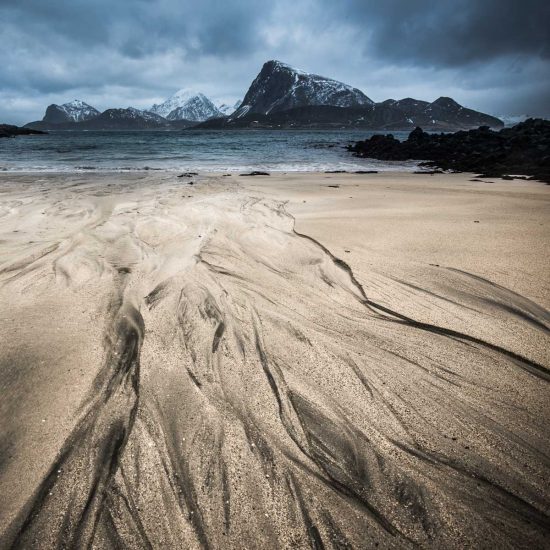 (Structures near Storsandnes)
Recommended places
Lofoten Islands is full of iconic and beautiful places. The most popular in the South:
Village of Hamnøy: The little old fishermans village with Lilandstinten in the back. The
view from the bridge is probably the most famous shot from Lofoten, so you will often
meet ten other photographers at this place.
Skagsanden Beach: One of the most famous beaches but with lots of photographers
Haukland Beach: the other iconic beach. Also go to Uttakleiv beach, which is located
right north to Haukland Beach.
Village of Reine: beautiful little fishermans village with a photogenic overlook just at
the entry
Nusfjord: another beautiful fishermans village.
Kvalvika beach: You have to take a ferry and go for a short hike to reach this beach.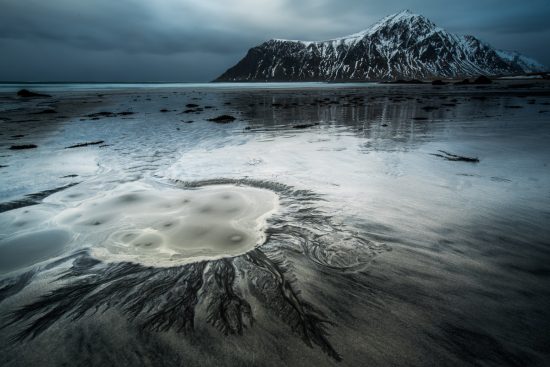 (Once again Skagsanden Beach)
Photographing Northern Lights
Besides the stunning landscape, there is another reason for travelling to Lofoten Island. Lofoten Island offers you superb conditions to observe Northern Lights.
As you see in my photos, Northern Lights can be very different. Sometimes they are more diffuse like in my shot of the lovely village of Hamnøy, sometimes they are structured. I recommend smartphone apps like AuroraCast or Northern Eye to get a forecast.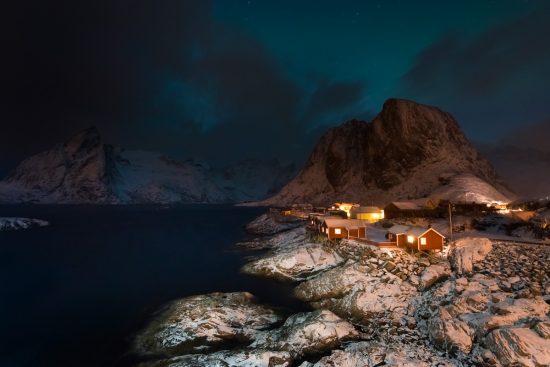 (Hamnøy with Northern Lights)
My favorite setup is a bright lens; I used the Sigma Art 1.4/24. Most of my shots were taken at ISO 1600 with aperture 1.4 to 2.0 and about one or two seconds exposure time. The exact exposure time depends on the ambient light, so you should check out your histogram.
When using your lens wide open, the depth of fields is quite narrow even at a short focal length. Thus, you should be familiar with your lens and find out the infinity point. When involving a close foreground, focus on the foreground. This will probably lead to a blurred sky. If you do not like this, you can consider focus stacking to achieve a higher depth of field. I generally recommend not only to shoot into the sky but also take photos with foreground. This makes your portfolio much more diversified.
Do not forget warm clothes. You will probably stay at the same place for more than an hour without a major movement. Warm clothes including warm shoes are necessary to have fun.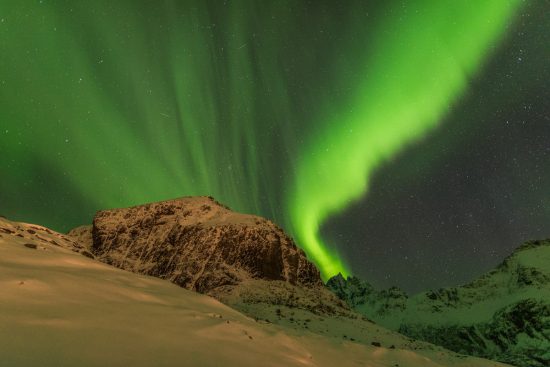 (Northern Lights near Å)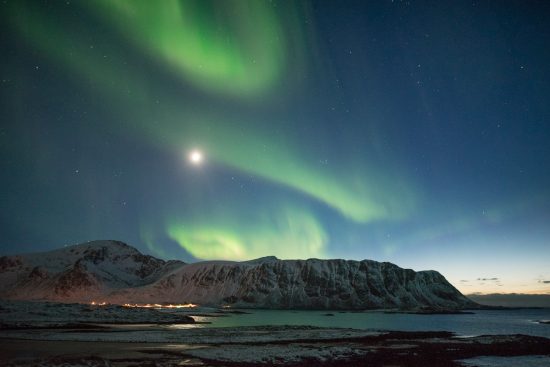 (Northern Lights near Flakstad)
The Next Trip
While writing this article, I'm preparing my next trip to northern Norway. This time we'll travel in February, having shorter periods of daylight but hopefully more warm sunlight all over the day. As the sunset is at 4:30 PM, this will make it more convenient to shoot Northern Lights and saves our night for sleeping. During the Lofoten trip I realized, that the 1,4/24 is a tiny bit too long, so I meanwhile switched to the Sigma Art 1,4/20. At some compositions I also figured out that I need a shorter lens than my 16-35, so I added the Laowa 2,8/12mm into my backpack. I learned to love this lens during our last summer trip to Utah. It provides me the versatile combination of a very short focal length with the usage of 100mm filters.
Our trip will only take 10 days but my Google map already contains photo spots and hikings for one month. So let's hope for some great photos.
The Author
Adrian Ranfft is living in Berlin and doing landscape photography for 20 years. Find more photos at www.ranfft-naturfoto.de or on Instagram.
Feel free to contact Adrian in case of any questions.
---
If you have an interesting idea for a guest post, you can contact me here