Here is a quick translation of the leaked Nikon D850 slides: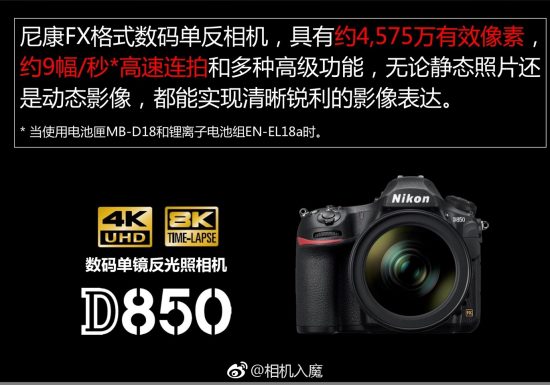 Nikon FX DSLR has 45.75M pixels.  Around 9 fps* and more enhanced features.  Can capture still and sport photos with sharp images.
* When using MB-D18 Multi-Power Battery Pack (it should be a new one) plus battery EN-EL18a.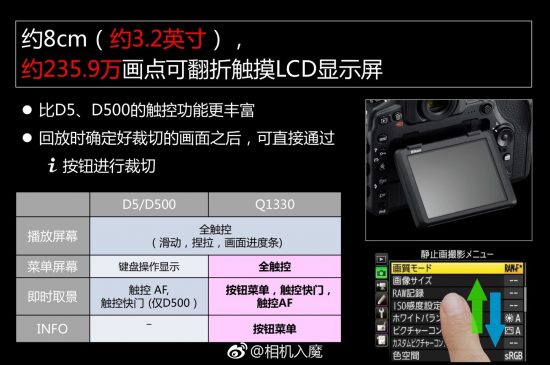 3.2″ variangle 2.359M pixel touch LCD screen
– Richer touch functions than D5 & D500
– Could do quick cropping using "I" button during playback
Q1330 should mean D850?
2nd Row of the table:
Playback: Full touch screen (scroll, drag, status bar)
Menu: D5/D500: button operations; Q1330: Full touch screen
Liveview: touch AF, touch shutter (only D500); Q1330: touch menu, touch AF, touch shutter
Info: Q1330: button menu (?)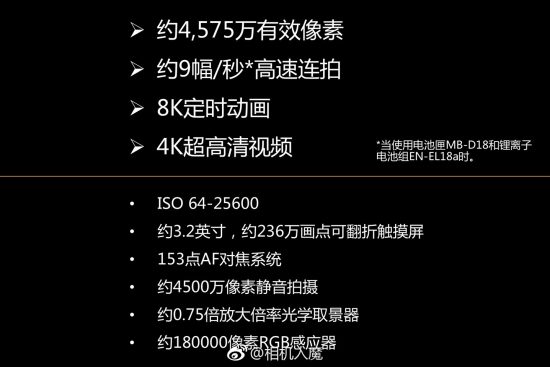 – 45.75M
– 9 fps * MB-D18 + EN-EN18a
– 8K timelapse
– 4K movie
– ISO 64-25600
– 3.2″ 2.36M vari-angle touch screen
– 153 AF system
– 45M quiet shooting mode
– 0.75x OVF magnification
– 180,000 RGB sensor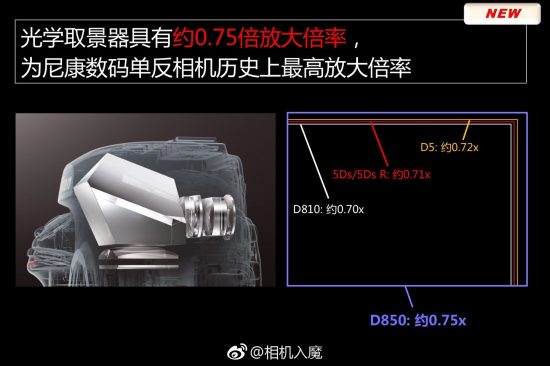 OVF 0.75x is the largest magnification rate for all existing DSLR in history (OVF 0.75x is the largest magnification rate for all existing Nikon DSLR in history).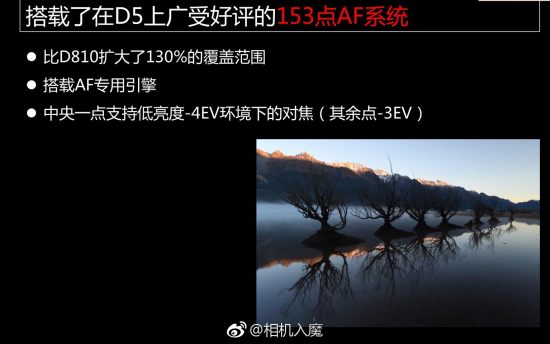 Using famous D5 153 AF system
– 130% frame coverage when compared with D810
– incorporated with AF engine
– center 1 point -4EV AF, all other points -3EV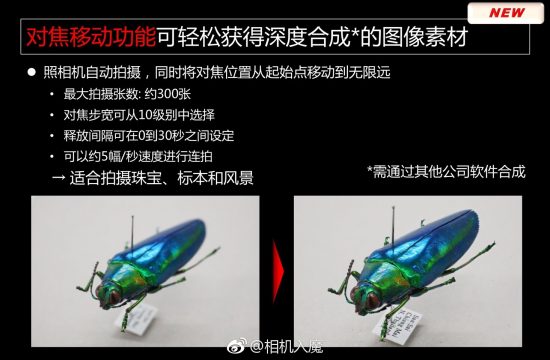 Focus adjusting system could offer you deeply stacked* picture
* require software from other companies
– Camera will continuously take the nearest focus to infinite focus
– Max nomber of photos: 300 photos
– Focus distance interval could be customized (10 steps)
– Shutter release could be customized (0 to 30 sec)
– Continuous shooting around 5 fps
– Suitable for shooting jewelry,  specimen and landscape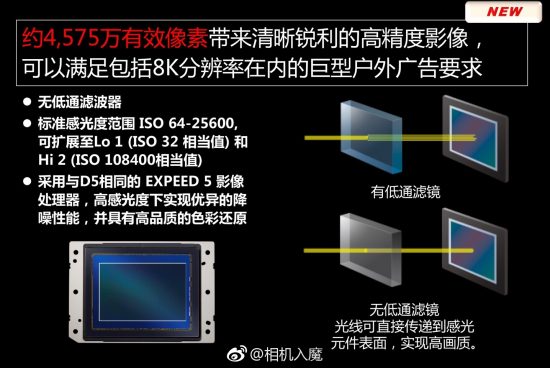 45M pixel gives you clear and sharp high definition image, could satisfy big outdoor advertisement which requires 8K resolution
– No low pass filter
– Standard ISO: 64-25600, boost: ISO: 32 to 108,400
– Using Eexpeed 5 (same as D5) processor, high ISO together with good noise reduction engine, could give you high quality of color reproduction
Pictures: demonstration of with and without low pass filter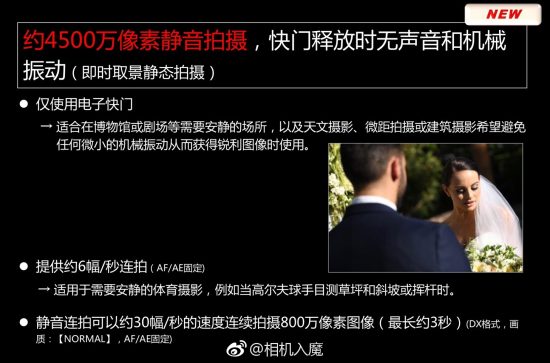 45M quiet shooting mode, when releasing the shutter, there is no sound and no mechanical vibration (using live view for still image)
– Only using an electronic shutter
– Suitable for museum or opera that require quiet environment, and Astronomical photography, macro photography and architectural photography which are prone to minor mechanical shutter vibration, so that your image would be sharper
– Around 6 fps under this mode (AF/AE fixed)
– Suitable for sports photography which requires quiet environment, e.g. play golf when player is very concentrating and moving the golf clubs
– Quiet mode could be 30 fps with 8MP image (longest duration 3 seconds, DX mode, quality = normal, AF/AE fixed)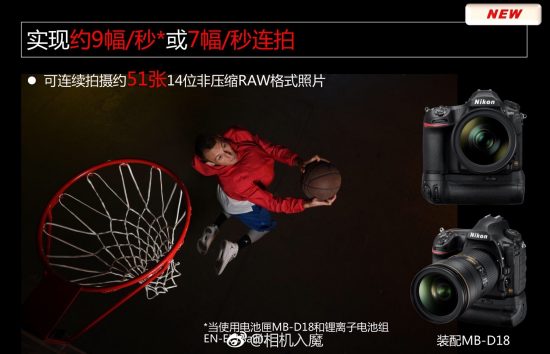 9 fps * (with MB-D18 + EN-EL18a) or 7 fps
– Could continuously shoot 51 frames 14 bit non-compressed raw photos at one time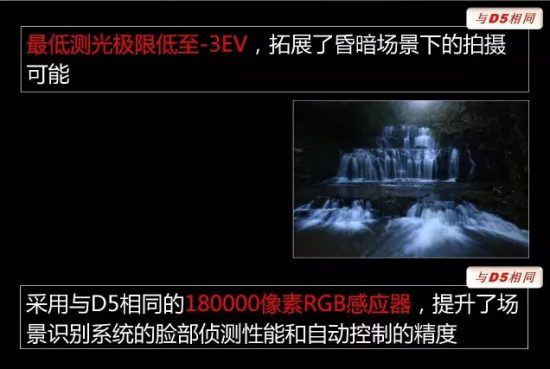 Low light focus -3EV, greater possibility to take photo under dark situation (same as D5)
Using 180,000 RGB sensor same as D5, better face detection and precise auto adjustment using enhanced scene recognition system.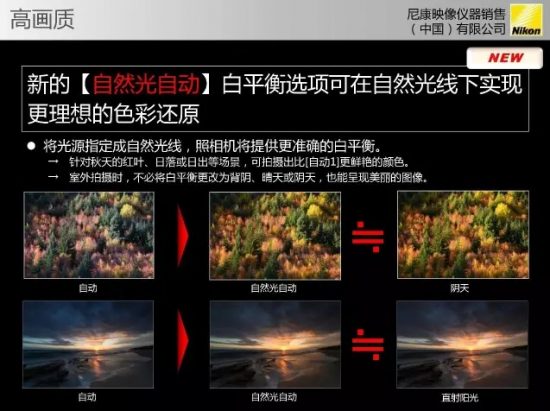 New Natural Light AWB enable you to have better color reproduction under natural light
– Set to Natural Light AWB, the camera would provide you more concise white balance
– Target for red leafs during autumn, sunset or sunrise, will have more saturated color when compared with [auto1] mode
– When shooting outdoor, no need to set white balance to shadow, beautiful images would be captured under sunny day or cloudy day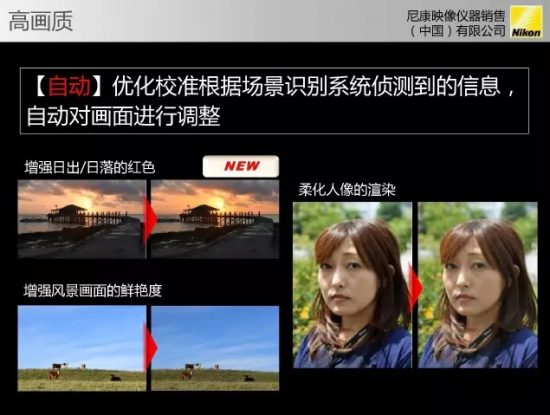 [Auto] according to the information received via scene recognition, adjust and enhance the image
New: enhance the red color under sunrise / sunset
Enhance the saturation of landscape photo
– Soften portrait photo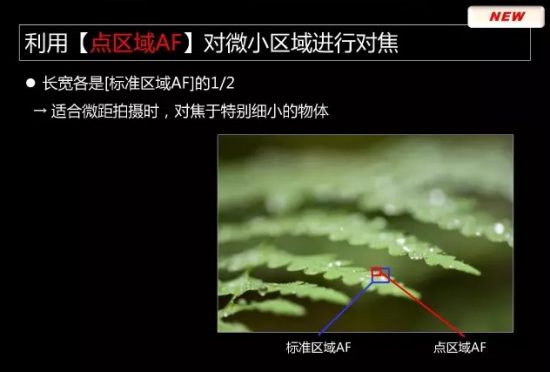 Using "spot area AF" to AF on very small area
– The size is 1/2 of "standard area AF"
– Suitable for shooting macro, focusing on a very small object
In the photo:
blue square: "standard area AF"
red square: "spot area AF"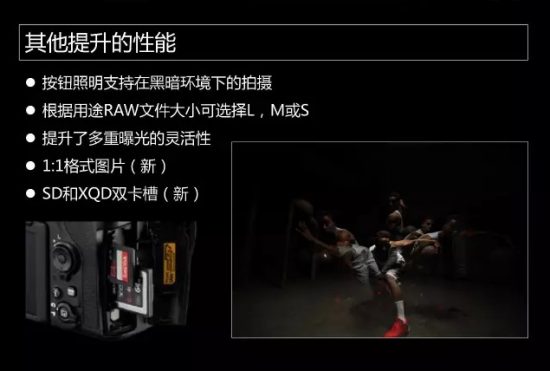 – Illuminated button for shooting under dark situation (finally!)
– Raw L, M or S for your selection
– Enhanced Multiple exposure flexibilities
– 1:1 photo size (new)
– SD and XQD dual card slots (new)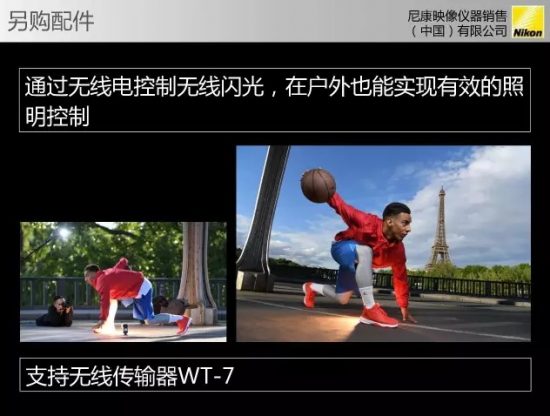 Using wireless controlled flash, you could achieve effective lighting control outdoor
Support wireless transmitter WT-7.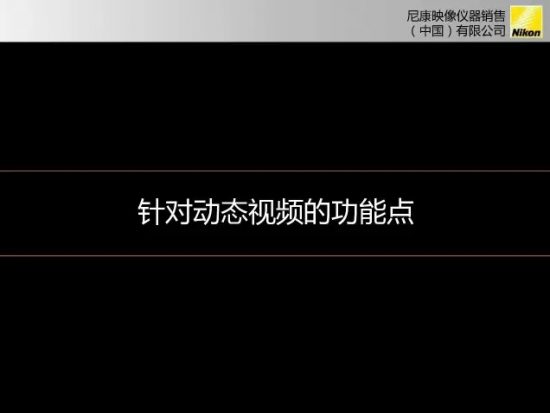 For dynamic video functions.
Here is a video version of the translated slides:
Like the new Nikon D850 Facebook page and join the growing Nikon D850 Facebook group for a more detailed coverage of the upcoming announcement.