Costa Rica with the Nikon D500 and 80-400mm (AF-S Nikkor 80-400 f/4.5-5.6G ED VR) by Rodney Larsen (flickr):
Background:
In November of 2016, during the Thanksgiving Holiday here in the US, I made a quick, three-day trip Costa Rica. As an amateur photographer, with a special interest in wildlife, the opportunity to see this part of Central America and experience the richness and diversity of nature there was as exhilarating as it was inspiring. With just a few days for travel, though, and a personal decree to do so with as little impediment as possible, deciding what equipment to bring along was a difficult questions to answer. While camera gear can be as unwieldy as it is heavy, it's also true that a variety of lenses and accessories allow for different forms and levels of creativity. Choosing is not necessarily easy.
Then there's the issue of time.
Time is perhaps the most valuable currency in photography. We expend it to find the perfect moment in our composition, where light and shape, line and texture meet in a harmony; we expend it waiting for birds and insects to come just close enough or finally move fully into frame; and we expend it to consider our subject and creative ways of calling attention to it. Our travel companions, though, unless they are themselves photographers, may not be sympathetic to this particular economy of time. The ability to work with one versatile lens and to limit the need for stops when hiking in order to change lenses is a valuable condition when traveling with companions.
From this need to travel lightly and efficiently arose a self-imposed mandate of limitation and choice: D500 body and two lenses – 17-55mm and 80-400mm.
The Lenses:
When, in about 2012, I began shooting as a serious amateur, I purchased a copy of the AF-S Nikkor 17-55 f/2.8G. It changed my photography. With its wide f/2.8 aperture, the lens allows for selective focus with beautifully soft bokeh; its relatively short close-focusing distance of around 15 inches makes it possible to explore the finer details of nearly any outdoor subject; and, most importantly, it's remarkably sharp, even when wide open. For these reasons, together with the flexibility of its focal range, this lens quickly became the de facto body cap for my camera. Needless to say, it's always in my bag when I travel.
As my interests in photography have developed and settled largely on nature and wildlife, what is personally of value for me in a lens has also changed. Versatility, ease-of-use, and weight are the most significant considerations for me in selecting a lens. Enter the AF-S Nikkor 80-400 f/4.5-5.6G ED VR. Sharp and relatively fast, especially compared to its predecessor, the lens is a good choice for any amateur wildlife and nature photographer – a balance of cost, portability, and speed. Indeed, what the 80-400 lacks in terms of reach when compared to its obvious rival, the AF-S Nikkor 200-500 f/5.6E ED VR, it significantly offsets with versatility. Use of the 77mm standard thread, a zoom ratio double that of the 200-500, and a meaningful difference in size and weight (being 2.5 inches shorter in length and 1.5 fewer pounds), make the 80-400, for me, a constant companion as I hike may way through the regional parks and bird sanctuaries of Northern Virginia.
A broad focal range makes this lens enormously versatile, moving from the lower end of medium telephoto to true super-telephoto range. As such, during the three days I spent in Costa Rica, it rarely was off my camera, and rarely needed to be. In fact, with the exception of one excursion to Nauyaca Falls, where the 17-55 was the only lens I used, the 80-400 remained constantly on my camera. This, then, is a photographic story of choice and limitation in equipment, whose moral is ultimately that one lens, more often than not, is enough.
The Photography:
My hope in traveling to Costa Rica was to see and photograph two examples of wildlife, in particular: a monkey and a sloth. Not lofty ambitions, I recognize, but this was my first time traveling to Central America, and the time I would have there was limited. Any wild monkey would do; nor was I concerned with whether the sloth might have two toes or three.
Our time was spent on the Pacific coast of the country, near the beach-front town of Domincal – a driving distance of approximately 150 km from San Jose and 50 km from Quepos. Unless otherwise noted, all of the images below are captured with the AF-S Nikkor 80-400 f/4.5-5.6G ED VR on a Nikon D500.
While we were in Costa Rica, at the tail-end of the rainy season, Hurricane Otto became the first such storm to make landfall in the country since 1851. Because we were in the south, and on the Pacific side, we felt little of the impact of the storm. Frequent rains and unabating, heavy overcast, however, defined our climatologic experience and, for me, defined the light with which I had to work. f/5.6 is by no means a fast aperture, and balancing this with ISO and shutter speed make the tripod a welcome addition to the kit in use. With its excellent VR, I'm able to handhold the 80-400 at as little as 1/200s, but not anything less than that and still produce a sharp image. Given the relatively limited light we had under clouds and rain, even in the middle of the day a tripod was typically necessary to produce acceptably sharp images.
First are two examples of flora, both shot using a tripod and a relatively slow shutter speed (that is, given the focal length of the lens).
A heliconia, like lobster claws emerging from the dense foliage, shot at 400mm, ISO 125, f/5.6, 1/100s.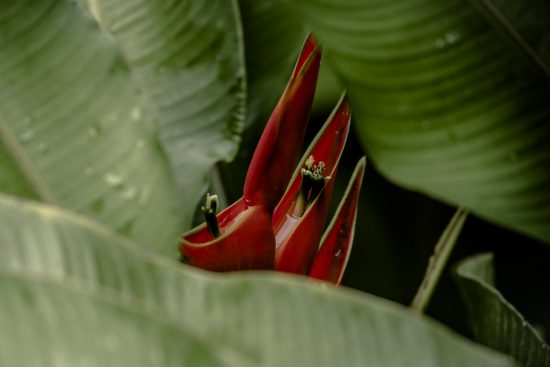 An hibiscus flower with its characteristic trumpet-shape and protruding pistil, shot at 400mm, ISO 250, f/5.6, 1/160s. Again, a tripod was used.

Close-up images of small subjects such as the flowers above and the butterfly below illustrate one part of the versatility of the 80-400 lens. It's quite effective at capturing detail and filling the frame with a small subject.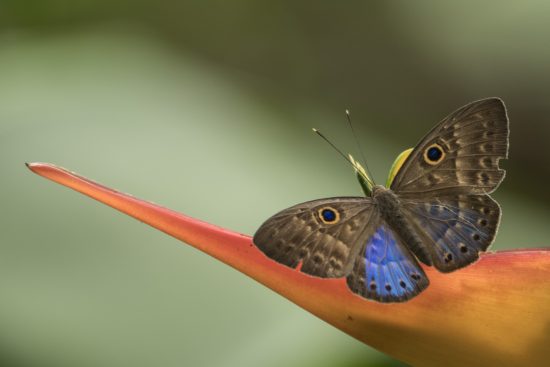 This image of an unidentified butterfly resting on a heliconia was also captured at 400mm, with ISO 320, f/5.6, and 1/50s. Effective isolation of the subject from the background and softly rendered bokeh are qualities achieved by the 80-400 that I find extremely desirable in my photography. Working in the relatively low-light conditions created by the heavy cloud-cover and nearly constant rain we experienced, these images simply wouldn't have been possible without a tripod. That's not a criticism of the lens itself, though, as much as it is a simple statement of fact when f/5.6 is the maximum aperture at a given focal length and the goal is to keep the ISO relatively low.
This hand-held capture of a yellow-throated toucan, perched and making a display of his extraordinary bill, show another, more obvious part of the versatility of this lens – that it can capture distant subjects beautifully and effectively. 400mm, ISO 640, f/5.6, 1/400s.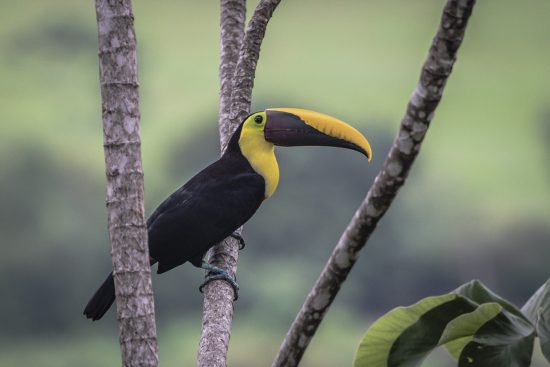 By day three, I'd yet to see either a monkey or a sloth – the two examples of wildlife I'd been most hopeful to photograph. In fact, with the exception of the toucan, I'd seen very little wildlife at all. That quickly changed with this male green iguana seen in a mating spectacle, raising its head to display its plumage. It stands as one of the favouite images I've ever captured and further illustrates the power and versatility of the 80-400. At f/5.6, background distance from the subject is essential to isolating it and creating a soft bokeh effect. Working at 400mm, both with a subject as small as the unidentified butterfly above, or as far off as the green iguana seen here, selective focus is easy to achieve and the lens effectively renders the background softly and pleasingly. Looking specifically at the iguana's eye – for me, a determining factor in whether the image is successful and worth publishing – the sharpness of this lens is also apparent. Like the toucan above, this is a hand-held image shot at 400mm, ISO 250, f/5.6, 1/500s.

On our final Costa Rican excursion, this time into a mangrove forest near Manuel Antonio National Park, we were visited by a troop of monkeys – white-faced capuchins, to be precise. Having seen and successfully photographed the toucan and iguana, I felt as though I'd won a lottery with this capuchin and his numerous companions. Again, this image was taken hand-held, 400mm, ISO 600, f/5.6, 1/400s.
As an amateur, invested in learning the art and craft of photography, three days on the breath-taking Pacific coast of Costa Rica represent a gift of immeasurable value. Limited by time, wanting to respect my travel companions and their interests, and keen to travel lightly and efficiently, the D500 paired with the 80-400 made for a perfect wildlife and nature set-up.
Two things. First, what only experience could teach me, and what I didn't realize as I packed my gear to travel to Costa Rica, is that had I only taken the 80-400 lens and forced myself creatively to make that work, I would have come away from the experience completely satisfied as a photographer. Second, had I to do it over again, with this very hindsight, I'd still bring both lenses. Even in the small backpack that I use for travel with my equipment, the 17-55 adds only about one-and-a-half pounds and is less than five inches long. In other words, for the expanded focal range, and given the quality of images the 17-55 can produce, having it with me as a second lens is an obvious good choice.
While the moral of this little story might well be that one lens, more often than not, is enough, nevertheless, it remains true that two hands – or lenses – are better than one. With that in mind, I close with this image from Nauyaca Falls. It was captured with the A-FS Nikkor 17-55 f/2.8G at 17mm, ISO 100, f/22, and 1/2s. In the pouring rain, try though I did, I wasn't able to keep the lens fully clear of raindrops. Given the subject, I'm satisfied that they add to the overall sense of damp and drizzle I was hoping to achieve with this image.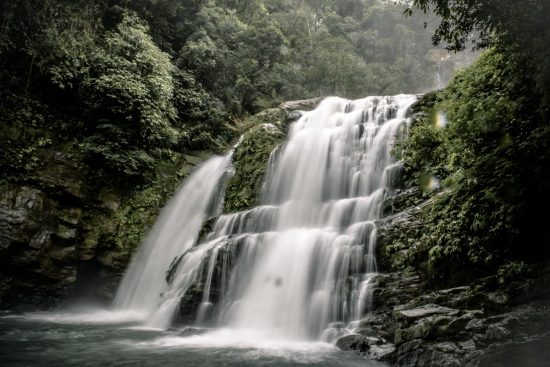 My name is Rodney Larsen and I'm an amateur photographer living in northern Virginia, outside of Washington, DC. More examples of my work are available on Flickr: https://www.flickr.com/photos/larsenrodney/
Also, I didn't see a sloth.
If you have an interesting idea for a guest post, you can contact me here.