Today you'll be taken on a trip through the far north of Great Britain, better known as Scotland, by Dennis Klemmer (
Web
 | 
Twitter
 | 
Instagram
 | 
Facebook
):
My name is Dennis Klemmer and I work in professional advertising and photography in Germany. Every now and then I need to get some distance from my daily business and just do something different, purely non-commercial just for fun, just for me. This time I thought I'd share some pictures of my recent trip to Scotland with my fellow NR readers. Enjoy!
Scotland…
isn't just rocks, sheep and haggis. It is one of the few places on earth where you feel alive and surrounded only by beautiful nature, wherever you look. However Scotland is also a place where weather is everything else but predictable due to terrain and its geographical position. There can be bright sunshine and the next minute you feel like apocalypse now. It was clear from the start that this journey wouldn't be like the average weekend trip. What I had with me was a Nikon D800, my 14-24 2.8, 24-70 2.8, 70-200 2.8 and 50 1.8 in a wind a weather sealed backpack together with a light carbon tripod and a few accessories of course. After the first day of hiking I decided to leave my MacBook in my apartment as all this stuff I was carrying definitely put some weight on my shoulders. Let's get started with the only picture of this series not taken with the D800:
Well, the first day after arriving at Glasgow I decided to just drive around and stop whenever I see a place I'd like to explore. Since it was hard to decide – because everything looked amazing – I stopped at a forest near Arrochar next to the A83 and put my boots on. I wasn't disappointed at all and soon started taking pictures.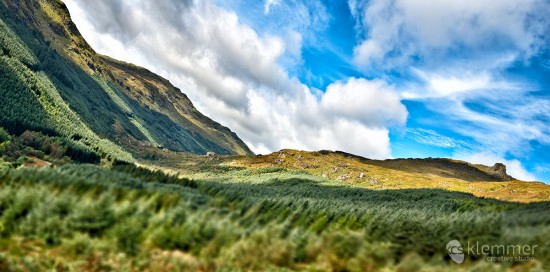 Only the frontmost trees had green moss on them, the others were to far in the darker woods to grow moss at all. Very interesting colors there.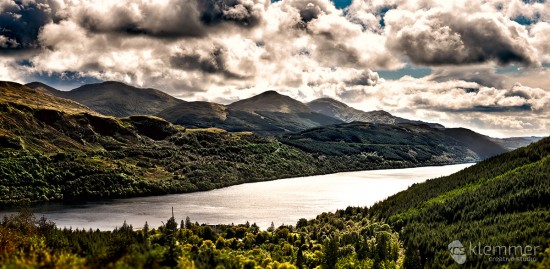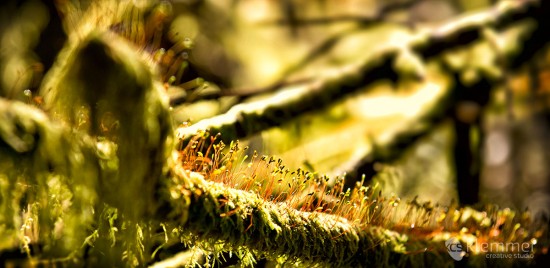 I immediately noticed that Scotland is an amazing place for photography since the light is absolutely beautiful and sudden changes in weather and lighting are transforming nature right next to you. Within 30 minutes, the landscape, light and mood can change entirely.
The last picture of this set was taken on my way back to Glasgow at the shore of Loch Lomond.
During the next few days I spent some time in and around Glencoe. I can only encourage you to take a hike there, it's really worth it and the Glencoe visitor centre tells you a lot about what happened there in the past when the situation between some highland clans and the royal crown was a bit… tense. Here are some pictures of Glencoe: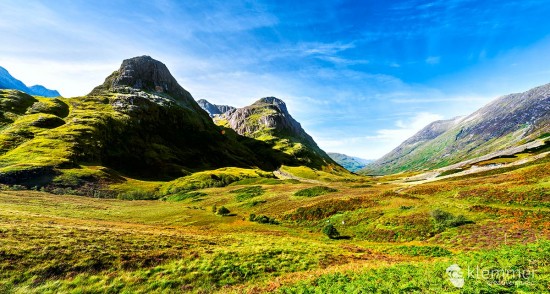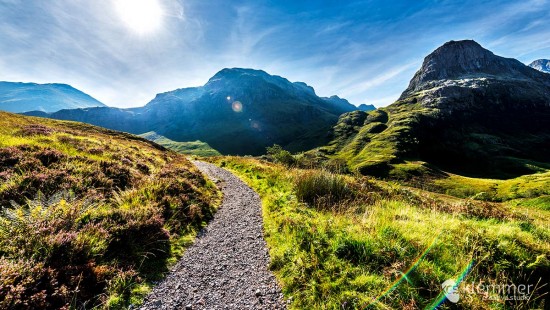 I love the reflections of the 14-24 when exposed to direct sunlight.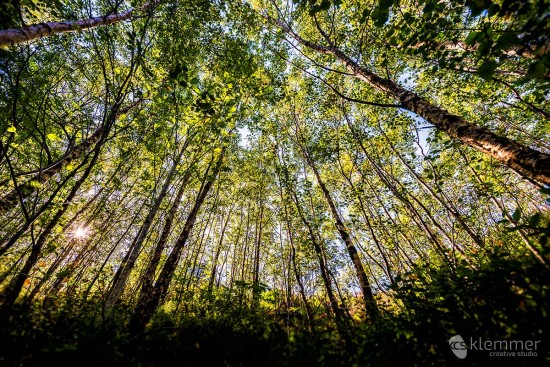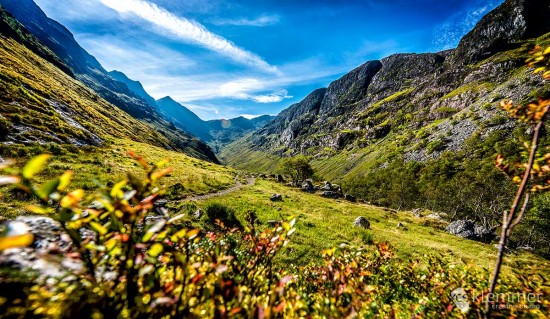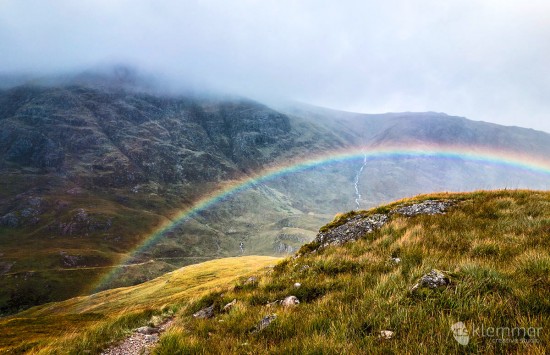 I enjoyed my time in Glencoe and took several hikes during my days there before it was finally time to move on to the next place. I decided to travel a few hours further to the north west to explore the Isle of Skye. Since weather was quite dramatic the day before I hoped for the same to happen again. On my way to the Isle of Skye I came along Loch Garry and couldn't resist the scene so I took some pictures here: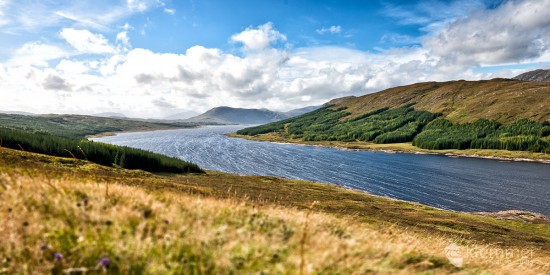 Since I was a bit in a hurry, I didn't have much time to stroll along so I jumped back in my car and headed on towards the Isle of Skye. If you plan on exploring Scotland, be advised that travelling by car takes a lot longer than you might think. This is due to the fact that there's no such things like motorways or the german Autobahn. Instead you travel on country roads. All the time. And since Scotland is loved by all kinds of caravaners, you sooner or later end up behind one and can't see the road ahead for more than a few hundred feet so overtaking a caravan can really take some time until it is safe to do so. 150 miles don't sound like much but on country roads with blocking traffic the hours add up. After a lot of driving I finally made it to the Isle of Skye: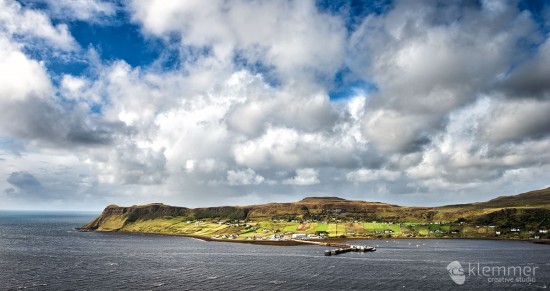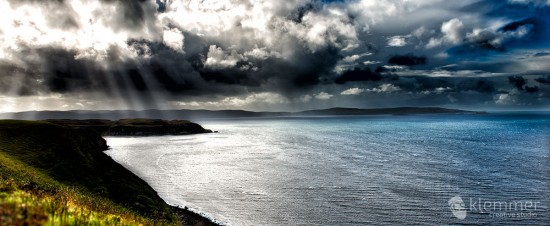 The weather didn't let me down and put on its most dramatic face while I was visiting Uig. I spent two hours here and enjoyed the scenery before I made my way back on the other side of the isle where I stopped near Struan to take another picture of a lovely bay: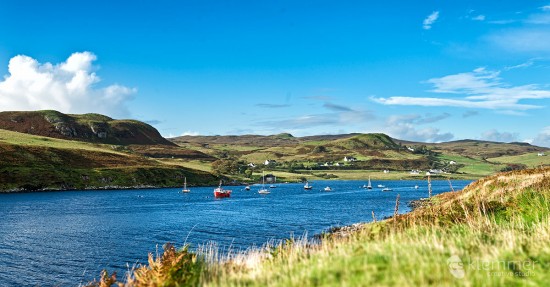 As time marched on, I then decided to head back and left the Isle of Skye again but not without making another stop at the Eilean Donan Castle – the famous Highlander Castle. Also I captured the last few rays of sun behind some dramatic weather when I passed Loch Garry again: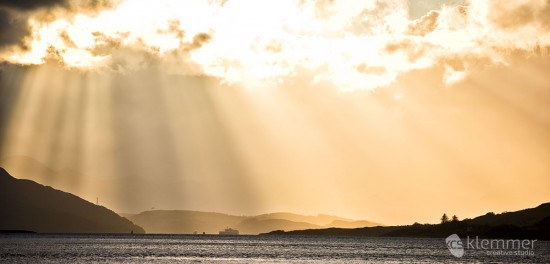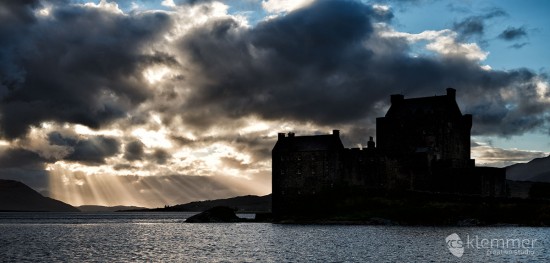 Before I went to Scotland I was told I had to visit the Machrihanish Dunes. So I did. After what felt like endless driving again, I arrived and the weather did its tricks again: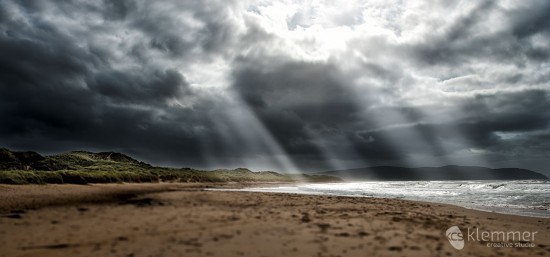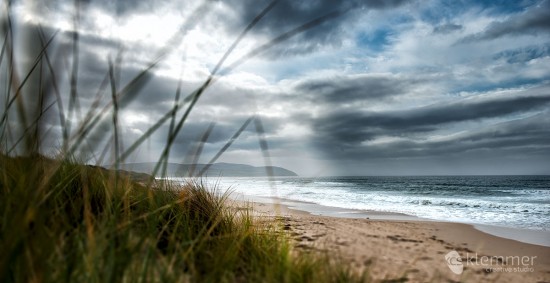 Dunes on one side…. Rocks on the other:

While driving back on the east side on a single track country road towards Kennacraig I stumbled upon another castle, climbed it and enjoyed the view:

After a lot of driving there also was a beautiful rainbow situation again. I pulled over to capture the moment: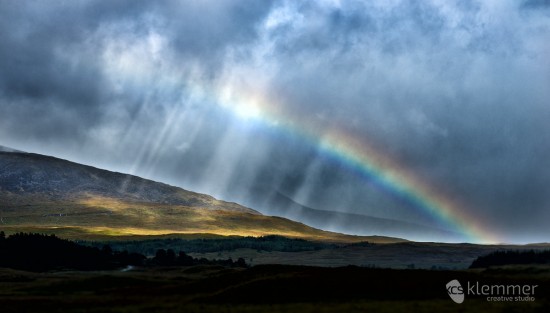 You can't say that Scotland isn't worth a visit because there not much going on. There is. Nature really does everything to impress foreigners like me!
The other day I went to Glencoe again, but not for the Glen! While driving around Glencoe I noticed a mountain to my right side which seemed to be high enough for taking a good look around. So I climbed a mountain, called the "Pap of Glencoe". Height: 742 metres or 2435 feet. The view was worth the climb: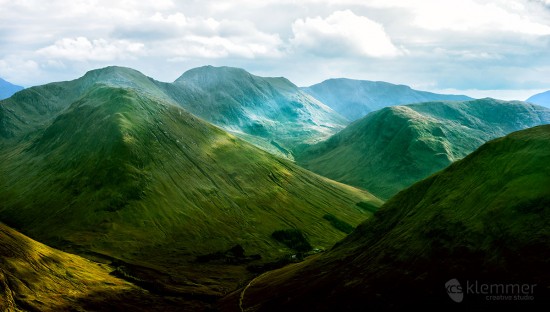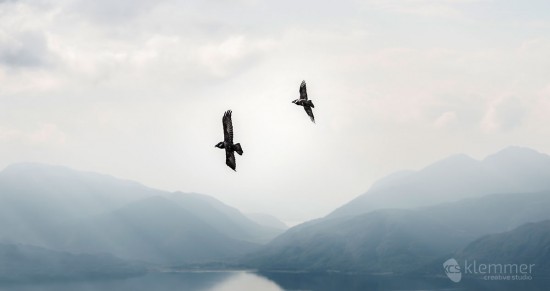 The next day I was a bit exhausted from climbing that mountain so I decided to take a relaxing hike in low terrain, so I went to Kilchurn Castle and enjoyed the weather. The place was nice and I took some pictures of the castle and Loch Awe: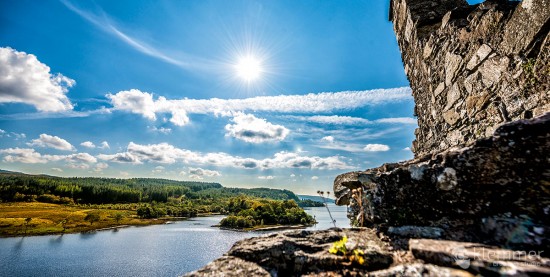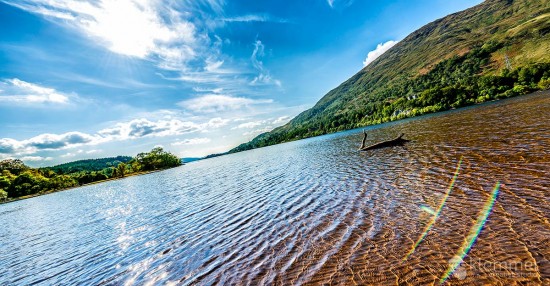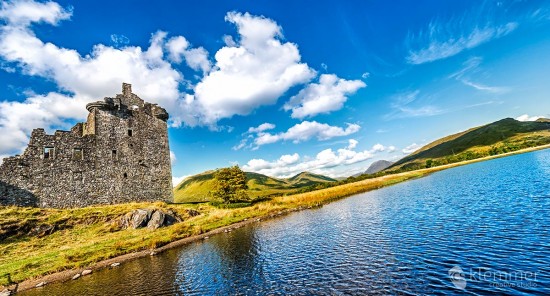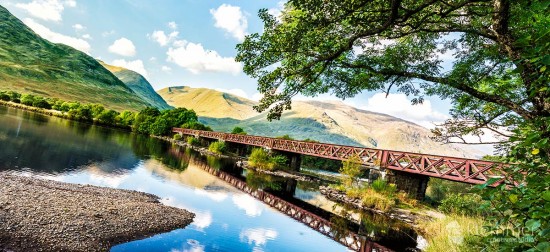 On my way back, the weather changed rapidly and I found some old boats set on the ground due to the current tide:

Even after almost two week I still found it amazing how you can drive from sunshine into dark clouds within an hour of time.
In preparation for my "grand finale" I thought it would be best to spend the next few days in a relaxed fashion, which meant no climbing or extensive hiking but to visit a few more recommended places. I started with the Castle Tioram which is only accessible without wet feet when the tide is low because there's only a small sand path connecting castle and shore: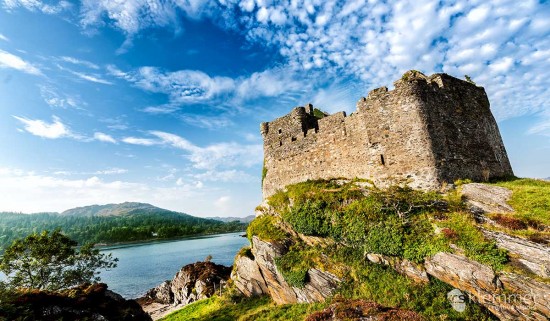 They really had a beautiful view from the castle back in the days. I wasn't allowed to go into the castle because of the structural weakness and although some people didn't care much about that sign, I thought it wasn't worth the risk and stayed out in the open which was beautiful enough to me.
The other day I decided to visit the famous "Singing Sands" near Kentra. You wouldn't expect a beach like that in Scotland, at least I didn't. You walk for like 5-ish miles through forest and thick vegetation when suddenly the forest and vegetation ends and you find yourself on a nice beach: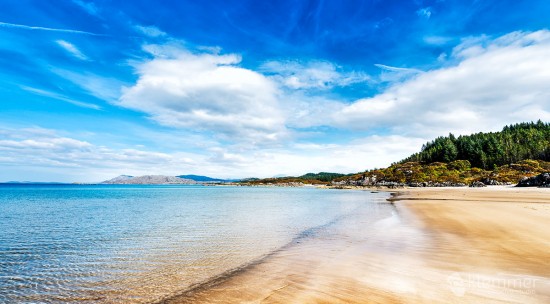 Is this Scotland? Yes it is! Believe it or not, there were even people in the water but I wasn't eager to do the same.
So why "Singing Sands"? Well… if you walk on the sand it starts to whistle underneath your shoes, the faster you move the shoes through the sand, the higher pitched the tone becomes. It has been really interesting to visit this place. On my way back, I had to stop at the Glenfinnan Viaduct, famous from Harry Potter movies: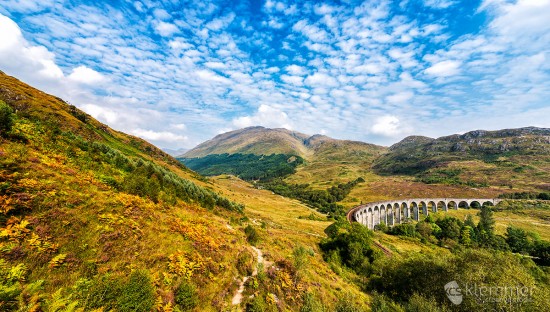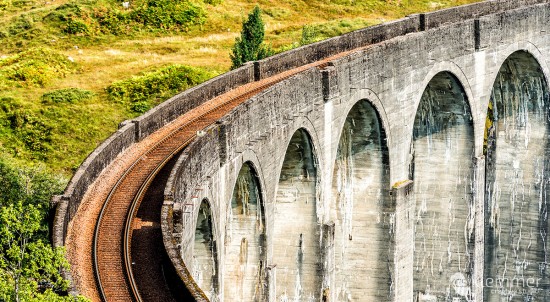 Who saw Harry Potter? Well, this is the viaduct shown in the movie, crossing the river Finnan. You can even travel with the old steam train from Fort William to Mallaig if you like to do so. Just be advised that you have to make a reservation first as the train was packed with people, so you can't just drop by hoping to get a seat because most likely you won't.
I've seen a lot of Scotland so far but I had one goal I really wanted to achieve. If you're into photography, you're always looking for the best point of view. I thought that one of Scotlands best views must be the view from the highest point and Scotlands highest point is the top of "Ben Nevis".
Ben Nevis is 1345 metres or 4413 feet high. As I didn't want to miss out an opportunity because of my own weight restrictions, I decided to not take anything out of my backpack or I might regret it. Take out the 70-200 and you're gonna need it, it's like Murphys law. I arrived at Glen Nevis a day before to hike through the Glen and get an impression of the sheer size of the mountain. While meandering through the Glen, I took some shots:
It's a beautiful place to be with the River Nevis and the waterfalls that feed it. From there I was able to see Ben Nevis at almost all times so it was without a doubt that tomorrow I'll be going to the highest point around here.
But before that, there was the night which I used for some outdoor photography as well. There were almost no clouds in the sky so I took out my D800, the remote trigger and put everything on a tripod. While doing that I noticed that fog was coming up and I feared that soon my lens will be moist but everything was okay in the end. This is Ben Nevis / Glen Nevis and night:

If you look closely, you can see my shadow sitting next to the road on a fence pole. And of course this is not the sun, it's the moon 🙂 Taken at f8, 240 seconds, ISO100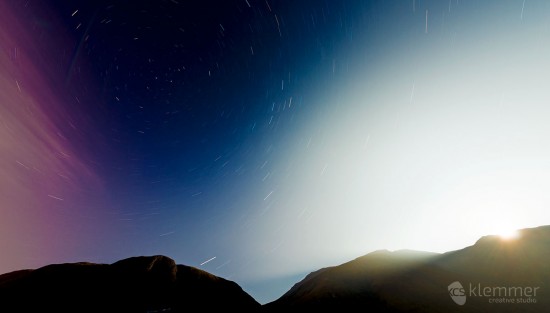 Here we go, the moon again, taken at f8, 1140 seconds, ISO100
One day I want to be on the top of that mountain with the moon coming up. That must be a great view too.
On the next day I would be up there with daylight at least. That was my plan. So on the next morning, packed with my almost 30kgs backpack, I started my trip to Scotlands highest point: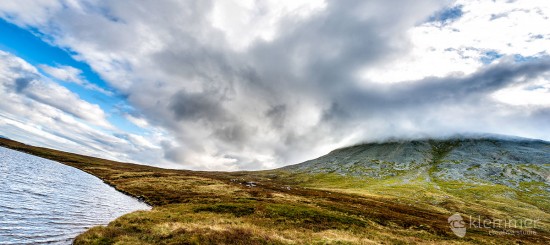 This in on the plateau almost half way up to Ben Nevis which is covered in clouds at the moment. Took me around 2 hours to get there. The next 3 hours I'll be spending with hiking further up the mountain.
With only 1/3rd still to go, the view was very good already: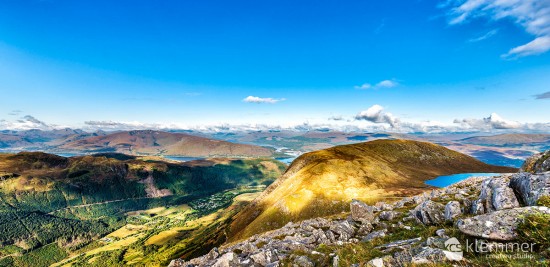 On the right side of the picture you can see the "Half-Way-Loch" I was taking the picture above from and if you take a look at the valley where the small houses are – that's where I started.
But it was from the very top of Ben Nevis, where the view was absolutely gorgeous and breathtaking: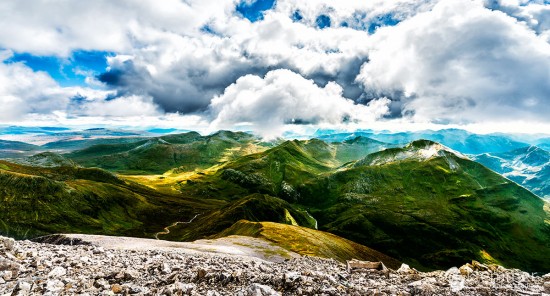 Looking down the eastern slope with a destroyed weather post from far gone days.

You're so close to the clouds you sometimes think you can almost touch them. A more southerly view here with Loch Linnhe in the distance.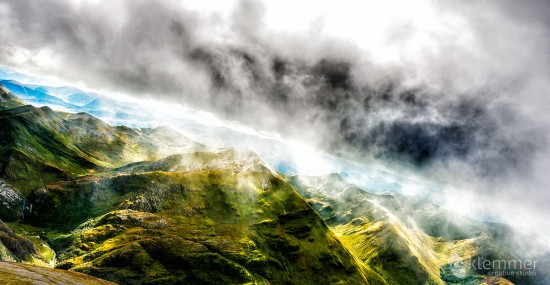 Within 20 minutes the clouds become much darker and start to drop lower as well. Little did I know that about 10 minutes from now, there was only little left to see: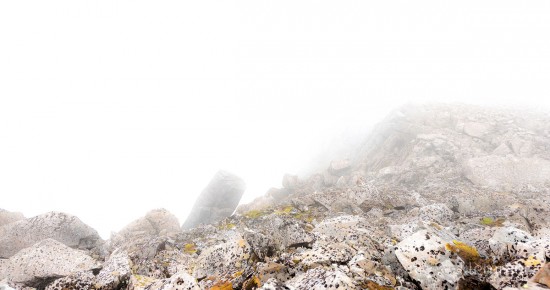 This is what it looks like when you're within the cloud. At that point I decided to make my way back before the weather gets even worse. I'm not a very experienced hiker so better safe than sorry I thought. After 30 minutes of walking I was beneath the clouds and took my time to get a few more shots from this awesome place: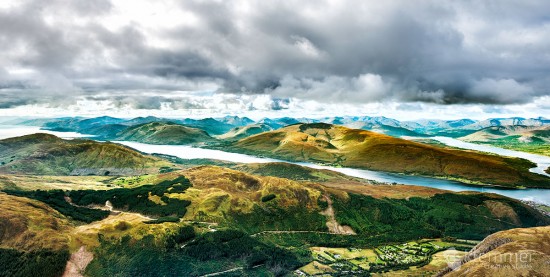 Overview towards Loch Linnhe and Loch Eil.

The view towards Fort William, a very nice place to stay btw. If you're looking for THE outdoor city of Scotland it must be Fort William.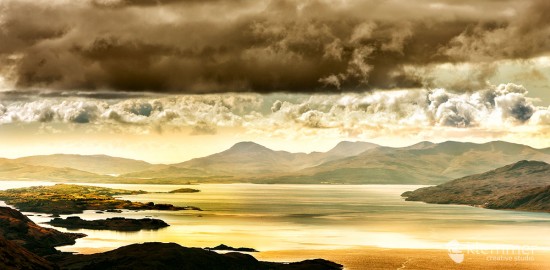 As I was climbing lower, the sun was going down as well, creating a very warm and moody atmosphere which sadly only lasted for a few minutes before the sun was blocked by huge black clouds.
I hope you enjoyed the trip as much as I did. If you ever have a chance to go there don't think twice and do it. I can recommend every time to travel but June. No matter who you ask, June is prime season for mosquitos and other biting insects.
As for the equipment, my Nikon, the lenses and other accessories did pretty fine. Although everything caught at least one rain shower nothing failed or behaved strangely. During my hikes in and around Glencoe, I encountered temperatures below zero, hell even my energy bars froze but the camera and everything worked. At least I could have taken pictures of me starving due to frozen food 🙂
I also had a SONY DSC-RX100 with me. The initial thought was that I use the SONY whenever I fear danger to my equipment due to weather but in the end, I ended up only using it to take pictures from the moving car, on board of my flight to and from Scotland as well as for filming while it sat on the dashboard of the car. Other than that, the Nikon was used and there were no problems at all.
Since I also had the Nikon with me in tropical temperatures, I think it is safe to say, that the D800 is a pretty robust and reliable body. In my daily business the camera is used in my studio and on location but it really does hold up in the wild as well. Well done Nikon.
Thank you so much for reading and watching my pictures, hope you enjoyed.
Best wishes,
Dennis Klemmer
If you have an interesting idea for a guest post, you can contact me here.