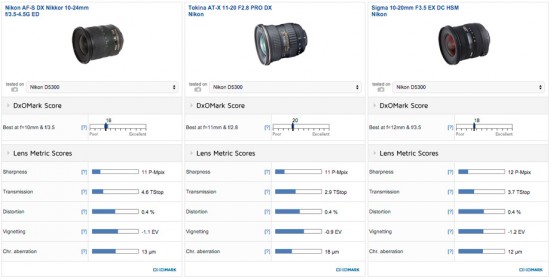 DxOMark published their test results for the Tokina AT-X 11-20mm f/2.8 Pro DX lens:
A useful lens in restricted space that's also capable of creating some dramatic images, a wide-angle lens is a great addition to any photographers' kit bag and a "must have" for landscape and architectural photo enthusiasts. The new Tokina 11-20mm f/2.8's increase in focal length over its 11-16mm predecessor makes it a more versatile option that puts it more in line with the wide-angle competition from Nikon and Sigma.

Tested on the Nikon D5300, it's also the highest-ranking DX-format wide-angle we've tested to date, with good transmission and well-controlled distortion and vignetting. For sharpness, it's just out cored by the Sigma 10-20mm, but the Tokina 11-20mm still offers excellent center resolution at focal lengths using the wider apertures up to f/11. Resolution at 16mm using apertures f/8 and f/11 is the strongest — boasting uniform sharpness results for landscape shots — but for maximum depth-of-field shots, resolution at the minimum apertures f/16 and f/22 is just a little softer.