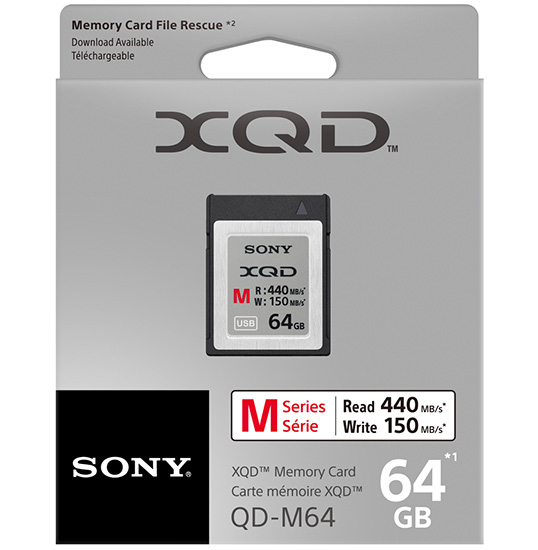 Sony announced new SD and XQD memory cards designed to support the new Nikon D5 and D500 cameras:
Sony is expanding its lineup of memory card options for professionals to include newer and faster XQD and SD media, as well as card readers for the XQD and SD formats, and an XQD USB adapter, all designed to support the latest high-performance DSLR cameras like Nikon D5 or D500.

Sony's XQD-M series provides users ultra-high data transfer speeds of up to 440MB/s (read) and 150MB/s (write) for stable burst shooting, and the ability to backup 64GB of data in approximately 3 minutes, when using Sony's newest card reader technology. The XQD format's unique and robust structure, featuring card thickness and pin protection, and a tough, reinforced outer case is made for reliable use.
The rest of the press release:
In addition, Sony's newest SD cards, SF-M series, are UHS-II supported cards optimized for digital imaging devices including professional, DSLR and mirrorless cameras.  With high-speeds up to 260MB/s (read) and 100MB/s (write), SF-M series contributes quick data transfer to and from a PC with Sony's new UHS-II supporting card reader, which maximizes SF-M series' performance.

Both new media offerings are extremely dependable and durable, dust-proof, X-Ray proof, anti-static and magnet proof to protect the most sensitive photo and video content.  Downloadable File Rescue Software aids in the recovery of photos and videos that may have been deleted, including RAW images, MOV files and 4K XAVC-S video files.

"As digital imaging cameras become more advanced, capturing larger high resolution files, the demand increases for faster and more efficient ways to manage photo and video data, giving shooters peace of mind they'll never miss a critical shot," said Darin Scott, President of Sony's AMEG, Americas Media and Energy Group.  "These latest media options allow files to be transferred and backed up even more seamlessly and efficiently, offering users the flexibility and convenience to embrace workflows that frequently require the need for content in real-time."

In conjunction with the new card options, Sony is introducing the world's first XQD/SD card reader, model MRW-E90, which supports reliable, ultra-high speed data transfer to a PC from all XQD series and UHS-II SD cards, eliminating the need for multiple adapters and readers.  The new card reader also supports SuperSpeed USB (USB3.1 Gen. 1). Sony developed the E90 together with Sony's XQD and SD cards, which optimizes reliability and ensures the cards will be well matched, offering professionals the best performance.

QDA-SB1 is a USB XQD adapter compatible with the M and G Series XQD cards. The adapter is streamlined to occupy only one USB port, and comes with an extension USB cable.

In addition to the new XQD-M series,  Sony offers XQD-G series which is able to record up to 200 frames in continuous burst shooting with the latest high-speed cameras including models like Nikon's D5.