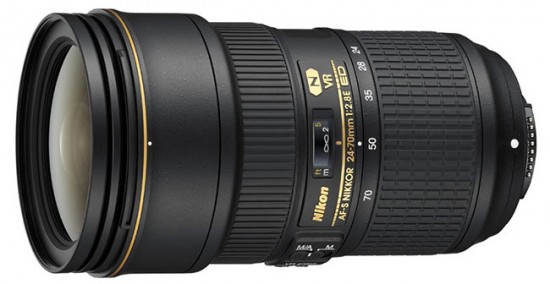 DxOMark published their test results for the new Nikon AF-S Nikkor 24-70mm f/2.8E ED VR lens and they are not good: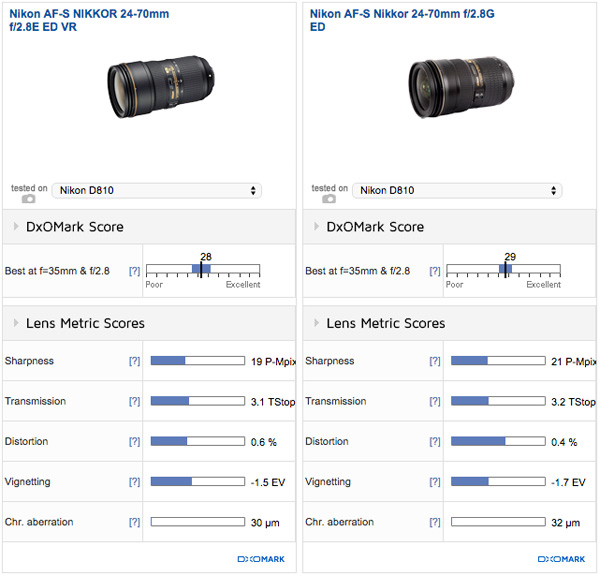 "As noted, however, sharpness is lower on the 24-70mm f/2.8E at 19 P-Mpix compared to 21 P-Mpix for the original 24-70mm f/2.8G. At 24mm, sharpness on the new 24-70mm f/2.8E is strong in the center of the frame, particularly between f/2.8 – f/11, but it doesn't deliver the same level of resolution in the corners. At 70mm f/2.8, a popular setting for portraits on a standard zoom, results are only really good right in the center, with heavy edge softness apparent at this setting, which is a step backwards compared to its predecessor. Close down the aperture to f/5.6 or f/8 at 70mm, and edge sharpness is much better on the 24-70mm f/2.8E, but again, it's not quite as strong as the original 24-70mm f/2.8G version at the same settings."
In terms of our DxOMark sensor scores, the Tamron 24-70mm f/2.8 wins overall with a DxOMark Score of 31 points compared to 28 for the Nikon 24-70mm f/2.8E in second place, and the Sigma 24-70mm in third with 25. Lens metrics among the three for transmission, distortion and vignetting are pretty similar, so it's down to sharpness and chromatic aberration to separate them. For sharpness, the Tamron wins with a sharpness score of 22 P-Mpix against 21 for the Sigma in second and 19 for the Nikon in third. At the maximum f/2.8 aperture the Tamron offers better edge sharpness at 24mm, and although still not great at 70mm, it's marginally better than the Nikon and Sigma. At mid- apertures of f/5.6 or f/8, both the Tamron and the Nikon standard zooms offer good resolution in the center, but sharpness on the Tamron 24-70mm extends further into the corners of the frame. For chromatic aberration, the Tamron is in a different class, with its score of just 6µ far ahead of both the Nikon and Sigma on 30µ and 28µ, respectively. The global map indicates that while chromatic aberration at 24mm on the Tamron isn't great between 28 – 70mm, it's obviously superior to that of the Nikon and the Sigma.


DxOMark's conclusion on the Nikkor 24-70mm f/2.8E ED VR lens – "disappointing DxOMark scores":
With the original Nikon 24-70mm f/2.8G version announced in 2007 and thus over 8 years old, an updated version for the Nikkor lineup was due. The 24-70mm f/2.8E's new features are certainly welcome additions, particularly the inclusion of a four-stop VR system, which makes this popular zoom lens even more versatile.
But what seems to be a complete redesign of the optical system has made an already bulky lens even bigger and heavier, which is a serious consideration if you're looking for an all-in-one lens to carry around a lot. At $2,397, it's pretty expensive, too — in fact, $600 more than the original G-type version and a whopping $1,100 over the Tamron 24-70mm f2.8 Di VC USD third-party equivalent. Perhaps all of that could be forgiven if the new Nikon 24-70mm f/2.8E had raised the bar for optical performance, but as we've seen from its DxOMark scores, this disappointingly isn't the case. Overall sharpness is down compared to its predecessor and slightly worse at the critical setting of f/2.8. While chromatic aberration has been improved slightly, it's still far from good at the wider focal lengths.
More information and other reviews of the Nikon 24-70mm f/2.8E ED VR lens can be found here.