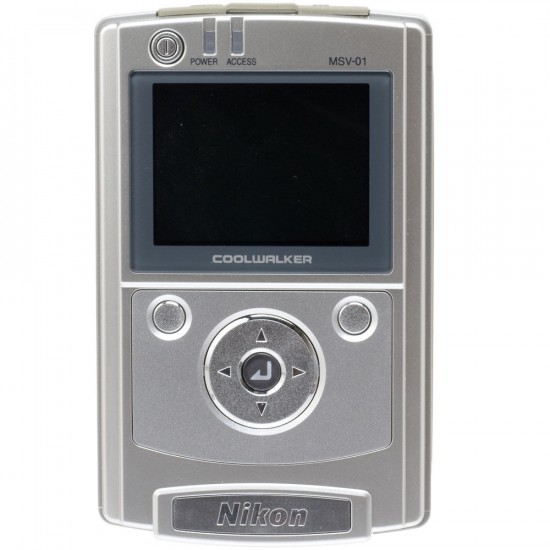 A reader sent me a link to this used product listing at B&H. It's probably something most of you don't even remember – a Nikon Coolwalker MSV-01 30GB stand-alone data storage unit that was introduced back in 2004. The device has a 2.5″ TFT color LCD display with 117,600 pixels and accepts CompactFlash and MicroDrive (SD cards with adapter). Here are the detailed features and specifications, the user's manual can be downloaded here:
Nikon Coolwalker MSV-01 major features:
Ample storage space. Holding approximately 10,000 images* with a 30GB hard disk, the MSV-01 gives the user the freedom to store an impressively large number of images. It's also compatible with CompactFlash and MicroDrive and can be combined with a CF adapter** to enable use of SD cards too.
View-anywhere convenience. The 2.5-inch color TFT LCD allows images to be viewed anywhere with the clarity of 117,600 pixels. The MSV-01 also offers connectivity to TVs too, so shots can be viewed on a much grander scale. A remote control terminal is additionally included, which is particularly useful when viewing images on a TV screen.
Peripheral performance. Direct printing without the need for a PC is made possible through support of PictBridge. The MSV-01 also offers further peripheral performance by acting as a card reader for a PC** and offering HI-SPEED USB 2.0 connectivity to PCs and CompactFlash compatibility – a media widely accepted at stores offering print services.
Compact convenience. With dimensions of just 81 x 130 x 35mm (approx.) and a weight of approximately 350g, the MSV-01 is designed to be carried comfortably virtually anywhere, allowing images to be viewed whenever the user desires.
Easy-to-view GUI and simple operation. With an easy-to-view GUI with an SLR-consistent design and an easy-to-understand Multi-Selector accompanied by two buttons, operation is both simple and user friendly.
Comprehensive protection. The MSV-01 has easy to grip rubber sides and is equipped with an internal hard drive secured by shock absorbers.
*Approximately 10,000 x 6-megapixel images can be stored in JPEG FINE)
**The MSV-01 is compatible with CompactFlash™ and MicroDrive™ cards and can also be made compatible with SD cards through combination with a CF adapter purchased from a third-party vendor.
Nikon Coolwalker MSV-01 specifications:
Storage
30GB Hard Disk (2.5-inch) [0.1GB used for system]
Media
CompactFlash™ (Type I/II), MicroDrive™, (SD card with adapter, available from a third-party vendor.
Image display
2.5-inch TFT color LCD, 117,600 pixels [490 (H) x 240 (V) pixels], Brightness adjustable
Menu languages
English, French, German and Spanish version
Playback data
Design rule for Camera File System (DCF) compliant rule: JPEG, TIFF, NEF (RAW)**, QuickTime Motion JPEG, TIFF Wave Format Audio File (WAV)***. Supports file formats recorded by Nikon cameras.

**

Supports NEF files recorded by Nikon digital cameras; does not support NEF files created by Nikon scanners.

***

Available only for audio files attached to images recorded by Nikon digital cameras. Audio video equipment with an appropriate input required to play audio.

Playback
Thumbnail, One frame, Zoom (JPEG still only) 2x, 4x, 8x, Slideshow, Movie, Histogram display, Shooting information display, Search function available by date
Video output
NTSC, PAL selectable
Interface
USB 2.0 HI-SPEED: works as an external HDD and CF card reader, supports direct connection to PictBridge-compatible printers via USB (Application for official PictBridge compliance presently in process)
I/O terminals
CF card slot (Type I/II) x 1, USB (mini) x 1, Audio/Video output x 1, DC input x 1
Remote control
Infrared remote control unit (maximum operating distance: approx. 5m)
Power
Rechargeable Li-ion battery EN-EL6 (2000mAh), AC adapter (supplied)
Playback life
Approx. 1.5 hours continuous playback with an EN-EL6 battery
Dimensions (W x H x D)
Approx. 81 x 130 x 35mm (3.2 x 5.1 x 1.4 in.)
Weight
Approx. 350g (body with battery) (12.4 oz.)
System requirements
Interface: Support for standard built-in USB ports (may not function via USB hub); OS: Windows XP Home Edition / Professional, 2000 Professional, ME, 98SE, Mac OS 9.1-9.2, Mac OS X (Version 10.1.2 or later) pre-installed models.
Supplied accessories
USB cable, AV cable, Rechargeable battery EN-EL6 (installed), AC adapter, Remote control unit, Soft case, Software CD-ROM, Instruction manual, Warranty