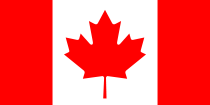 Nikon NPS Canada just sent this email to their current members – all but one service depots will be closing:
The Canadian market is ever evolving and Nikon Canada continues to adapt in order to maintain our leadership position.  In response to market changes, we will soon move to a centralized model for servicing our customers' warranty and repair needs.  

The key element of this change is the closure of our service depots in Richmond, British Columbia, and Montréal, Québec.  Going forward, all customer service will be centralized out of our Head Office in Mississauga, Ontario.

As an NPS member, you will continue to receive expedited service on emergency repairs and we will maintain the 72 hour turnaround time from time of receipt. If we're unable to service your product within that time-frame, loaners will be provided based on availability.

To assist us through this transition and wind down period we ask you to direct all repairs to our Mississauga Service Centre beginning from the date of this notice.

Nikon Canada customers have come to expect the highest level of service from us.  With this change, we are reiterating our commitment to meeting our customers' needs and exceeding their expectations.