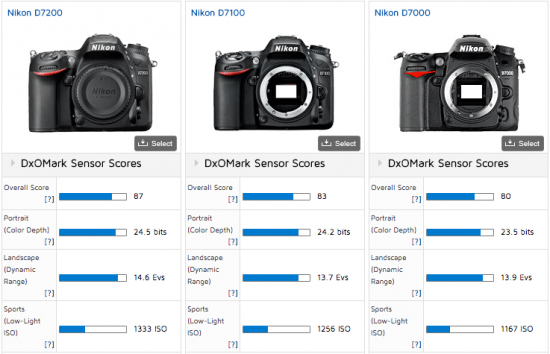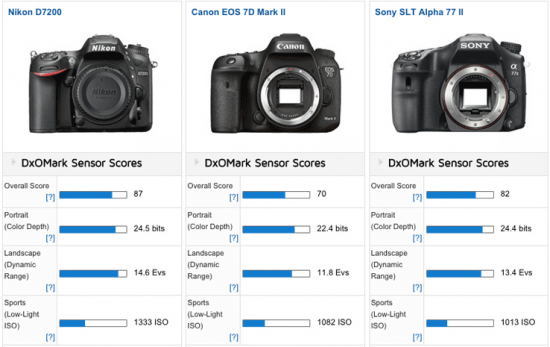 DxOMark published their test results for the Nikon D7200 DSLR camera ($1,196.95). As expected, the camera scored 1st place in the APS-C category:
With an overall DxOMark Sensor Score of 87 points, the Nikon D7200's 24.2Mp sensor ranks in 20th place for all sensors in the database and in first place for APS-C sensors. Despite using a 24.2Mp sensor similar to those in the D5500 and D3300 models, there's clear daylight between the D7200 with 87 points, and the D5500 in second place for APS-C sensors with 84 points. Continuing to dominate the top of the APS-C leader board, Nikon DX-format DSLRs now occupy the top 5 spots, with overall scores from the D7200, D5500, D5200, D7100, and D5300 all breaking through the 80 points barrier.

The D7200's outstanding area of performance is undoubtedly Dynamic Range, where its Landscape sub-score of 14.6 EVs not only ranks first for all APS-C sensors, but also second for ALL sensors in the database, just behind the full-frame Nikon D810 with 14.8 EVs.

With a Portrait Color Depth score of 24.5 bits, the D7200 also sits on top of the table for APS-C color. The result isn't quite as impressive as its Dynamic Range, however, with comparable results from the Sony A77 II, and the Nikon D3300 & D7100 only a little behind for color. The one area in which the D7200's sensor performance falls down a little is ISO, however, where its score of 1333 ISO ranks behind the D5500, the D3300 and the D5300, and the two Sony cameras, putting it in sixth place overall in the APS-C rankings, although there's really not very significant.
Here are the top 10 best APS-S cameras tested at DxOMark (top 5 spots are Nikon cameras):