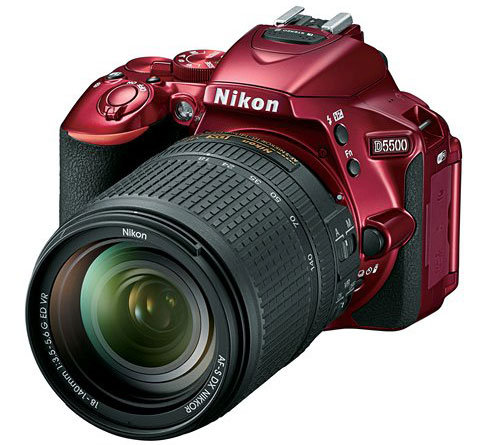 1. A vari-angle monitor for which a touch-screen interface has been adoptedThe D5500 is the first Nikon digital SLR camera for which a touch-screen interface has been adopted. This enables simple and intuitive operation by those who frequently use smart devices. It is equipped with a large and wide, 3.2-inch, approximately 1037K-dot TFT LCD vari-angle monitor with wide viewing angle. In addition to preserving more than sufficient visibility, the side-hinged vari-angle monitor opens up to 180° to the left, and can be rotated up to 90° clockwise, or up to 180° counter-clockwise while it is open. This ensures flexible shooting from a wide variety of angles, whether low or high, and even when capturing self portraits.
Touch Fn
One of eight frequently used camera settings (Focus-point selection, AF-area mode, Aperture, ISO sensitivity, etc.) can be assigned to this function for use with viewfinder shooting, enabling immediate modification of the assigned setting, and achieving practical operation by simply tapping or sliding a finger across the monitor while looking through the viewfinder.
2. A strong monocoque body, and the world's smallest, lightest, and slimmest digital SLR camera equipped with a vari-angle monitorA monocoque structure, with which the exterior serves as a frame that protects the internal structure with great strength, has been adopted for the D5500. Use of a carbon-fiber composite material for the front body, where important mechanisms such as the imaging unit are incorporated, and the front and rear covers not only ensures a light weight, but also preserves great strength and durability. In addition, positioning of the integrated circuit board, on which electronic components are mounted, and the imaging unit in nearly the same place, as well as optimization of drive unit positioning have helped to make the camera significantly slimmer. This, in turn, has enabled a deeper grip that provides a firmer, steadier hold on the camera, making it more portable and easier to handle.
3. A built-in Wi-Fi function that enables image transfer and remote shooting through collaboration with smart devicesThe built-in Wi-Fi function makes two-way wireless communications with smart devices such as smartphones and tablets possible. Full-scale photographic works (still images) captured with this digital SLR camera can be uploaded to a smart device from which they can be transferred or shared on SNSs via the Internet. In addition, the live view screen can be displayed on a smart device, enabling use of the smart device for a variety of applications, including capture of self portraits and group photos, as well as remote photography.
4. An effective pixel count of 24.2-million pixels, a Nikon DX-format CMOS sensor, and the EXPEED 4 image-processing engine enable superior image quality and excellent detailOffering an effective pixel count of 24.2-million pixels and equipped with a Nikon DX-format CMOS sensor with no optical low-pass filter, the D5500 is able to capture images that make the most of the superior rendering capabilities of NIKKOR lenses. In addition, the EXPEED 4 image-processing engine richly reproduces colors from those in the darkest portions of the frame to those in the brightest portions of the frame for smooth changes between bright and dark portions, which results in images with excellent detail and a three-dimensional appearance. The camera supports a broad range of standard sensitivities, from ISO 100 to 25600, making capture of images exhibiting excellent detail with little noise possible, even in dark surroundings.
5. Even better functions and performance as a full-scale digital SLR cameraThe D5500 offers the superior performance and wide variety of functions that make the rich power of expression, possible only with a full-scale digital SLR camera, possible.
Improved Picture Control System: Support for the new Flat Picture Control, the new Clarity adjustment item (for still images only), as well as the ability to apply adjustments in finer increments, greatly expand possibilities for imaging suited to the subject or user intent regarding expression.
Scene Recognition System: In order to increase the accuracy of auto control functions, scene information is analyzed using the 2016-pixel RGB sensor and the image sensor. This makes it possible for the autofocus system to accurately track moving subjects, it enables exposure control that takes highlights into consideration, and it makes extremely accurate white balance control possible. In addition, information acquired from the image sensor is used to achieve greater accuracy with exposure and AF control in live view mode (including movie live view).
High-speed continuous shooting: The D5500 supports high-speed continuous shooting at up to 5 fps for a maximum of 100 shots (JPEG).
Special Effects mode, to which Super Vivid, Pop, and Photo Illustration options have been added, for a total of ten effects that enable more creative expression: The D5500 is equipped with a Special Effects mode, with which effects can be selected and applied with recording of both still images and movies. Preview in the camera monitor before shooting or recording begins allows users to confirm the results of effect selection in the camera monitor in real time. With the addition of Super Vivid, Photo Illustration, and Pop options, the D5500 offers selection from a total of ten special effects. This allows users to easily enjoy dramatic effects like those seen in art and the movies. This mode was adopted to respond to the creative intent of users searching for a way to express their own unique style and creativity.
D-Movie function for recording 1920 x 1080/60p full-HD movies: The D5500 is equipped with a D-Movie function that supports recording of smooth 1920 x 1080/60p full-HD movies. In addition to recording via the built-in stereo microphone, the optional Stereo Microphone ME-1 can also be used to record high-quality stereo sound.
A built-in Vignette Control function that reduces illumination falloff at image peripheries: The D5500 is the first Nikon DX-format model to offer the Vignette Control function, which processes images to reduce the drop in brightness at the edges of frames (illumination falloff) that sometimes occurs due to the characteristics of photographic lenses.
Nikon AF-S NIKKOR 300mm f/4E PF ED VR lens (price: $1,999.95)

A fixed focal length telephoto lens with a focal length of 300mm and a maximum aperture of f/4 compatible with Nikon FX-format digital SLR cameras
The first NIKKOR lens for which a PF (Phase Fresnel) lens element has been adopted, making it the world's lightest lens of its type
Equipped with a SPORT VR mode for effective photography of athletes and other subjects that are moving rapidly and unpredictably in addition to a vibration reduction (VR; camera shake compensation equivalent to a 4.5-stop increase in shutter speed) function
Adoption of a PF (Phase Fresnel) lens element, an ED lens element, and Nano Crystal Coat for superior optical performance with which chromatic aberration and ghost are suppressed
Capable of expression of the beautiful blur characteristics possible only with a maximum aperture of f/4
Equipped with an electro-magnetic aperture mechanism that enables stable auto-exposure with high-speed continuous shooting
Adoption of Nikon's exclusive and highly durable fluorine coat, which effectively repels water and oils, and makes cleaning the lens easier even when it does get dirty, on the surface of the front lens element
Among 300mm fixed focal length (prime) AF lenses compatible with 35mm "full-size" format cameras available as of January 6, 2015. Statement based on Nikon research.
Measured in accordance with CIPA standards in NORMAL mode using an FX-format digital SLR camera.
PF (Phase Fresnel) lens elements:
The PF (Phase Fresnel) lens, developed by Nikon, effectively compensates chromatic aberration utilizing the photo diffraction phenomenon. It provides superior chromatic aberration compensation performance when combined with a normal glass lens. Compared to many general camera lenses that employ an optical system using the photorefractive phenomenon, a remarkably compact and lightweight body can be attained with less number of lens elements.
Nikon AF-S NIKKOR 300mm f/4E PF ED VR lens MTF chart and lens design (click for larger view):
Nikon AF-S DX NIKKOR 55-200mm f/4-5.6G ED VR II lens (price: $349.95)

A telephoto zoom lens that supports the 55-200mm (angle of view equivalent to that of a lens with focal lengths of 82.5-300mm in 35mm [135] format) range of focal lengths and maximum apertures of f/4-5.6 compatible with Nikon DX-format digital SLR cameras
Adoption of a retractable barrel makes the lens significantly smaller
Equipped with a vibration reduction (VR) function that effectively reduces the effects of camera shake (camera shake compensation equivalent to a 4.0-stop increase in shutter speed)
Adoption of an ED lens element maximizes the superior optical performance of the lens for little chromatic aberration
Nikon AF-S DX NIKKOR 55-200mm f/4-5.6G ED VR II lens design and MTF chart (click for larger view):
Press release:
Inspired Photos with Flair, Ready to Share: New Nikon D5500 DSLR Helps Creatively Capture the Moments that Matter
Alongside the Compact and Versatile Nikon D5500, Nikon Announces the Expansion of Legendary NIKKOR Lens Lineup with the AF-S DX NIKKOR 55-200mm f/4.5-5.6G ED VR II Zoom and AF-S NIKKOR 300mm f/4E PF ED VR Telephoto Lenses
MELVILLE, NY – Today, Nikon Inc. announced its latest DX-format DSLR, the Nikon D5500, a lightweight yet powerful camera that offers a robust feature set, built-in Wi-Fi connectivity and the ability to capture incredible photos and HD video with ease. An ideal entry-level DSLR for the creative photographer ready to take their storytelling to a new level, the D5500 sports an impressive arsenal of imaging technology, including a 24.2-megapixel CMOS sensor with no optical low-pass filter (OLPF) and a new 3.2-inch Vari-angle touch operation LCD display. All of this and more is packed into a new monocoque design that makes the camera one of Nikon's lightest and most convenient-to-carry DSLR offerings. Nikon has also expanded its already impressive line of NIKKOR lenses with two new additions, the versatile AF-S DX NIKKOR 55-200mm f/4.5-5.6G ED VR II zoom lens for DX-format shooters and the FX-format AF-S NIKKOR 300mm f/4E PF ED VR, a lens with advanced Phase Fresnel optics for lightweight super-telephoto performance."Whether capturing an unforgettable sunset or the game winning goal, the Nikon D5500 was designed to foster creativity and provide the tools any budding photographer needs to easily capture and share amazing images and HD video," said Masahiro Horie, Director of Marketing and Planning, Nikon Inc. "Additionally, the new DX-format 55-200mm and FX-format 300mm f/4 lenses reaffirm Nikon's steadfast commitment to expanding the NIKKOR lens lineup with versatile additions for both DX and FX-format DSLR shooters.
Tell a Story with Breathtaking Quality
The Nikon D5500 makes no sacrifices when it comes to image quality, featuring a 24.2-megapixel CMOS sensor capable of rendering amazingly sharp and tonally-rich images and HD video. The removal of the sensor's OLPF allows for an impressive level of detail and sharpness from an affordable DSLR, while the addition of the EXPEED 4 image processing engine works to improve overall speed and performance in a variety of shooting situations. When shooting in low-light, D5500 users can also take advantage of an expanded wide-ranging ISO spanning 100-25,600, which makes it easy to capture great images, even when available light is scarce. Alongside Nikon's impressive arsenal of NIKKOR lenses, the Nikon D5500 is a powerful imaging tool capable of incredible image quality, whether shooting flattering portraits or stunning HD video.
Compact, Portable and Ready to Share
When the perfect moment is ready to be captured, having a camera that is ready to go anywhere is essential. One of Nikon's smallest-ever DSLR offerings, the Nikon D5500 is compact (4.9 x 3.8 x 2.8 in.) and surprisingly lightweight (14.8 oz.), making it the ideal DSLR for users constantly on-the-go. Ergonomically designed, the camera also features a new monocoque structural skin that increases durability without weighing it down, while allowing the user to securely and comfortably hand-hold.Nikon Snapbridge describes the experience of quickly and easily sending photos wirelessly from your Wi-Fi®(1) enabled Nikon DSLR, Nikon 1 or COOLPIX camera to a compatible smartphone or tablet for times when a great moment is captured and ready to be shared. The D5500 sports built-in Wi-Fi that allows the user to easily share high-quality images with friends. Simply shoot, tag and share great moments with the quality they deserve. Additionally, users can utilize their smart devices to shoot remotely – ensuring that even the photographer doesn't have to miss out on the next group photo.
Capture and Create with a Touch of Class
The Nikon D5500 also offers the ultimate in DSLR control with an incredibly sharp 3.2-inch Vari-angle LCD monitor, and is Nikon's first ever DSLR with touch operation, which will help photographers discover new shooting perspectives for both stills and HD video. Intuitively designed for easy menu navigation and intelligent operation, the D5500 allows the user to choose their focus point via Touch AF, pinch in to check focus and even activate the shutter with the touch of a fingertip. Additionally, a new Fn (Function) touch feature gives one-touch access to important settings like AF point selection, aperture, ISO sensitivity, AF area mode and more. The adjustable Vari-angle screen also allows the photographer to capture images and video from exciting new perspectives, easily shooting above the crowd at the dance recital, getting on a toddler's level to capture their first steps or simply taking a creative selfie.  The Nikon D5500 helps the budding photographer easily compose, shoot and review each image or video in high-resolution (1,037k dot), helping preserve the moments that matter most.
Never Miss the Perfect Moment
A versatile yet powerful DSLR, the D5500 is equipped with the latest imaging technology to help tell every story with precision. The camera features a powerful and precise 39-point autofocus (AF) system with 9 cross-type sensors that quickly locks on to even the fastest moving subjects to render beautifully focused images. Whether photographing fast-moving subjects in the championship game or the kids in the backyard, users can select from a variety of advanced focus modes, including 3D Tracking to track a moving subject. Paired with the camera's 2,016-pixel RGB sensor and Nikon's Scene Recognition System, the D5500 decisively recognizes and follows each subject in nearly any lighting condition, while continuous shooting up to approximately 5 frames-per-second (fps) makes it possible to capture every fleeting moment.
When the moment is better conveyed through motion, users can also tell their stories with smooth Full HD 1080/60p video with Full-Time AF and stereo sound for a cinema-like experience. The Nikon D5500 also offers a wealth of creative options, including 16 unique Scene Modes that choose the right settings for a variety of common shooting scenarios. Super Vivid, POP and Photo illustration have been added as Effects Modes, and Picture Controls have been enhanced by adding a "Flat" option. These settings now have a 0.25-step adjustment and an expanded "brightness" range to ±1.5 available for photographers who want to completely customize the look and feel of their images and video.
An Affordable Companion Telephoto Lens for DX-Format Shooters
In addition to Nikon's standard retractable design AF-S DX NIKKOR 18-55mm f/3.5-5.6G VR II kit lens, Nikon has now added the ideal companion 3.6x zoom lens to help take DX-format photographers from wide-angle to telephoto with ease. Compact and lightweight, the new retractable design AF-S DX NIKKOR 55-200mm f/4.5-5.6G ED VR II is great for capturing sports, people or school events, and presents an affordable way to get closer to the action. The lens also features three stops of VR image stabilization2 and core NIKKOR technologies including a Silent Wave Motor (SWM) that helps ensure quiet and precise AF operation.
Smaller, Lighter, Faster Telephoto
Nikon has also introduced the AF-S NIKKOR 300mm f/4E PF ED VR, the world's lightest 300mm full-frame fixed focal length AF lens(2), which is nearly 30% shorter and 1.5 lbs. lighter than its predecessor. Extremely easy to handle and built to suit the needs of serious photographers in the field, the new 300mm f/4 lens utilizes Phase Fresnel optical technology to  help correct chromatic aberration and reduce the overall size and weight of the lens, making it easy to pack for any assignment. Capable of producing tack-sharp images and beautiful background blur at a distance, Nikon's newest FX-format lens also features four and a half stops of VR image stabilization(3), a VR Sport mode, VR tripod detection as well as several of the latest NIKKOR optical technologies including electromagnetic aperture control, a Silent Wave Motor for quiet AF operation, ED glass for further controlling chromatic aberrations and Nano Crystal Coat for superior image quality.
Price and Availability
The Nikon D5500 will be available in early February, in black and red, in two different kit configurations: alongside the AF-S DX NIKKOR 18-55mm f/3.5-5.6G VR II lens for a suggested retail price (SRP) of $999.95 or with the AF-S DX NIKKOR 18-140mm f/3.5-5.6G ED VR lens for $1,199.95 SRP. The Nikon D5500 will also be sold body only for an SRP of $899.95. The AF-S DX NIKKOR 55-200mm f/4.5-5.6G ED VR II and AF-S NIKKOR 300mm f/4E PF ED VR lenses will also be available in early February for an SRP of $349.95 and $1,999.95, respectively.
Additional coverage: