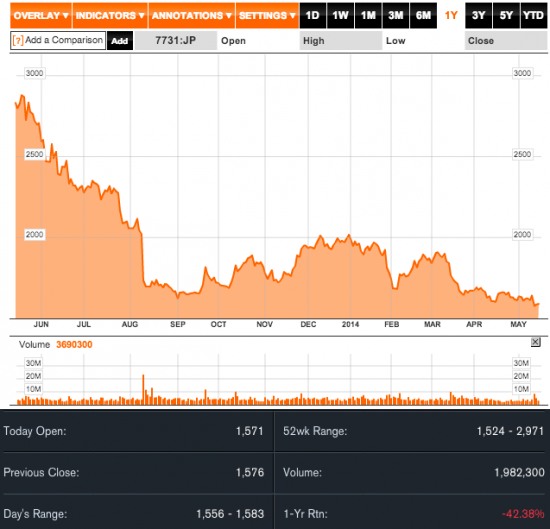 Nikon released their financial results for the year ending March 2014:
Nikon (7731) Corp. posted its lowest close in three years after the camera maker's net income for the last fiscal year and profit outlook missed estimates.

Nikon sank 4 percent to 1,567 yen, its lowest close since March 2011. The company announced net income of 46.8 billion yen for last fiscal year, missing its own forecast of 50 billion yen. Nikon projected profit of 45 billion yen for the current year, while analysts estimated 48.5 billion yen. (Bloomberg)
The above Nikon Corp. stock charts shows a -42.38% one year return. This should not be a surprise to anyone that follows this blog. As a result of the poor financial results, Nikon appointed new directors and officers and changed the assignment of some executives positions. The company also announced reorganization of their corporate structure.
Summary for the year ended March 31, 2014 for Imaging Company:
Sales is down 9% due to lingering stagnation of camera markets mainly in Europe and China, but the profit increased 6%. Optimization of product mix in entry class SLR cameras and thorough cost reduction activities contributed to the recovery of operating income ratio from 5.1% in the 2nd half of FY3/2013 to 8.8% in the 1st half and 10.0% in the 2nd half, averaging the annual 9.4% rate.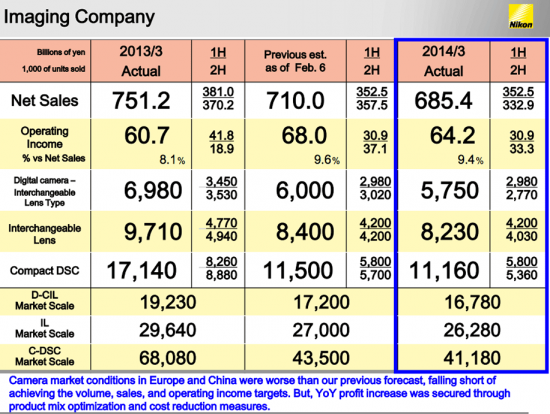 Summary of estimation for the year ending March 31, 2015 for Imaging Company:
Market downturn continues for digital camera-interchangeable lens type and compact DSC. 1st half still faces the unfavorable market condition, but the recovery is expected in the 2nd half. Sales forecast is lowered 8% but increase of operating income is forecasted.