Hi, I'm Jason Freeman (www.gowildimages.com), a graphic designer based in Melbourne, Australia with a passion for photography and the very great outdoors. I purchased a Nikon D600 this year, and gave it its first workout on the Everest Base Camp (EBC) trek, Nepal. Here's a few tips for aspiring Nepal photo-trekkers (click on image for larger view):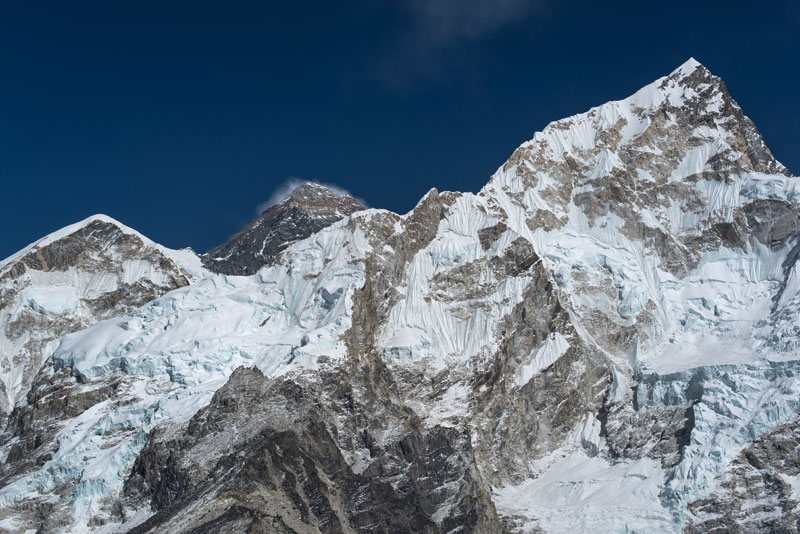 Mt Everest pokes out between the West Ridge (L) and Nuptse (R). This is the view from Kala Pattar, a rocky outcrop at 5500m. Afternoon is the best time, with sun on the face. Sunrise can be disappointing, with the sun rising behind the trio.
Trek overview
To reach EBC, most people start by flying in to Lukla from Nepal's capital, Kathmandu. The landing is a heart-stopper, but the real fun begins after Lukla – a tiring, but rewarding hike on well-marked trails, through a truly unique landscape, with lodging and food available all the way up to 5300m. Acclimatizing to the increasingly thin air is a slow process and the walk to EBC is usually completed in around eight short days, including two rest days. The return trip, with a lot more downhill and no acclimatization delay, takes about five. Only 'average' fitness is required, and age is no barrier!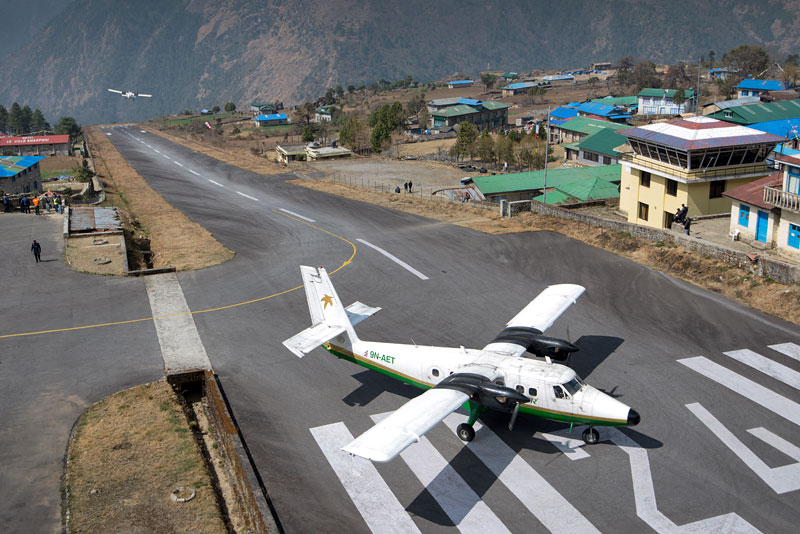 Twin Otter aircraft queue up at Lukla airport, making the most of fair weather. Always allow a few days for possible flight delays when clouds obscure the runway.
Baggage allowance
The aircraft are small and bag weights are enforced. You can take 10kg in your baggage and 5kg carry-on. It's possible to purchase more allowance, but unless you have a porter, this is a nice limit to follow!

Porters carry 30kg as a 'standard' load, but will sometimes carry three times that much! Here, some medical testing equipment is heading to EBC.
Difficulty
Anyone familiar with weekend hiking shouldn't have any problem walking without a porter or guide and most locals speak at least basic English, so can steer you in the right direction. If you prefer to take it easier (it's never easy!), you can organize a porter in Kathmandu or Lukla. Trails are broad and easy to follow but bring a basic map so you can plan which village you will stop at each night. Down low, there is accommodation each hour or so. Up high, it can be a few hours between lodges.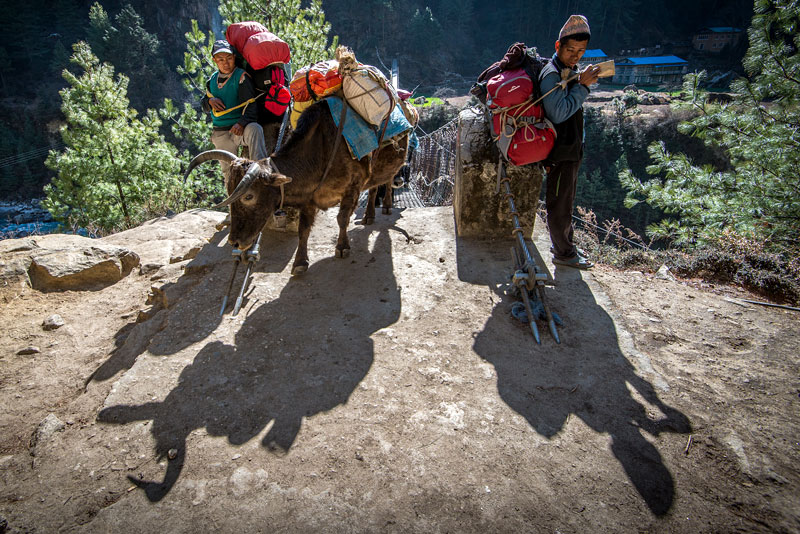 Dzos (a cow-yak hybrid) have right of way on the narrow suspension bridges. They are tame, but always stand on the uphill side of the trail to let them pass – you don't want to be pushed off!
How much is too much?
Everyone has their preference for how much photo gear to take and when hiking, it's all about compromise – low bulk, low weight and sticking to the minimum required to achieve your desired results. For me this meant buying the D600 rather than the D800, which is larger and heavier. I took two lenses, a Nikkor 50mm f1.4 – for its natural, documentary style, ultra sharp and excellent in low light – and a Nikkor 16-35mm f/4. I had looked at the Nikkor 14-24mm f/2.8 – but the extra 300g of weight and an exposed front element that couldn't easily take a filter was a negative. I took a small tripod, which was particularly handy for HDR, night shots, video and time lapse. A polarizing filter was handy for reducing haze and icy reflections.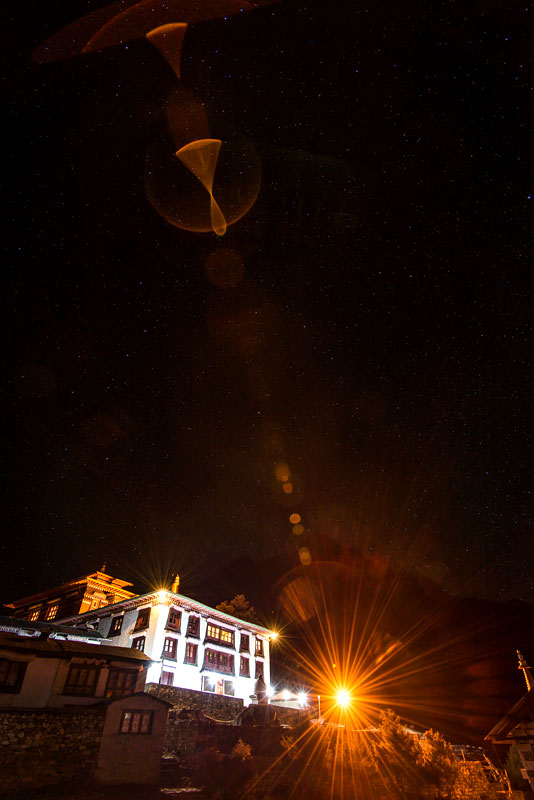 Tengboche monastery, 3800m. In Spring, afternoon clouds are very common, but if you can keep awake and brave the chill, the skies often clear up by midnight (30s, f/8, ISO100).
An hour of power
Cold weather greatly reduces battery life, particularly alkaline and NiMH types. Lithium ion batteries are more cold tolerant, but none will last 13 days, so you need spares and/or you need to recharge. Luckily, lodges in this region have either hydro-electric or solar power and provide access to power sockets (Euro or US plug). You pay by the hour, but as these systems have very low current, a full charge can take all night and be quite expensive. In peak trekker periods, you may have to wait for a free socket. Keep your batteries and camera in your pack overnight and away from the cold of walls, floor or windows if possible. If camping, I'd recommend putting batteries in the foot of your sleeping bag. AA batteries are available to purchase along the trail, but may have already been weakened by the cold, so are not a reliable option. I carried six batteries but barely used four, avoiding the need to charge. I left the GP-1 GPS adapter at home – this eats a battery a day and unfortunately wasn't viable for a trip of this duration.

Snow storms aren't entirely bad for photography – avalanches are more frequent! These are well away from the trekking route, so not a concern for walkers.
Status update
Slow internet is available up to Gorak Shep at 5300m, the last lodges before EBC. Don't expect to be able to upload all your images, but you will be able to get a few images and emails off. Again, you pay by the hour and may need to queue up to use the house computer. Bring some portable apps pre-installed on a USB stick – a portable browser, image editor and anti-virus can be useful. Patchy and unreliable mobile coverage is available all the way to EBC. Local SIMs can be purchased cheaply in Kathmandu.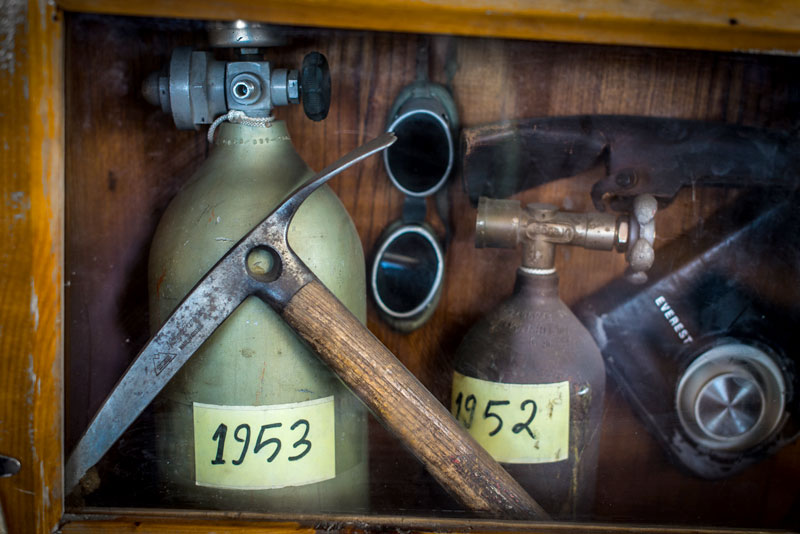 A casual chat with a Sherpa lodge owner while stopped for lunch led me to this find. He had summited Everest ten times and had collected these items from past expeditions, including some of Hilary and Tenzing's equipment from the first ever successful summit in 1953. There are so many stories to discover – chat to the locals as much as you can.
Breathe in, breathe out
With all the effort you exert getting up the hills, it helps to keep the camera and second lens within reach. Dropping the pack and picking it up again can be hard work when you're already fighting to breathe, so buy a wide, soft aftermarket neck strap and keep the camera handy. For the DIY types, consider making a short strap that clips into your pack's chest strap. With a matching clip on one end and socket on the other, the weight of the camera is on your shoulder straps, instead of your neck. For a makeshift lens holder, I used the factory-supplied soft pouch and clipped the drawstrings onto the shoulder strap of my pack using a small accessory carabiner.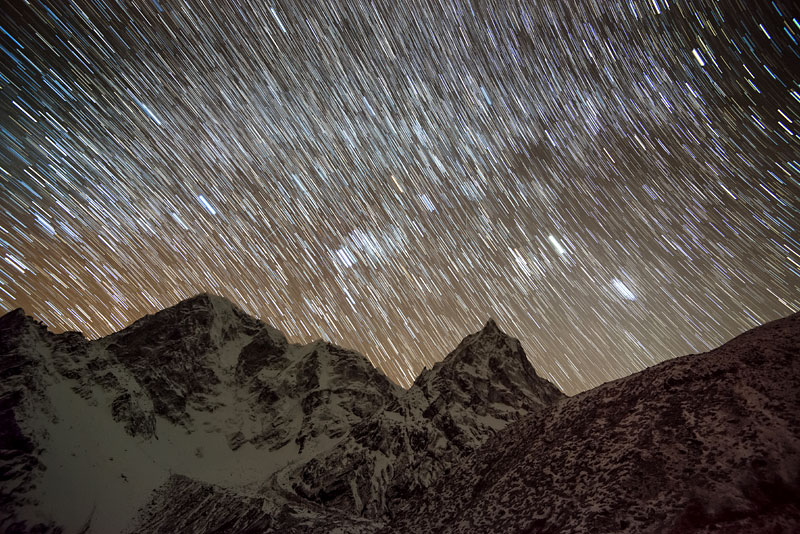 On a clear night at 4600m with no moon, there was no shortage of light from the mass of stars above. 30 x 30sec exposures, stacked. The in-camera intervalometer did a fair job, but the need for a 1sec delay between shots gives some banding to the star trails ( 30 x 30s, f/4, ISO3200).
Layer upon layer
You'll need a few layers of clothing at any time of year and a windproof/waterproof jacket. I've never needed a down jacket for trekking in Nepal, even at 6200m mid-Winter, and have just relied on multiple, thinner layers. Quick-drying fabric is ideal. Nights can be bitterly cold, so gloves and beanie are needed. I'd recommend a balaclava if you intend on extended periods outside at night, and thin gloves to wear inside thicker ones – you can take one layer off for fine control if you need to, without exposing your fingers to the cold. -10C is common up high, so water will freeze if you don't keep your bottle in your jacket or sleeping bag. Generally cameras are fine at this temperature, and only the most adventurous mountaineers will need to consider applying non-freezing grease in their cameras or other cold treatment such as applying tape over any metal surfaces.

The majestic Ama Dablam peak, one of the more recognizable and formidable peaks.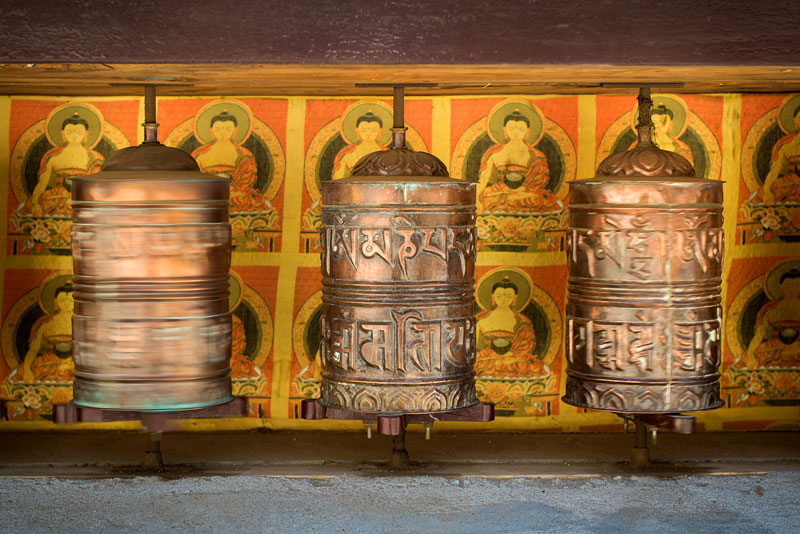 The predominantly Buddhist Khumbu region is well-decorated with spinning prayer wheels, flags and carved rocks. Walk clockwise around religious buildings and touch prayer wheels with your right hand only.
Tasbir? (tuss-beer) Photo? Locals are very friendly and may be happy for you to take pictures of them. It helps to learn a few words and make small talk – a little respect goes a long way. Avoid pointing or touching, particularly with the left hand.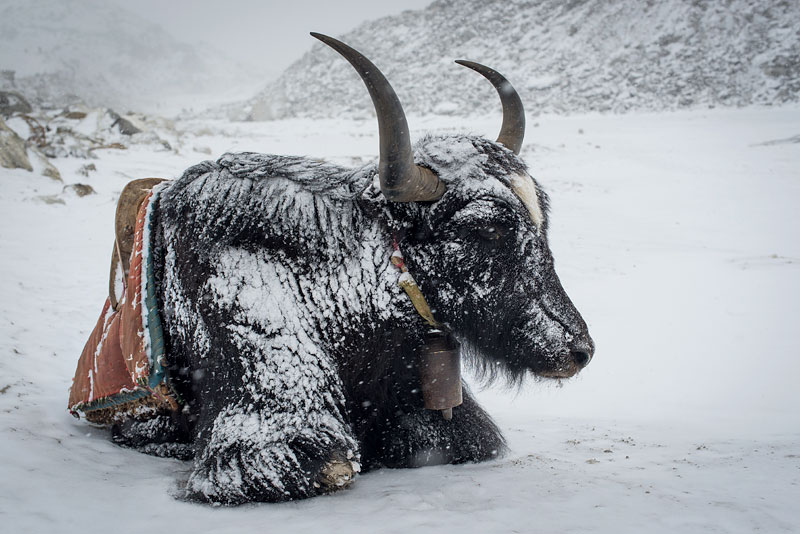 A chilled yak in Gorak Shep, 5300m.
Shoot me
Yaks. Yaks are cool. They can be nervy, so sit a few meters away and let them get used to you for a minute. Then move slowly closer. When they snort at you, it's time to take a step back! The people – porters carrying your bodyweight up a steep hill while singing, friendly Sherpas with a permanent smile, simple family life and the omnipresence of Buddhist monks. Glaciers. Here today, gone tomorrow. Maybe.
Mountains. In Nepal, they go up into the clouds, then continue out the top. And of course, Everest, the World's highest mountain, riddled with climbing routes and epic tales.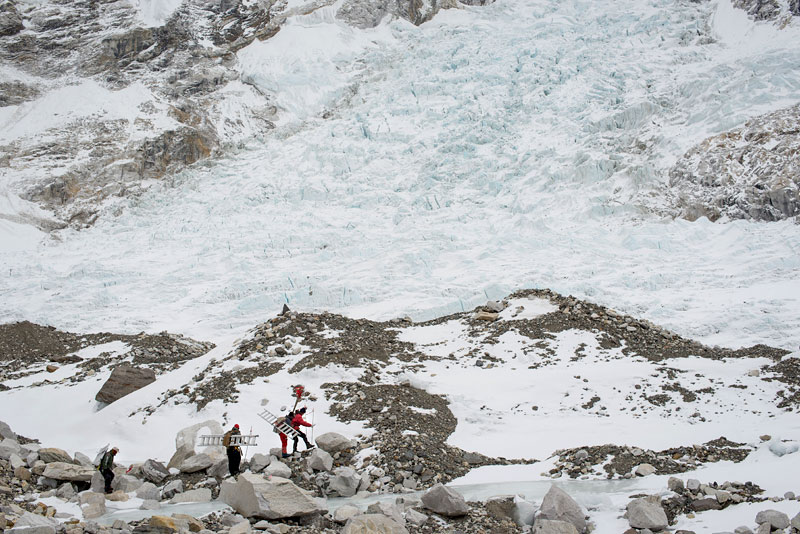 Khumbu Icefall, Mt Everest. I had the pleasure of spending some time with the fabled 'Icefall Doctors' before they headed off on their first day of work in the 2013 climbing season. The Sherpas are employed to find a route through the enormous shifting blocks of ice and snow-covered crevasses and place ladders and ropes for aspiring climbers. This 2-3 week task is incredibly dangerous and, sadly, one of the lead Sherpas, Mingmar, lost his life in a crevasse just two weeks later.
Play it safe
Traveling in Nepal is pretty safe overall, but you should not trek alone. It's easy to meet up with people on the trail in busy seasons, in Kathmandu via noticeboards or via online forums before you leave home.
Bring a combination lock to lock your room and make sure windows are closed. Water is safe once boiled or treated with iodine. Bottled water can be bought, but is expensive and adds to waste issues.
Vegetarian food is usually pretty safe. Avoid the lure of a yak steak – you will almost definitely get sick and it's most likely buffalo anyway! Bring some dried meat from home if you need a meat fix. Snow storms aren't entirely bad for photography – avalanches are more frequent! These are well away from the trekking route, so not a concern for walkers.
Cold, wet, busy or hazy?
Nepal has four distinct seasons. Winter can be bitterly cold, but blue skies are common. Summer is warm, but monsoon rains make views impossible. After the rains abate, the air is clear and the temperatures mild – this is the most popular trekking season. Spring is comparably mild, but the air can be hazy, after several months with little rainfall.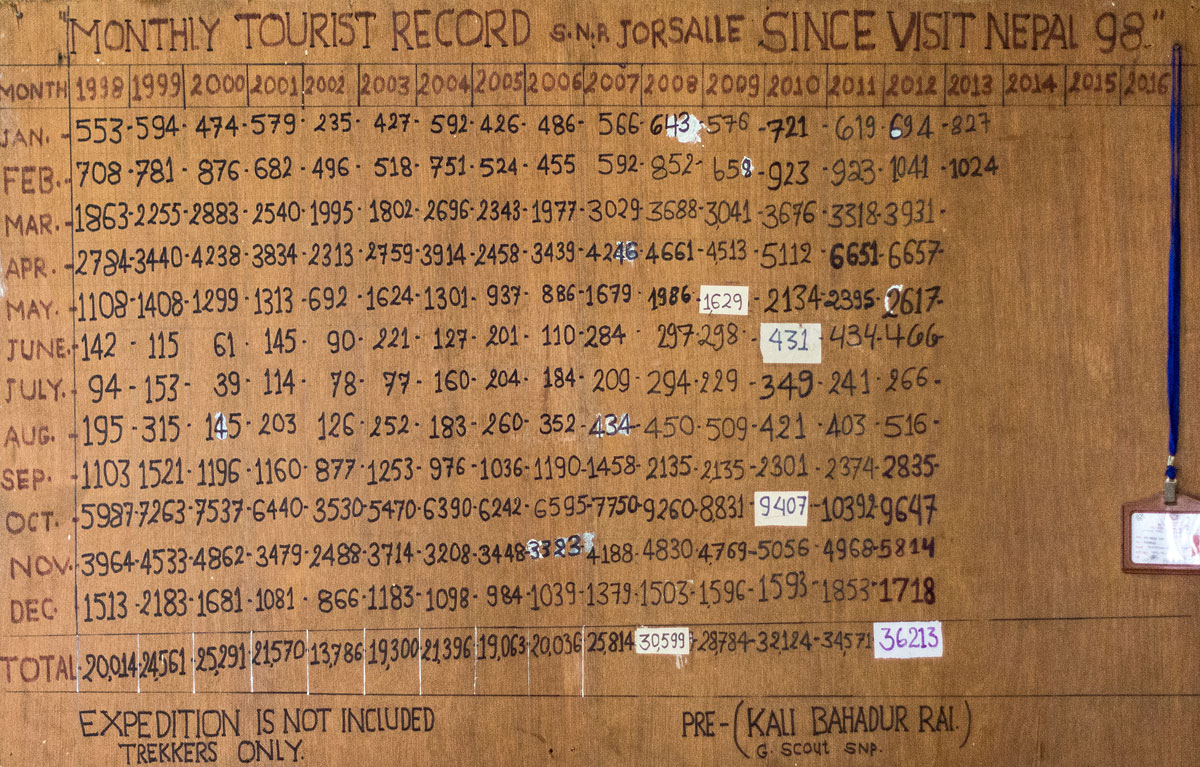 The number of trekkers in peak months means an increase in prices and a good chance of not being able to find a bed. Avoid October, November and April. The months each side are more relaxed and Winter can be very peaceful, as long as you have an extra layer of clothes on hand.
Costs (approximate, US$):
Flights $150 each way (Lukla-Kathmandu)
TIMS card $10 (trekker registration)
National Park permit $30
Basic food & accommodation – $15 per day down low, to $30 up higher (as all food/drink is carried in).
Porter (optional) – around $15 per day, including food and accommodation costs (make sure to negotiate this upfront).
Battery charging – $2 per hour down low, up to $5 per hour at 5300m.
Internet access – $1-2 per hour
Sleeping bag, jacket, backpack – can be hired cheaply in Kathmandu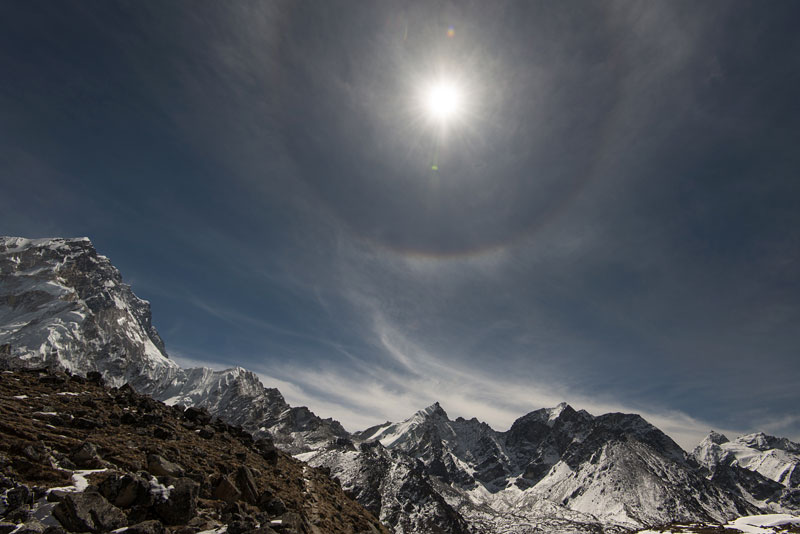 22 degree halo. The large ring and dark inner is not lens flare – this solar phenomenon occurs only with Cirrus cloud containing ice particles.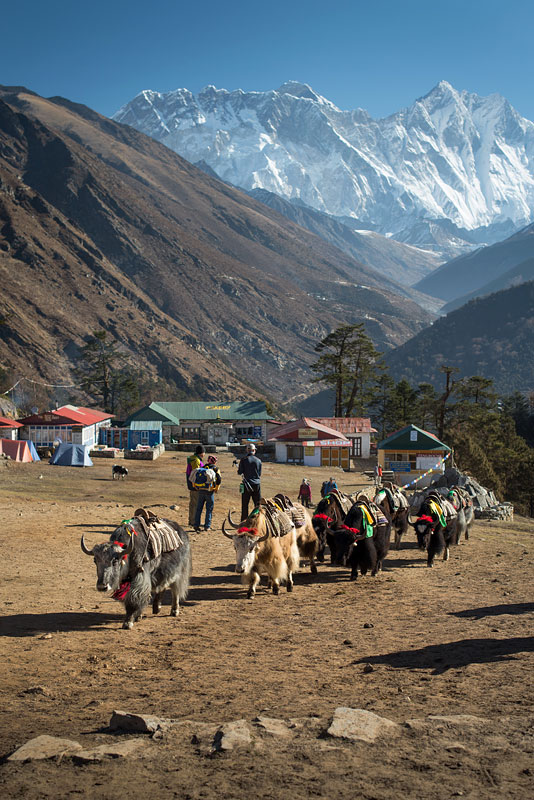 Tengboche, 3800m. Unloaded yaks head back down to pick up another load, with Mt Everest looming 5000m higher above.
Everest is only one destination in Nepal, and there is plenty more to experience in the foothills, cities and jungles. To see more Nepal pics or to drop me a line, please visit www.gowildimages.com. See also this video from the EBC trip.
If you have an interesting idea for a guest post, you can contact me here.