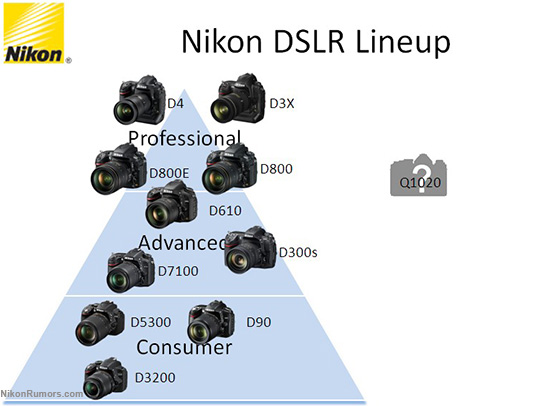 The above screenshot is from an internal Nikon Df camera presentation. Here are some speculations based on where the Df model (internal code name: Q1020) is placed on the graph:
First, the Df is not included in the current "modern" DSLR pyramid. Maybe this will be the first of several other cameras with similar retro design that will form their own product pyramid? I guess Nikon is testing the waters here – just like Fuji did with the X100 and if it works, there will be all over this category and flood it with new products (just like Fuji did).
The Df is placed on the border between the "Professional" and "Advanced" blocks (it seems to be closer to the D800 than to the D610) – this may also represent the price of the camera – somewhere between the D610 ($1,996.95) and the D800 ($2,796.95 after rebates). Don't ask me why the D300s is not under the "Professional" section – maybe they did not have enough space. As for the D90 – yes, it's still available.