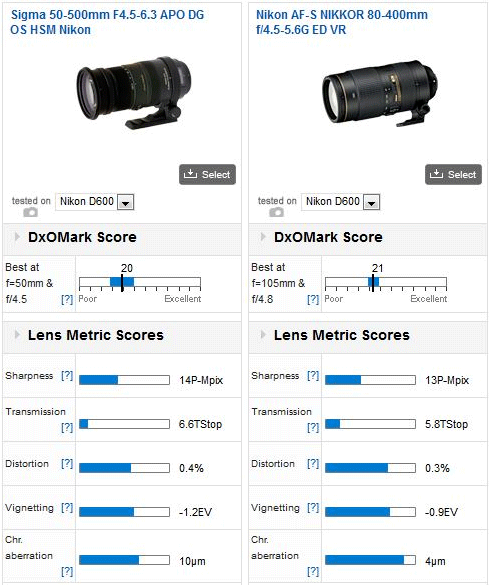 New DxOMark test: Sigma 50-500mm f/4.5-6.3 APO DG OS HSM ($1,509 after a $150 rebate) vs. Nikon 80-400mm f/4.5-5.6G ED VR ($2,696.95). DxOMark calls the Sigma lens "one of the sharpest long telephoto zoom on D800":
"On a 24-MPix Nikon D600 the Sigma APO 50-500mm f/4.5-6.3 performs very well indeed. Achieving a DxOMark score of 20 points, the lens is one of the highest scoring super-telephoto zoom that we've seen.

Compared with its direct rival, the newer Nikon 80-400mm f/4.5-5.6 ED VR, the Sigma is on a par optically coming just slightly behind in the overall DxOMark score (which is a benchmarking exercise) but can boast slightly better sharpness overall. There is a caveat though. While the Sigma is better than the older Nikon version where it counts (at the tele-end), the improvement in sharpness over this new model is at the less useful shorter end of the zoom range.

The Sigma might not have the build and outright image quality at the longer end of the zoom range of the premium marques, with Nikon's own offering being recently redesigned and improved in lots of meaningful ways. But, given the extra versatility from the wider zoom and the savings of around $1,000 over the Nikon badged lens, the Sigma is hard to ignore."