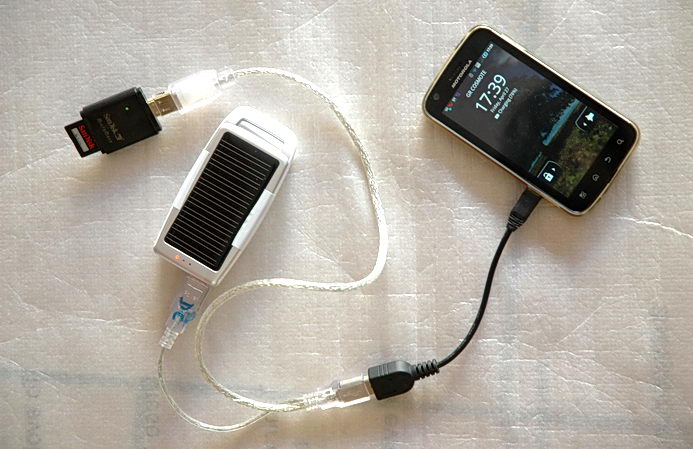 Today's guest post by GfK from Patras, Greece will show you how to share RAW/JPG files with an Android phone:
Except the Nikon D4 that has Ethernet connection and Nikon D3200 that is compatible with a WiFi transmitter, I am not aware of a DSLR that can share images directly on the Net. Here's a description on how one can download the images to the mobile phone and share them instantly (or later) on the Internet.
All you need is a card reader, Android phone, USB On-the-Go cable (the black cable in the images), USB Y-splitter cable (those that come with some external hard drives so they provide more amperes at their input) and USB battery charger.
Connectivity
Most smartphones and tablets have microUSB port for connecting peripherals. By using a USB-OtG cable and if a suitable drivers exist (Android OS is based on Linux, it has embedded drivers for USB storage devices and for other peripherals as well) one can read the contents of a flash drive or a SD/CF/MS card.
The problem is that mobile phones don't provide current at their microUSB port. With Y-splitter or other ways (check here) we can provide +5V simultaneous power to the flash drive and to the microUSB port of the phone. To check if everything is connected, make sure the phone is charging and the lamp of the flash drive/card reader is on. In my setup the current is provided by USB solar battery charger (around $15 on eBay), but if you're in the office you can use a PC USB port.
Using the mobile phone's file manager, navigate to the flash drive (usually at /mnt/usb, if you need to mount it read this link). Convert the RAW into JPG in the camera or in the phone and share the image on the Internet via 3G: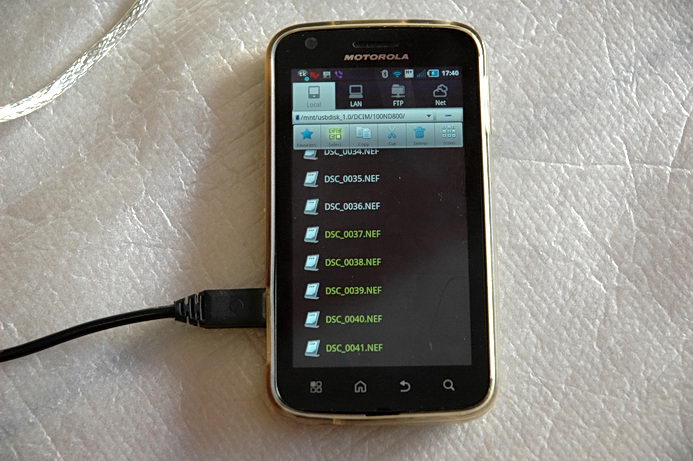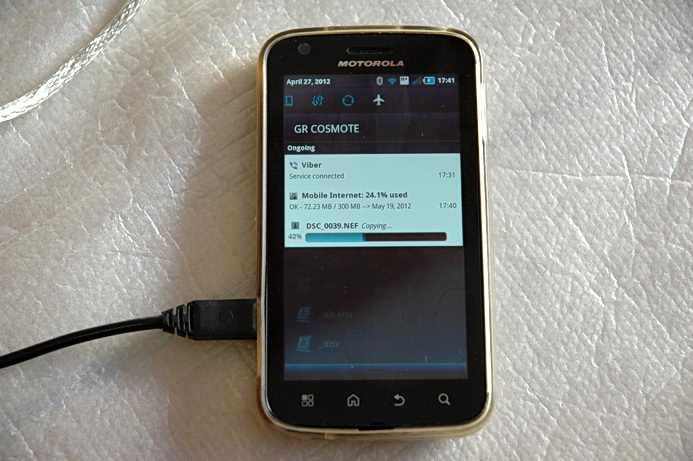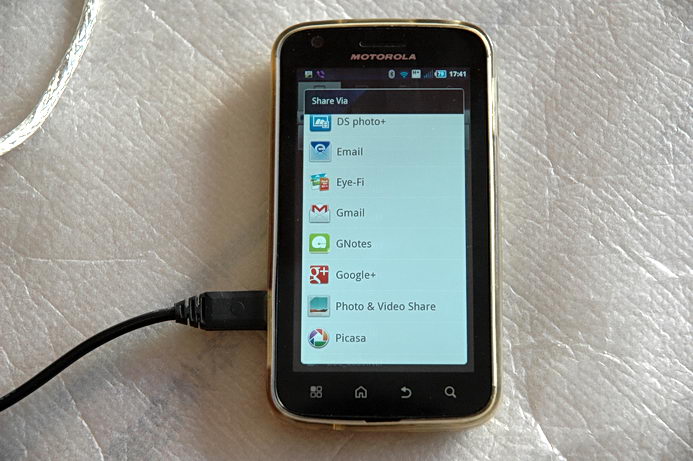 That's all. Now if somebody ask you to instantly upload a photo, you have a solution. Of course there are also the Eye-Fi memory cards, but they are expensive and it's rather unlikely that all of our cards are of that kind. Eye-Fi cards are however tested and reliable.
Update: here are some additional Wi-Fi solutions:
Check also those related posts on DIY Wi-Fi solutions: