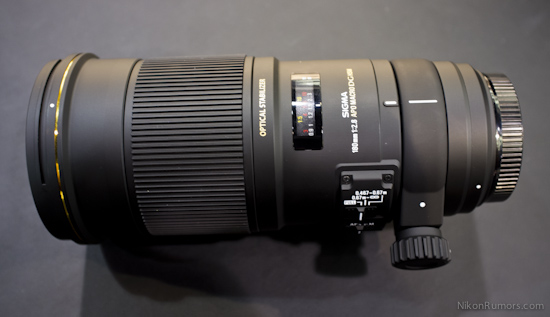 For the CES show Sigma announced a new APO Macro 180mm F2.8 EX DG OS HSM lens:
Sigma Corporation of America announces world's first 1:1 180mm F2.8 macro lens
New fast and stabilized lens announced at Consumer Electronics Show 2012
Ronkonkoma, NY, Jan. 9, 2012 – Sigma Corporation, a leading researcher, developer, manufacturer and service provider of some of the world's most impressive lines of lenses, cameras and flashes, is pleased to announce the Sigma APO Macro 180mm F2.8 EX DG OS HSM, the world's first 180mm macro lens that offers a magnification ratio of 1:1 and a large maximum aperture of F2.8.
As the successor to Sigma's earlier 180mm F3.5 EX DG macro lens, the new APO Macro 180mm F2.8 EX DG OS HSM lens now boasts the company's proprietary Optical Stabilizer (OS) technology and a wide F2.8 aperture to allow faster shutter speeds for narrow depth of field. With the OS feature, this lens offers the use of shutter speeds approximately four stops slower than would otherwise be possible, enabling handheld close-up photography. Three "F" Low Dispersion (FLD) glass elements, which have a performance equal to fluorite glass, are included to provide correction for color aberrations, and an inner focusing system minimizes aberrations that occur as shooting distances change.
"Our first 180mm macro was very popular with macro photographers and we're certain that discerning photographers will be very impressed with its new technical and performance upgrades. The Optical Stabilizer technology and faster maximum aperture will make it even easier for users to capture the close-up, intricate details in the tiny world around them," said Mark Amir-Hamzeh, president of Sigma Corporation of America. "We've released some really incredible products in the past year – there's truly something in our lineup for every type and level of photographer."
Equipped with the Super Multi-Layer Coating feature, the APO Macro 180mm F2.8 EX DG OS HSM lens reduces flare and ghosting and delivers sharp and high contrast images, even at the maximum aperture. The incorporation of Sigma's Hyper Sonic Motor (HSM) ensures quiet and high-speed autofocus, as well as full-time manual focus capability. The macro lens has a rounded nine-blade diaphragm to create an attractive blur to the image's out-of-focus areas. At 1:1 magnification, this lens has a focusing distance of 18.5 inches, which is a greater working distance than shorter focal length macro lenses, making it advantageous when taking pictures of highly sensitive subjects like butterflies.