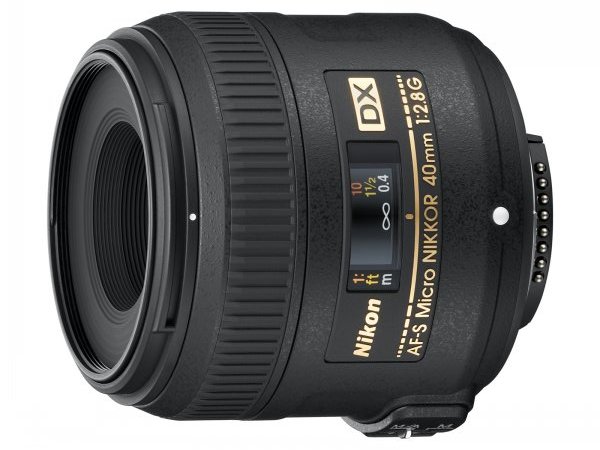 Nikon announced a new AF-S DX Micro NIKKOR 40mm f/2.8G lens. The estimated selling price is $279.95 (pre-orders at Amazon and Adorama). The lens will be available for sale in August. Some sample images are available here.
Specifications:
Focal length

40mm

Maximum aperture

f/2.8

Minimum aperture

f/22

Lens construction

9 elements in 7 groups

Angle of view

38°50'

Minimum focus distance

0.163 m/0.53 ft (from focal plane)

Maximum reproduction ratio

1x

No. of diaphragm blades

7 (rounded)

Filter-attachment size

52 mm

Diameter x length
(extension from lens mount)

Approximately 68.5 x 64.5 mm/2.7 x 2.5 in.

Weight

Approximately 235 g/8.3 oz

Supplied accessories

52 mm Snap-on Front Lens Cap LC-52, Rear Lens Cap LF-4, Bayonet Hood HB-61, Flexible Lens Pouch CL-0915
MTF chart: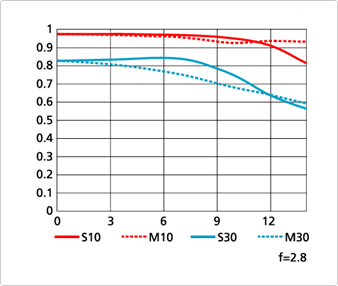 Lens construction:

Full press release:
MELVILLE, N.Y. (July 12, 2011) – Nikon Inc. today introduced the new lightweight and versatile AF-S DX Micro NIKKOR 40mm f/2.8G lens to provide Nikon DX-format shooters macro capabilities at an affordable price point. Ideal for intimate details or general portraiture, the new AF-S DX Micro NIKKOR 40mm f/2.8G lens has a minimum focusing distance of just 0.53 feet (6.4 inches) to allow users to capture extreme close-up photographs and High Definition (HD) video with a life-size 1:1 reproduction ratio.
"This new NIKKOR lens is an ideal accessory lens for those who are ready to explore a totally new perspective, whether it's extreme close-up detail or general still images and movies with flattering out of focus elements," said Lisa Osorio, general manager of marketing at Nikon Inc. The new Micro NIKKOR lens delivers new and added versatility to the Nikon DX-format digital SLR system and provides DX-format shooters with compact optics that deliver excellent color reproduction and stunning sharpness."
Weighing in at approximately nine ounces, the extremely compact and lightweight lens is an ideal "next" lens to complement any DX-format shooter's growing D-SLR kit. The natural focal length (60mm, FX equivalent) and large f/2.8 aperture are ideal for a wide variety of applications, whether capturing close-up details in flowers and insects or shooting flattering portraiture with a pleasing bokeh.
For fast and whisper quiet autofocus operation, the new Nikon 40mm Micro lens also features Nikon's exclusive Silent Wave Motor technology, which allows photographers to get even closer without disturbing a subject. For complete control, the AF-S DX Micro NIKKOR 40mm offers users both manual-priority autofocus (M/A) and manual focus (M) modes to quickly and easily switch focus modes on the fly. To help ensure amazing lens performance at close distances, this new lens employs Nikon's Close-Range Correction System. With this system, the lens elements are configured in a "floating" design wherein each lens group moves independently to help achieve critical focus. Additionally, Nikon's Super Integrated Coatings are applied to help reduce instances of lens flare and ghosting. The seven blade diaphragm also helps to create a more natural out of focus component.
The versatile and compact nature of the AF-S DX Micro NIKKOR 40mm f/2.8G lens combined with its affordability make it a great travel companion for any DX-format D-SLR, including the new Nikon D5100 and popular D3100.
Price and Availability
The versatile AF-S DX Micro NIKKOR 40mm f/2.8G will be available in August for an estimated selling price* of $279.95. For more information, please visit www.nikonusa.com.