The next Westlicht Photographica auction will take place on May 28th in Vienna, Austria. Here are some of the highlights in the Nikon section: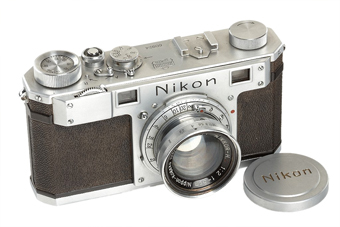 Nikon I No. 60924 (1948)
The earliest known surviving production Nikon in the world! Nikon started in March,1948 to assemble (serial number 60922), this is one of two cameras made in April, 1948 and the 3rd of all Nikon cameras ever produced. It comes with the matching lens (Nikkor 2/5cm no. 70811) and is still in fantastic original condition. Published in: 'The Complete Nikon Rangefinder System' by Robert R. Rotoloni (pgs 51-52), ex-Tad Sato collection.
Opening bid: 70,000 EUR | Estimate: 140,000-160,000 EUR
Reflex-Nikkor 11/2000mm (1972)
The very first 2000mm Reflex-Nikkor, the largest ever built Nikkon lens for 35mm, AV-1 tripod mounting unit, this lens (total weight 25kg) – donated by Nikon Europe for the victims of the earthquake in Japan.
Opening bid: 9,000 EUR | Estimate: 18,000-20,000 EUR
Nikon Underwater Housing for RF (ca. 1958)
One of only three existing underwater housings for Nikon rangefinder cameras (see Rotoloni \'The Complete Nikon Rangefinder System\' pages 514-519 showing no.32587 from a private US collection, the other item is owned by Nippon Kogaku), ex collection Tad Sato.
Opening bid: 12,000 EUR | Estimate: 20,000-25,000 EUR
See also the Leica cameras that will be offered at this auction.