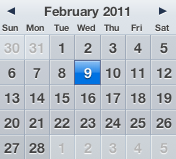 Nikon will be holding a press conferences in multiple countries on February 9th, 2011 (Wednesday). For all US readers this means that new products will be announced between 11:00pm and midnight EST on February 8th (NR probability rating: 99%).
As of today I am certain only about two new point and shoot cameras to be announced on February 9th – the Coolpix P500 that will have 22.5-810mm (x36) zoom, 12MP back-illuminated CMOS sensor and will cost 299 EUR. The second Coolpix model will have a 24-100mm zoom and fast f/1.8 aperture.
There was a good chance that Nikon will announce a successor of the discontinued Nikon D5000, but since I haven't heard anything till now, I doubt it will happen.
As I mentioned before, this announcement date precisely matches the opening date of the  CP+ Camera and Photo Imaging Show in Japan (February 9-12, 2011). Expect all new Nikon products to be on display at that show. If you are in Yokohama and will be visiting the show, please send me some pictures of/with the new Nikon gear.