In early December 2010, Nikon will launch Picturetown 3D in Japan: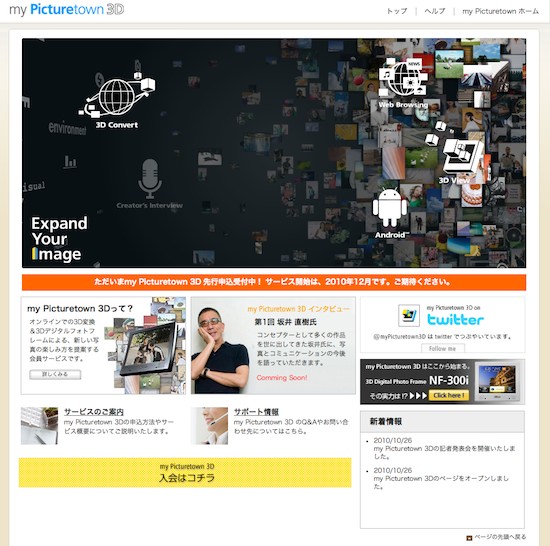 TOKYO – Nikon Corporation and Nikon Imaging Japan Inc. are pleased to announce the launch of my Picturetown 3D, a new 3D imaging service that offers 3D image conversion over the Internet for viewing of 3D images on a dedicated 3D digital photo frame.
My Picturetown 3D is a service for registered members that offers a 3D image conversion service available from Nikon's my Picturetown, an online image sharing and storage service, and supports viewing of 3D images without specialized eyewear on the new NF-300i 3D digital photo frame. The primary services offered are as follows.
Loan of an NF-300i 3D digital photo frame
3D image conversion of still images stored on my Picturetown
Viewing and sharing services for 3D image utilizing my Picturetown functions
Distribution of 3D contents (still photos and movies) with my Picturetown
These services not only allow users to view their photos in dynamic 3D format, but also enable the sharing of 3D images between NF-300i 3D digital photo frames.
What's more, the Android mobile operating system has been adopted for the NF-300i 3D digital photo frame, enabling the inclusion of functions other than simple image viewing, including a calendar, a clock and display of weather information. my Picturetown 3D is only available in Japan.