As previously "expected", the ongoing Nikon rebates in the US are now extended till May 29th, 2010 (screenshot from D700 rebates at B&H):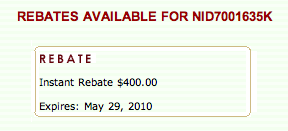 I do not have all the details yet, but will post them once I get confirmation from B&H and Adorama.
Update: Nikon D90 cash back offer in the UK is valid till July 31st.
I do not recall Nikon announcing a new camera when the old model still had a valid rebate – maybe someone can correct me here?
Maybe the timing will be the same as in 2008: D700 replacement in June/July, D90 replacement in August – at least the rebates timeframes match this schedule for now.
Update #2: just got a conformation from Adorama that the rebates remain the same as before.