Those are the latest and most interesting patent applications filed by Nikon: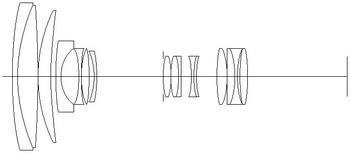 My guess is that this will be the new kit lens for the upcoming Nikon D90 replacement (the D90 kit currently ships with the 18-105 lens).
Patent application 20100013977 is for a picture in picture live view display for better focus and exposure control (the patent contains a drawing of a p&s camera, not sure if it is intended for DSLR):
"A subject tracking technology originated in Patent Document 1 is considered to perform focus adjustment and a control of exposure conditions while keeping a user intended composition when a subject with relatively large motion (person, animal, vehicle, or the like) is photographed by a camera. In the subject tracking technology, a main subject is tracked automatically, and the focus adjustment and the control of the exposure conditions are performed centering on the main subject."
More after the break:
"An electronic camera is capable of recording image, voice, text, line-drawn information and the like. A release switch in the electronic camera is operated to photograph a subject image. When recording voice with the electronic camera, shutter sound effects are not output with the recorded voice. Further, the photographic operation can be indicated to the user by lighting a light-emitting diode in a finder when the release switch is operated."
20100008574 patent application is for improved noise reduction but understanding the details is above my pay level.
Please note that patent applications are not guarantee for future products.