I got a word that Nikon will release eight (8) new lenses in 2010 (I will rate this rumor @ 80% probability). If true, this will be the most lenses Nikon has ever released in an year (at least in recent history):
2009 – 7 lenses (ok, one is a teleconverter – click on image for larger view):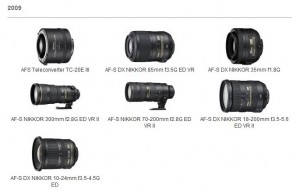 2008 – 7 lenses: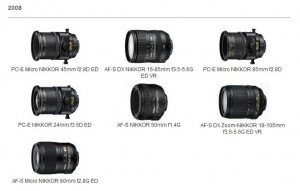 2007 – 7 lenses: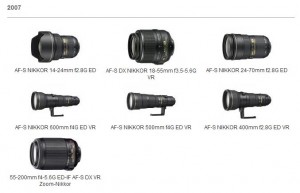 2006 – 3 lenses
2006 – 5 lenses
2004 – 2 lenses
2003 – 2 lenses (you can see the full list of released lenses by years here).
So what are those new eight lenses going to be (continue to read after the break)?
The first batch of new lenses is expected to be released in February-March of 2010 (probably February for PMA) and it will include the 24mm f/1.4 which was initially scheduled for October, 2009 and then postponed till Q1 of 2010. A new 85mm f/1.4 and maybe a 35mm f/1.4 are also expected, although I got one report denying the 35mm f/1.4 option (meaning only a new 24mm f/1.4 and 85mm  f/1.4 in Q1 of 2010). The 24mm f/1.4 and 85mm f/1.4 lenses are supposedly already in Nikon internal systems/databases.
A member of dpreview claims to have information about 80-400mm replacement that should be "Sigma-style but Nikon quality". I was told that this lens will be replaced with a new AF-S 100-500mm f/4-5.6 IF-ED VR lens next year.
I even heard some talk of a Nikon equivalent to the Canon's 28-300mm lens.
Another option is the refresh of the current Nikon AF-S 300mm f/4 ED-IF (currently out of stock @ Amazon and Adorama and I could not find it at all @ B&H). Some online retailers have already started to list this new lens on their websites, but this of course could be by mistake: see here (Nikkor F 300mm f/4.5 IF ED listed as New).
My last three guesses are for a Nikkor AF DC 135mm f/2.0D, Nikkor AF Micro 200mm f/4D IF-ED replacements and maybe a new Nikkor AF-S Nikkor 16-35mm f/4G ED VR.