In this post I will use the patent interpretations from a NR reader who has a much better "patents reading abilities" than me:
We have another 32 mm f/1.2 lens (for the 17 mm format sensor) which will make a 80 mm equivalent (patent# 20090273851):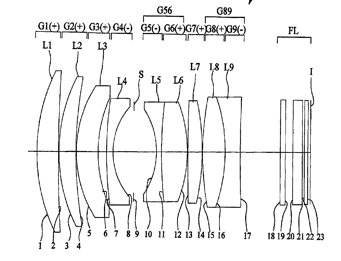 The same above patent refers to "employable as an interchangeable lens system".
Patent 20090273841 is for diffractive optics, similar to Canon's Diffractive Optics lens technology. Interestingly 20090273851 also refers to potential diffractive optics.
One thing that may be of interest is the Oct. 15th patent 20090256952 –  this sounds mundane, focus detection but it's about phase detection auto focus in the image itself, I don't think anyone has this. The kicker is this is one of 2 dozen patents on this technology going back to early 2007 and all of them reference use in an EVIL camera: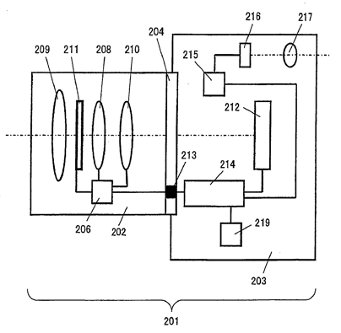 Look at Fig. 1 in 20090256952 (above) and compare in to this description:
[0077]The liquid crystal display element 216 functions as an electronic viewfinder (EVF). A live image (through image) provided by the image sensor 212, brought up on display at the liquid crystal display element 216 by the liquid crystal display element drive circuit 215, can be observed by the photographer via the eyepiece lens 217. The memory card 219 is an image storage medium in which an image captured by the image sensor 212 is stored.

[0078]A subject image is formed on the light receiving surface of the image sensor 212 with a light flux having passed through the exchangeable lens 202. The subject image undergoes photoelectric conversion at the image sensor 212 and subsequently, image signals and focus detection signals are transmitted to the body drive control device 214.
Almost all the related patent use the same figure.
The bottom line: Nikon has been after an EVIL camera since 2006 and they're looking for autofocus performance in this system.
Because of the increased interest in this topic, I have started two new categories: Nikon EVIL and Nikon Patents.