Wo ist die neue ProfiFoto?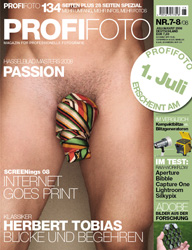 Gähnende Leere im Briefkasten, verstaubte Regale beim Zeitschriftenhändler – keine aktuelle Ausgabe 7-8 der ProfiFoto weit und breit! Warum? Ganz einfach: Aufgrund aktueller Produktneuheiten, die noch so geheim sind, dass ProfiFoto noch nicht einmal andeuten darf, in welchem Bereich und von welchem Hersteller die neuen Produkte kommen werden, wurde der Erstveröffentlichungstermin der ProfiFoto auf den 1. Juli verschoben. Ab diesem Termin dürfen wir unsere Leser dann brandaktuell mit den wichtigsten News zu den neusten Produkten versorgen. Das wird ProfiFoto dann auch in gewohnt kompetenter Form tun und auch diesmal mit einem Heft, das stark an Umfang zugelegt hat.
Auf 134 Seiten plus 28 Seiten Spezial warten eine Fülle an Themen, darunter die besten Bilder des Wettbewerbs Screenings 08 und der Hasselblad Masters sowie ein spannender Vergleich zwischen Kompaktblitzgeräten und Generatoren, ein interessanter Einblick in Adobes Forschungsabteilung, ein Test der gängigen RAW-Software und vieles, vieles mehr.
Fazit: ProfiFoto 7-8/08 erscheint am 1. Juli 2008 – und das Warten lohnt.
In English this means something like: "our latest copy was delayed because of a new secret product that will be announced on July 1st. It will all be worth it."
I know we have few people from Germany reading this blog – a better translation please?