Initial impressions of the Nikon NIKKOR Z 600mm f/4 TC VR S lens from a nature photography perspective by Elbert Jan Achterberg:
The combination of acceptable weight, size and the built in TC of the Z 600 mm F/4 TC were irresistible to me. The lens was ordered on December 2 and received in mid January, so as I'm writing this I've had it for about two months. Enough time to get an impression of the optical quality and handling that I'd like to share here. There may be some insights that are useful in deciding if it makes sense to switch from your current horribly expensive exotic to this one. For thorough reviews that include proper evaluation of sharpness look to Steve Perry, Brad Hill or Photographylife. However, if you think you need this or any other review to determine whether you should buy the lens you probably shouldn't buy it.
Handling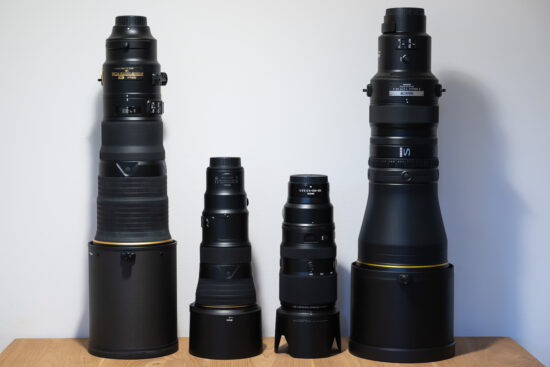 Size comparison F to Z (from left to right: 500mm F4/E, 500mm F/5,6P, Z100-400mm F/4-5,6 and Z 600mm F/4). Note: The lens hood on the 500mm is considerably longer than on the 600mm.
I'm a compulsive tripod user so do not expect info on hand-holding. Walking for longer distances with the lens on a sling (and tripod on a backpack) worked fine for me. The lens is quite big but well-balanced with a Z9. Balance on a tripod with a fluid head was also fine although I will probably replace the foot with a low-profile Arca Swiss foot to bring the center of gravity closer to the tripod head.
It has been said many times but the added value of the integrated TC cannot be overestimated. Being able to instantly change framing is great, especially in situations where there can be an interaction between animals. To be able to get a portrait in one shot and instantly change your field of view for an interaction between animals is priceless in situations like the deer rut which are always hectic with animals constantly interacting and changing distance.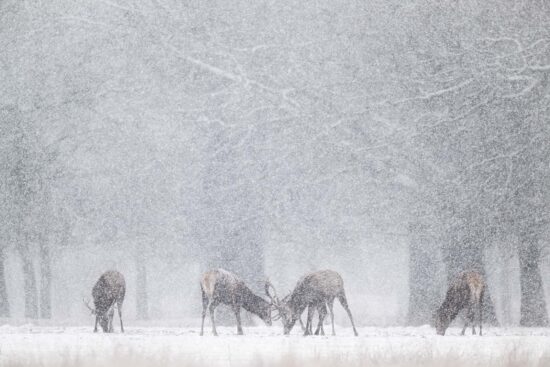 Red deer in a March snow shower. The inbuilt TC was a real help here allowing me to change composition at the flip of a switch. Changing external TCs would simply be impossible in such circumstances. (Z9, Z600 mm @ F/5 1/250 S ISO 320)
Image quality
Excellent with and without TC engaged both for nearby subjects and for subjects further away. When the TC2.0 is added image quality suffers but is still acceptable. Engaging the internal TC when the TC2.0 is on the lens results in a silly 1.680mm F/11. When you think you need this you should probably accept that you are too far away from your subject or think of making an image that works with the subject as a small element in your image. However, that didn't deter me from giving the combinations a try.
The Tawny owl in the images below was sleeping the day away and a perfect subject for some tests of the lens with and without converters. The table below shows different configurations and crops. From left to right: Entire image, the crop of the image scaled to the same scale as the bottom image at 1.680 mm. Pixels are upscaled to match the resolution of the bottom image (basically to assess whether there's an advantage in cropping versus the use of stacked TCs) and image crop at 100% original pixels. Out of the ± 30 images I took at 1.680 mm only a few of the images at F/16 had acceptable sharpness and none at F/11. There are a lot of factors at play, atmospheric distortion (convection), camera movement, and focusing error so the jury is still out but I will say that the practical application of this combination is very limited in any case. For all these images VR was turned off, and a heavy tripod was used (Gitzo Systematic + Sachtler FSB10 head) and an additional support was mounted under the tripod collar that supports the front of the lens.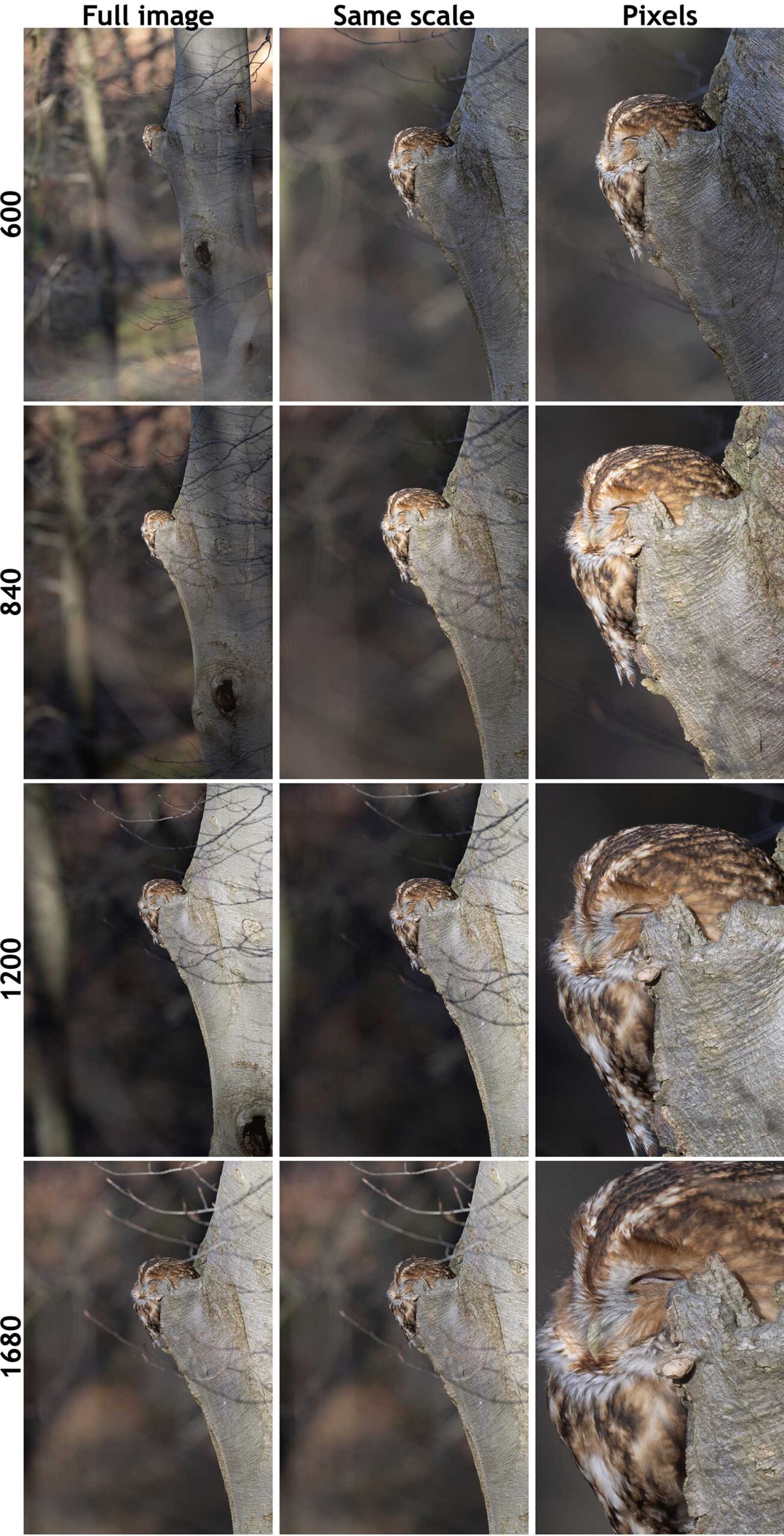 Tawny owl, details in the image (full-size image available here)
Below are some images with and without internal TC near the MFD of the lens. Depth of field is absolutely minimal, so when evaluating sharpness you should look for the sharpest bit in the picture.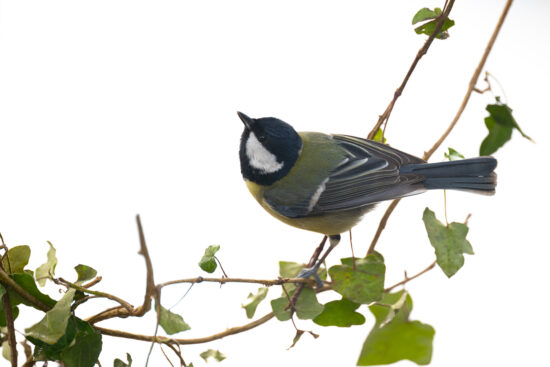 Great tit (Z9, Z600 mm @ F/4 1/200s ISO 72)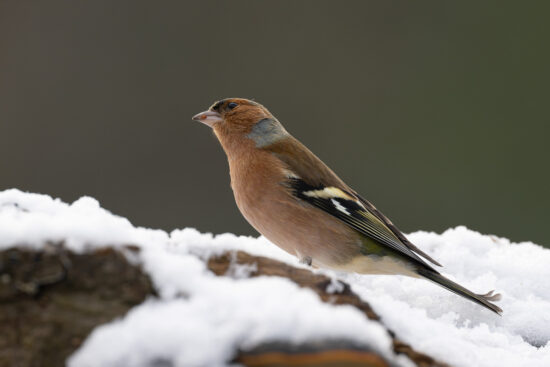 Common chaffinch (Z9, Z600 mm @ F/5,6 1.200s ISO 450)

Wood pigeon (Z9, Z600 mm + internal TC @ F/5,6 1/200s ISO 1000)
And some images at normal to long shooting distances.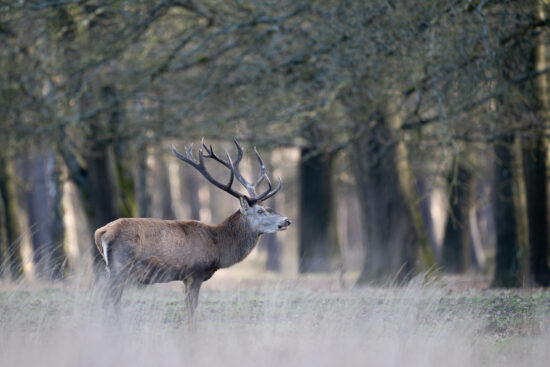 Red deer (Z9, Z600 mm + internal TC @ F/5,6 1/125s ISO 360)
Another couple of images to show that, under the right circumstances image quality at 1.200mm (with TC2.0) can be acceptable. Brad Hill reported that he thought he got better image quality with an external TC1.4 and the internal TC engaged, I don't have the TC1.4 (yet) so cannot do the comparison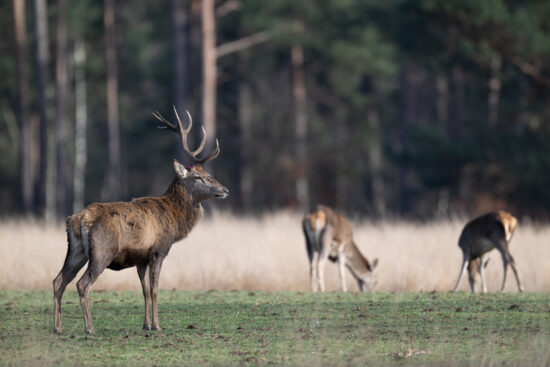 Red deer that has just shed one antler (and is feeling quite wobbly.) (Z9, Z600 mm + TC2.0 @ F/8 1/100s ISO 100)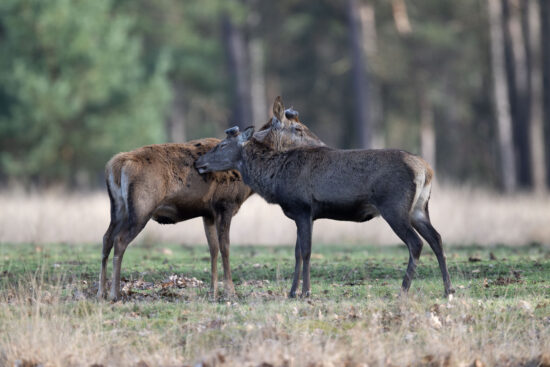 Bromance, Red deer grooming another as they shed their winter coat (Z9, Z600 mm + TC2.0 @ F/8 1/250s ISO 640)
When evaluating images taken at longer distances it is important to note that atmospheric effects can reduce image sharpness. In direct sunlight heat radiating from the ground will create convective air currents that will always reduce sharpness.
Focusing
Getting the 600mm meant a double hit for my wallet since I also decided to add a Z9 to be able to use the lens to its full potential in terms of focusing. Although I really like the small Z7II its focusing capabilities do not do this lens justice. Funnily enough, I now find myself using the Z9 for landscape and macro work as well, despite its size and weight because of the two-directional flip screen, sensor shield (a real-life saver when changing lenses when it snows), and general handling. This is a long way of saying that all my experience with the lens thus far has been with a Z9.
With the Z9 focus, both with and without the TC engaged is snappy and fast. Adding the TC2.0 slows down focus and then engaging the internal TC makes focus struggle (1.680 mm at F/11 who would have guessed)
Compared to my 500mm F4E with Z9 focusing is noticeably quicker and feels more accurate (in the sense that there is less hunting). I get the impression that the animal recognition works slightly better but that is difficult to evaluate and this could simply be the 20% difference in focal length at work. If the animal is bigger in the frame it should be easier for the camera to recognize it.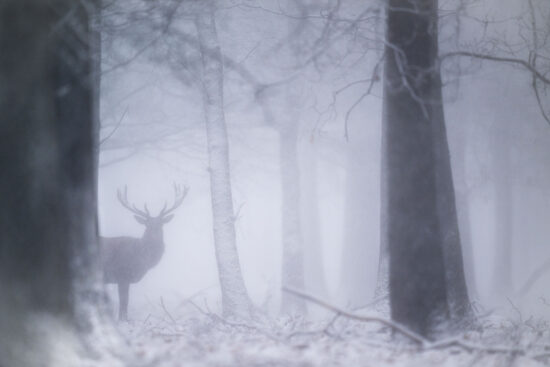 Red deer in snow shower, here AF decided it had had enough and forced me to focus manually. (Z9, Z600 mm @ F/5,0 1/250s ISO 320)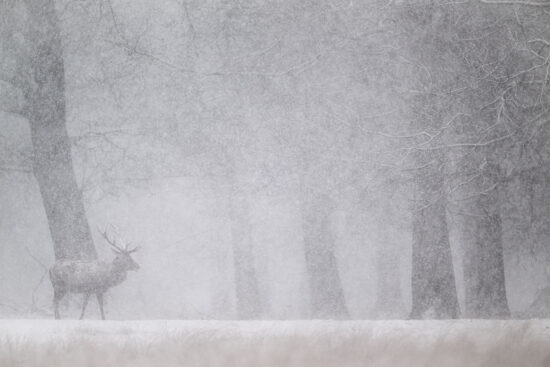 Red deer in snow shower (Z9, Z600 mm @ F/4 1/200s ISO 90), Again manual focus.
Red deer in snow shower (Z9, Z600 mm + internal TC @ F/5,6 1/400s ISO 250) Again AF was no help, but being able to change the composition by engaging the internal TC was excellent.
Pet Peeves
Why Nikon still does not add an Arca Swiss groove to the tripod mount is beyond me.
The bag that comes with the lens is nice (and certainly a great improvement on those useless cases) but why isn't it a little bit bigger so it fits the lens with a camera attached?
Obviously, the lens is horrendously expensive but I guess that is what it is (I bought it anyway didn't I, and I'm pretty sure I'm not the only one).
Conclusion
This a great lens at a horrible price and if you need a fast super-tele for what you do, you can't really go wrong with this lens. Don't be fooled by the comments about how light and small it is. It Is huge and heavy! It is only smaller and lighter than the previous generation of the same lens.
Image quality with and without internal TC is outstanding. Adding an external 2.0x TC does degrade image quality but can certainly give usable images with care and under the right conditions. Stacking the TCs (external 2x + internal 1,4x) seriously degrades image quality although it might actually be possible to get usable images with great care and under the right circumstances.
Finally
Nikon, why stop at one integrated TC? Why not put in two integrated TCs? A TC1.4 on one side and a TC2.0 on the other? Or, maybe just put an extra ring on the lens to continuously change focal length, … oh wait, …
---
If you have an interesting idea for a guest post, contact me here.
Previous coverage of the Nikon NIKKOR Z 600mm f/4 TC VR S lens can be found here: